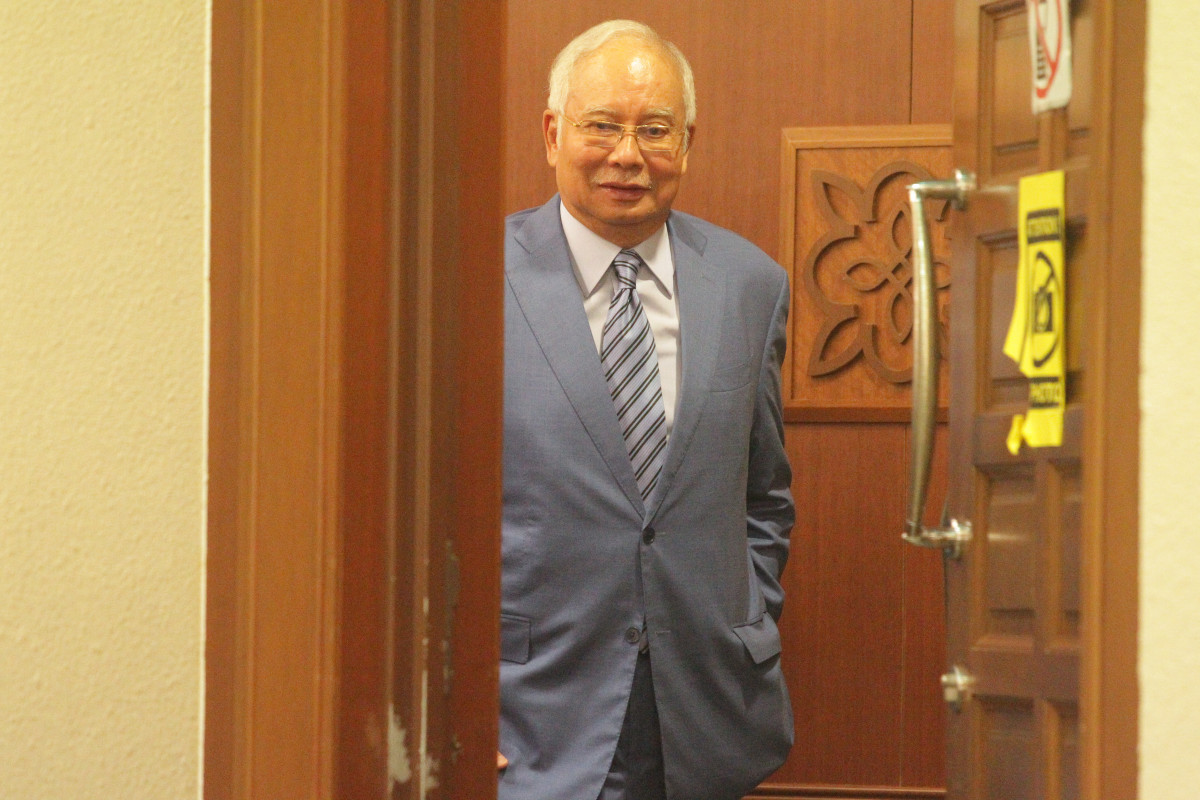 KUALA LUMPUR (Dec 19): Datuk Seri Najib Abdul Razak admitted today that he may have signed the Minister of Finance Inc (MoF Inc) shareholders meeting minutes to have Article 117 included in SRC International Sdn Bhd's memorandum of articles of association (M&A).
However, when asked again by appointed prosecutor Datuk V Sithambaram later, the former premier said he was not sure whether he signed it and wants the original meeting minutes to be produced to have it verified.
Najib was first shown prosecution exhibit 510 (P510), which is the meeting minutes detailing his appointment as adviser emeritus for SRC.
Sithambaram: Did you sign the document?
Najib: I believed I signed the document.
Sithambaram: So these are minutes signed by you?
Najib: Yes.
When the lawyer asked if the signature was made on April 23, 2012, the former premier agreed.
However, when Sithambaram showed Najib's oral and written testimony regarding the evidence, and what he had testified earlier when questioned by Attorney General (AG) Tan Sri Tommy Thomas, the former premier changed his tune.
While answering questions from his lawyers, Najib — who is also Pekan MP — said P510 appeared similar to meeting minutes recorded by MoF Inc that passed the amendment.
"As the SRC corporate documents and the existence of the MoF Inc document seemed strange, I may not have signed it unless it is referred through MoF Inc. I cannot ascertain if this P510 is an original document unless it is retrieved from the MoF Inc's records.
"Despite this, I remember approving the amendment as stipulated in the SRC International M&A within my capacity as the Prime Minister," he said in his reply then.
When Sithambaram reminded Najib that he had admitted under cross-examination by Thomas that he had signed the document — contradicting what he had said in the witness statement — the former premier said to use his testimony as per his witness statement.
Sithambaram: When you were crossed by the AG, you had answered a general question, where you said you had never signed shareholders minutes apart from P510?
Najib: Yes, but this is not the original. I have not signed other shareholders minutes.
Sithambaram: After giving a blanket denial you never signed any minutes, you admitted you only signed P510.
Najib: Yes, unless you show me the original document. But this is subject to the original document.
Sithambaram: But you did confirm in court that this is a photocopy of documents that you signed?
Najib: Yes, unless you show me the original.
As both of them got into an argument over this, the former premier asserted that his response was subject to the original minutes being shown to him.
Sithambaram: You did, when asked by the AG (Thomas), admit that you signed the document?
Najib: But this is subject to you showing me the original document.
When Sithambaram put to the former premier that he was not telling the truth in court, Najib disagreed.
Article 117 of the SRC M&A stipulates that the SRC board of directors would have to refer to him for major decisions on investments or expenditure.
When quizzed further by Sithambaram, Najib agreed that he must have approved the amendment to the SRC M&A.
The hearing was cut short at around 11.30am today as Sithambaram was unwell, and proceedings are slated to resume on Jan 6.
Najib is charged with seven counts of criminal breach of trust, abuse of power and money laundering involving RM42 million from SRC.
He faces a 20-year jail term and a fine of RM5 million or five times the amount of money laundered, whichever is higher, if found guilty.
The Edge is reporting the proceedings of the SRC trial live.
Users of The Edge Markets app may tap here to access the live report.