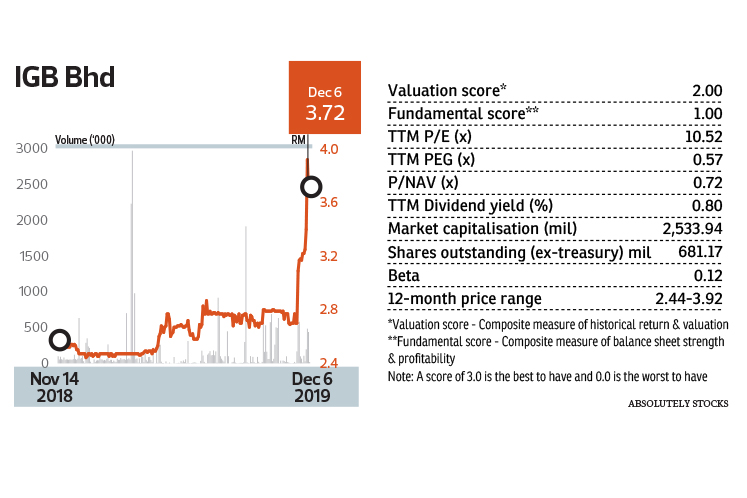 PETALING JAYA (Dec 23): IN a slow real estate market, most property developers have allayed investor fears with the huge land banks they have amassed and the value these can create.
Only a few have striven to build shareholder value by undertaking corporate exercises to unlock the true worth of their assets. IGB Bhd is one of them.
The group, which is known for its Mid Valley City development in Kuala Lumpur, has announced not one but two corporate exercises in the last two weeks.
Last Tuesday, IGB and its partner Tower Ray Ltd revealed that they were selling their UK-based 50:50 joint venture Black Pearl Ltd for £235 million (RM1.27 billion) to Hero Inc Ltd, Staycity Ltd and BSW Land and Property Ltd.
Black Pearl is a Guernsey-incorporated property company that owns a freehold plot — 18 Blackfriars Road — in London that was purchased for about £122 million in 2014.
This follows a Nov 21 announcement by IGB that it was spinning off nine commercial assets in KL into a commercial real estate investment trust (REIT) to be listed on the Main Market of Bursa Malaysia.
The REIT's initial investment portfolio will comprise Menara IGB, Centrepoint South, Centrepoint North, The Gardens South Tower, The Gardens North Tower, Menara Southpoint, Boulevard Offices at Mid Valley City as well as Menara Tan & Tan and GTower in Jalan Tun Razak.
The announcements, however, have turned the spotlight on the objective and timing of the corporate exercises.
Market experts The Edge spoke to see the moves as IGB's effort to monetise its mature assets, considering the uncertainties at home and abroad.
Rakuten Trade Sdn Bhd vice-president of research Vincent Lau believes the disposal of the UK asset is mainly due to the Brexit factor. "IGB has always been a well-run, conservative company. Obviously, it is now trying to unlock the value of its assets. Timing-wise, it is good to do it now before the next possible downturn."
IGB, which is controlled by the Tan family, is an asset builder focused on harnessing recurring income from its property investment and hospitality businesses. It also invests in and manages a diverse portfolio of long-term commercial, retail, residential and hospitality assets in Asia, Australia, the US and Europe.
Lau says once IGB has unlocked the value of its existing assets, it will be able to redeploy the money to acquire cheap or distressed assets in the future.
Leinves PLT chief investment officer William Ng concurs, noting that the corporate exercises bode well for both IGB's majority and minority shareholders. He says though some property companies own many assets, unless they are monetised, they are basically meaningless to the minority shareholders.
"IGB has a strong asset base and it knows exactly how to unlock its value. Many property firms in the country brag about how big their land banks are (and) how strong their NTAs (net tangible assets) are. But there is no point in talking about all these if you are unable to create shareholder value. IGB deserves a lot of credit for making this happen."

Building a war chest
According to Ng, IGB may also see now as the right time to build a war chest for future development. "After all, we don't know when Brexit will be completed. If they (IGB and Tower Ray) can find a good exit price (for Black Pearl), why not take profit now? With the cash in hand, they can always buy something else in the future."
PublicInvest Research analyst Tan Siang Hing believes the UK land disposal is positive for IGB because its 50% stake is worth RM635 million. "This will immediately minimise development risks amid Brexit-related uncertainties."
In a Dec 4 report, Tan has an "outperform" call on IGB with a target price of RM4.70. This translates into an upside potential of 26% on its closing price of RM3.72 last Friday. Year to date, the counter has risen 50%, giving the company a market capitalisation of RM2.53 billion.
PublicInvest Research's earnings estimates, however, are unchanged for now, pending more clarity from management.
It is worth noting that the proposed purchase price is equal to Black Pearl's net asset value, calculated on the valuation of the property. IGB, however, did not specify how the proposed consideration will be satisfied.
A back-of-the-envelope calculation shows that IGB will gain RM635 million or 93 sen per share from the UK asset disposal.
According to Absolutelystocks data, IGB was in a net debt position of RM3.171 billion with a gearing ratio of 0.89 times as at Sept 30.
To recap, the 18 Blackfriars Road site was planned for a mixed-use development that was slated to be launched in the first half of last year. But it was deferred due to a change in design to meet the requirements of the authorities.
According to Black Pearl's planning application to the Greater London Authority that was submitted in April last year, it seeks to build six buildings of 5 to 53 storeys each on the 18 Blackfriars Road site that measures 0.80ha.
The redevelopment will include an office space, a 548-room hotel, 288 residential units, a flexible retail component, a restaurant, a music venue and car parks, among others.
The architect for the redevelopment was listed as Wilkinson Eyre, the firm that was appointed in 2013 for the refurbishment of the iconic Battersea Power Station.

Good timing
IGB's 2018 annual report shows that it had obtained planning consent for the development in London but work on its construction had not commenced due to the uncertainties caused by Brexit.
"Globally, 2018 was a tumultuous year. Trade tensions between the US and China, and the uncertainty about the Brexit deal in the UK continued to dominate headlines around the world. The year 2019 will continue to be challenging with the market remaining soft in at least the first half," the report says.
Therefore, the time is right for IGB to establish a commercial REIT and reap the harvest in the UK, says a senior property analyst with a local bank-backed investment bank. "The UK situation is so uncertain. Looking at the broader market, I think it makes sense for IGB to take back its money and see what to do next," she says.
"As for the commercial REIT, the environment is conducive to undertake one because interest rates are trending downwards. Naturally, you will get a better valuation for the REIT."
The property analyst opines that because of the uncertain outlook for the market, investors will prefer stocks with resilient earnings and good dividends.
"Should the proposed IGB commercial REIT be listed, it would be the best office REIT in the country, followed by the smaller MRCB-Quill REIT, UOA REIT and Tower REIT.
"Some may say the office market is not very promising but IGB's assets are located in prime locations and they are mostly well tenanted," she adds.

Save by subscribing to us for your print and/or digital copy.