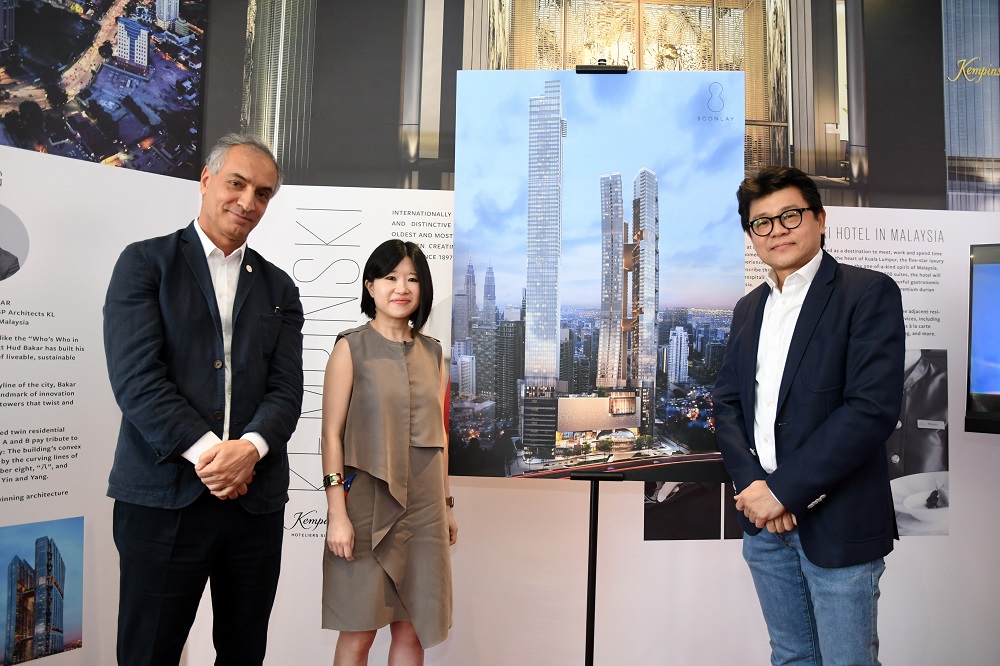 KUALA LUMPUR (Jan 16): Following last month's viral Whatsapp message about a building here that is on the verge of collapsing, its developer KSK Land has highlighted at a media briefing today that its flagship project 8 Conlay will be completed by late 2020.
Read also
Building in KL is NOT falling
The development comprises two twin spiral towers, Tower A and B, serving as residential towers (YOO8 serviced by Kempinski) and a more conventional Tower C which will be a five star hotel (Kempinski Hotel Kuala Lumpur). Tower A will have 68 floors while Tower B and C will have 57 and 72 floors, respectively. The project is targeted to be completed by late 2020.
Principal director of RSP Architects Sdn Bhd Hud Bakar who designed the "tilting" building said the tilt is intentional.
"[8 Conlay] is not collapsing. It is designed to be that way. It is supposed to curve upwards, having been inspired by the Chinese character of the auspicious number 8 (八)," said Hud, adding that construction of the building now stands at about 30 storeys.
"Tower B is curving upwards. Tower A also has a curve but it's reversed. The two spiral towers are also inspired by the Yin and Yang concept. Just like the symbol, it's about balance. Thus, the towers are also designed to 'hug each other - a 'liveable structure'," explained Hud.
Connecting the two towers are two decks (or sky bridges) -- wet deck, which houses the swimming pool at the lower level and the dry deck at the higher level. According to Hud, the towers provide views of the KLCC on one side with views of the Merdeka 118 on the other.
Also present at the briefing was engineer and founding principal and director of Web Structures Pte Ltd Dr Hossein Rezai who assured that the curved buildings are safe, efficient and serviceable.
"There is an implicit complexity with curved buildings. People say curved buildings are more complex to build, more room for errors. That is not factually correct. The three towers are built by the same contractors with similar techniques and it takes about six to seven days to build a single storey - whether straight or curved. The 'complexity' of the curved buildings has not been reflected in the duration here," explained Rezai.
He added that once completed, the towers would also have little sway (of about 200mm) under Malaysian wind conditions, taking into account thunderstorms and multiple wind directions.
Hud concurred, saying that the two decks function as a counterbalance as well to strengthen the integrity of the towers.
"Our vision is to design lifestyles for people. 8 Conlay has a story of its own. It's not just about curved buildings. Our intent was not to create a buzz. Instead, we want to integrate our development with the environment, to create a seamless lifestyle experience," said CEO of KSK Group and managing director of KSK Land Joanne Kua at the briefing.
"Architecture frames the entire development. There is merit in building [8 Conlay]. We give back to the city by creating something nice for the city skyline.
"The viral post has given us the opportunity to celebrate architecture and design," added Kua.
Echoing similar sentiments, Hud said the viral post is a wake-up call to Malaysians to know more about architecture which is "more than just a straight building", he declared.