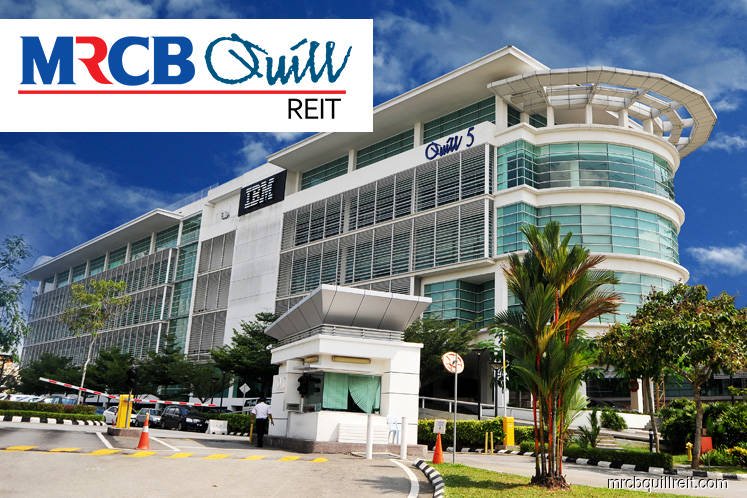 KUALA LUMPUR (Jan 17): MRCB-Quill REIT's (MQREIT) fourth quarter net loss stood at RM24.38 million versus a net profit of RM8.05 million a year earlier, as it registered lower gross revenue and net property income besides a RM36.73 million fair value loss for its investment properties across the Klang Valley and Penang.
In Bursa Malaysia filings today, MQREIT said gross revenue decreased to RM40.62 million in the fourth quarter ended Dec 31, 2019 (4QFY19) from RM41.81 million a year ago.
The REIT said the current market valuation and fair value loss for investment properties for all its buildings of RM2.143 billion and RM36.731 million respectively shall be incorporated into its FY19 accounts.
According to MQREIT, its investment properties that were revalued on Dec 31, 2019 are "Quill Building 1 — DHL 1 and Quill Building 4 — DHL 2, Quill Building 2 — HSBC, Quill Building 3 — BMW, part of Plaza Mont'Kiara, Wisma Technip, Quill Building 5 (QB5) — IBM, Tesco Building Penang, Platinum Sentral and Menara Shell".
"MQREIT recorded gross revenue of RM40.6 million in 4QFY19, a decrease of RM1.2 million or 2.9% compared to 4QFY18. The decrease was mainly due to lower revenue generated from Wisma Technip, QB5 and Platinum Sentral.
"Property operating expenses for 4QFY19 were RM10.5 million, a marginal increase of RM500,000 or 4.8% compared to 4QFY18, mainly due to higher operating expenses incurred for some properties. These have resulted in lower net property income by RM1.7 million or 5.3% in 4QFY19 compared to 4QFY18.
"A proposed final income distribution of RM36.12 million or 3.37 sen per unit, being income distribution for the period July 1, 2019 to Dec 31, 2019, will be payable on Feb 28, 2020 to all existing unitholders at the book closure date of Feb 3, 2020," MQREIT said.
The 3.37 sen per unit final income distribution brings MQREIT's full-year FY19 dividends to 6.8 sen a unit, the property trust said.
For FY19, MQREIT's full-year net profit fell to RM29.12 million from RM73.13 million a year earlier. Revenue was lower at RM160.99 million versus RM172.53 million.
MQREIT said 19% of its total net lettable area or approximately 369,000 sq ft were due for renewal as at Dec 31, 2019.
"As at Dec 31, 2019, approximately 71% or 260,120 sq ft of these leases have been renewed by existing tenants, 21% or 77,000 sq ft have not been renewed by existing tenants but new leases have been secured and the balance 8% or 32,000 sq ft have not been renewed and currently vacant.
"The Klang Valley office market is expected to remain challenging. We will continue to focus on asset management and leasing strategies that are centred on tenant retention to overcome the challenging operating environment for 2020," MQREIT said.
At 3.52pm, MQREIT's unit price fell 0.5 sen or 0.5% to 99.5 sen, valuing the property trust at RM1.06 billion. MQREIT's latest-reported net assets per share stood at RM1.2011.