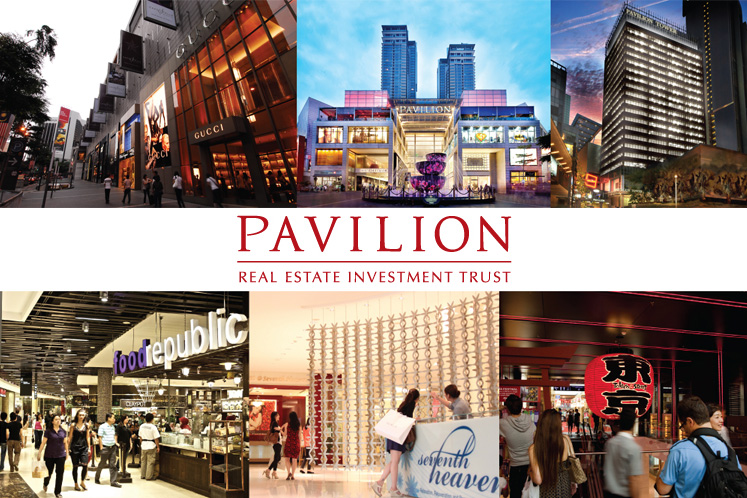 KUALA LUMPUR (Jan 24): Pavilion Real Estate Investment Trust (REIT) said its fourth quarter net property income fell 9.64% to RM91.25 million from RM100.98 million a year earlier, on the back of lower rental income and higher property operating expenses.
Rental income for the quarter ended Dec 31, 2019 declined 1.45% to RM123.96 million from RM125.79 million, while property operating expenses rose 18.75% to RM54.71 million from RM46.08 million.
Gross revenue for the quarter dipped 0.75% to RM145.96 million, from RM147.06 million in the same quarter of 2019.
The REIT is declaring a final income distribution per unit (DPU) of 4.1 sen, payable on Feb 28. Of this sum, 3.93 sen is taxable and the balance 0.17 sen non-taxable.
Pavilion REIT attributed the lower gross revenue to lower occupancy and rental rates at its Da Men Mall in Subang.
Meanwhile, the increase in property expenses was attributed to cost incurred for enhancement initiatives conducted at tenant lots in Pavilion Kuala Lumpur Mall and Da Men Mall.
Also contributing to the higher property expenses were preventative maintenance of lift doors and upgrades of common areas at Pavilion Tower, marketing expenses for Deepavali and Christmas events and advertising media as well as the writing off of non-recoverable debts.
The REIT recognised a fair value gain of RM15.01 million from the valuation of investment properties as of Dec 31, 2019, compared with RM33.62 million a year earlier. The gain was mainly contributed by Pavilion Kuala Lumpur.
For the full year, Pavilion REIT's net property income rose 0.11% to RM375.18 million from RM374.79 million in 2018, as gross revenue increased 5.47% to RM585.35 million from RM554.98 million.
Full-year rental income increased 3.38% to RM502.65 million from RM486.24 million in 2018, while property expenses rose 16.63% to RM210.17 million from RM180.19 million.
The DPU for the year stood at 8.5 sen as against 8.78 sen in 2018
The REIT attributed the increase in gross and rental income from its Elite Pavilion Mall that was acquired in April 2018 as well as higher revenue rent and electricity income from Pavilion Kuala Lumpur Mall for the supply of Pavilion Hotel and Pavilion Suites.
The higher yearly property expenses followed Pavilion REIT's acquisition of Elite Pavilion Mall, as well as higher electricity costs for the provision of electricity to Pavilion Hotel and Pavilion Suites, which were not helped by the increase in electricity tariffs for imbalance cost pass-through (ICPT) that took effect from July 1, 2018, to March 1, 2019 — on top of asset enhancement initiatives, maintenance, repairs and promotional activities that impacted its quarterly property expenses.
"As consumers are being cautious and selective in their spending, Pavilion REIT malls intend to be prudent in its spending to create experiential and differentiation to attract and retain shoppers' loyalty. Operating cost will continue to be monitored to optimise efficiency with spending as required to ensure needs, comfort and safety of its stakeholders are balanced and not compromised," the REIT said.