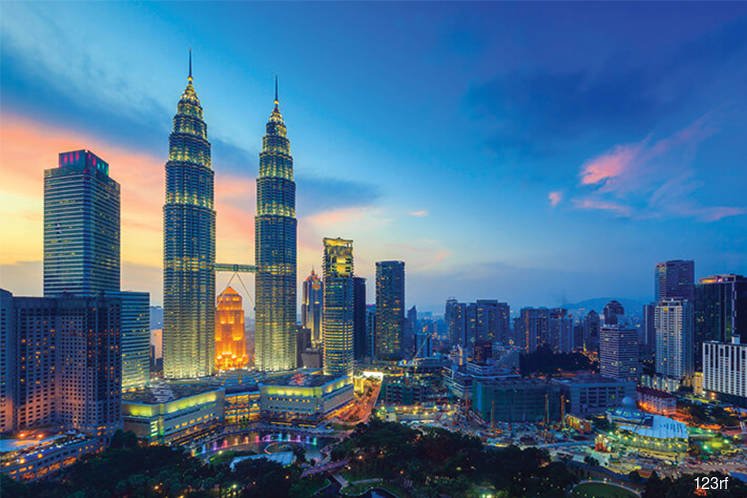 KUALA LUMPUR (Feb 12): OCBC Bank Research is expecting Malaysia to cut interest rate further this March, after a recent one in January, following lower-than-expected GDP growth during the fourth quarter of last year (4Q19), that could slow further this quarter (1Q2020), due to the 2019 novel coronavirus (COVID-19) outbreak.
In a note today, OCBC pointed to how Malaysia's economy slowed in 4Q19, even before the COVID-19 outbreak, which occurred at the start of this year.
Earlier in the day, Bank Negara Malaysia announced Malaysia's economy grew 3.6% year-on-year in 4Q19, bringing full year 2019 GDP growth to 4.3%. Both quarterly and annual data were the lowest by Malaysia, since the global financial crisis.
OCBC had pinpointed the slowdown in commodities production — particularly crude oil and natural gas — as the reason for the drag in Malaysia's growth numbers in 4Q19, and which prompted BNM to affect its 'pre-emptive' interest rate cut last month.
"As it turns out, it looks to be the marked slowdown in the crude petroleum and natural gas production – which contributes 7-9% of national GDP – which have tipped the balance," it said.
"While supply disruptions — in CPO, crude and gas — contributed to the hit, the sharp degree of the momentum slowdown signals that the economy has entered 2020 on a weak footing, even before the coronavirus outbreak," OCBC said.
The research house forecasted Malaysia GDP growth in 1Q20 to be at 3.5% year-on-year, assuming some recovery in various commodity production which slowed in 4Q19.
"Having surprised the market with its "pre-emptive" cut last month, we think there is a distinct possibility for BNM to cut rate again, and soon, in the next meeting on March 3," it said, referring to the 25 basis point cut in the OPR in late January.
"This will be especially so, if the commodities production does not pick up," OCBC said.
Meanwhile, OCBC pointed to strong domestic support from household consumption. The big challenge, it said, is the fear factor arising from the virus outbreak.
"In other words, to get a sense of how Malaysia's GDP is going to be in Q1 specifically — hopefully, we don't have to talk about the virus any longer beyond that — we'll have to watch whether the malls are empty or not," it said.
"While the government is preparing a stimulus package to help, we caution against harbouring hopes of any forceful injection, given fiscal constraints.
"Indeed, given the denominator effect, the slower GDP growth that we are likely to see is already going to present some challenges to meeting the 3.2% debt-to-GDP target," the note said.
"Hence, for all the help that the Malaysian economy needs this year, BNM remains the main source relative to the fiscal side," it added.
Stay on top of trending Narratives
Use Location Scan to view project options and price trends near your preferred location, including MRT3 stations
Check your loan eligibility on LoanCheck, or use LoanReport to get a FREE credit report