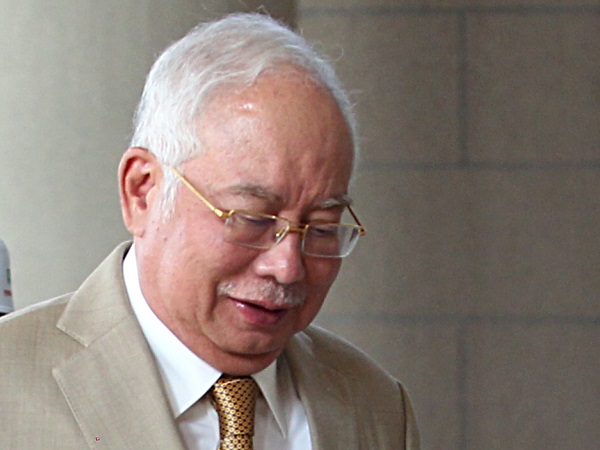 KUALA LUMPUR (Feb 14): The prosecution in the 1Malaysia Development Bhd (1MDB)-linked asset forfeiture case against former prime minister Datuk Seri Najib Abdul Razak and his family told the High Court here today that the prosecution wants more time for Najib and his family to examine the 263 handbags and 40 watches, which were seized by the police earlier.
Deputy public prosecutor Harris Ong Mohd Jeffrey Ong told High Court judge Mohamed Zaini Mazlan today that Bank Negara Malaysia (BNM) had only informed them yesterday that the inspection can only be done on weekends and not weekdays.

Today, Justice Mohamed Zaini subsequently asked the prosecution to make a formal written application over the matter for a planned hearing on Monday
(Feb 17).
The 1MDB-linked asset forfeiture case involves Najib, his wife Datin Seri Rosmah Mansor and their children Nooryana Najwa Mohd Najib and Nor Ashman Razak Mohd Najib, as well as Najib's stepson Riza Shahriz Abdul Aziz.
On Feb 4, Justice Mohamed Zaini allowed Najib and Rosmah's application to physically examine the items that were seized by the police in May 2018.
Justice Mohamed Zaini said on Feb 4 that the inspection would be done within two weeks from Feb 3, which means Monday (Feb 17) is the last day for Najib and Rosmah to examine the items.
According to Justice Mohamed Zaini, the court allowed Najib and Rosmah to inspect the items because they should be given the opportunity to examine them.
Justice Mohamed Zaini said the prosecution's fears can easily be allayed if the inspection is carried out at a placed controlled by the prosecution.
"I am not able to fathom how the removal of these items [from a vault controlled by BNM] would result in the items' deterioration. This can be done in a controlled environment [by] the applicant alone with a solicitor to examine them with the respondent's (prosecution's) presence.
"Based on these reasons, the court is allowing their (Najib and Rosmah's) application. However, the court will determine at the end the defence's merit [in challenging the forfeiture] or otherwise," Justice Mohamed Zaini said.
The police claimed that the items were bought using illegal proceeds, hence their decision to seize them.
However, Najib and Rosmah claimed that some of the items are personal gifts and they want the right to inspect them first before filing an affidavit to reply to and challenge the forfeiture.
The authorities hope to recover a sum of more than RM31 million in the action filed against Najib, Rosmah, Nooryana Najwa, Nor Ashman Razak and Riza Shahriz besides 13 others.
Najib and Rosmah are represented by their lawyer Syahirah Hanafiah.