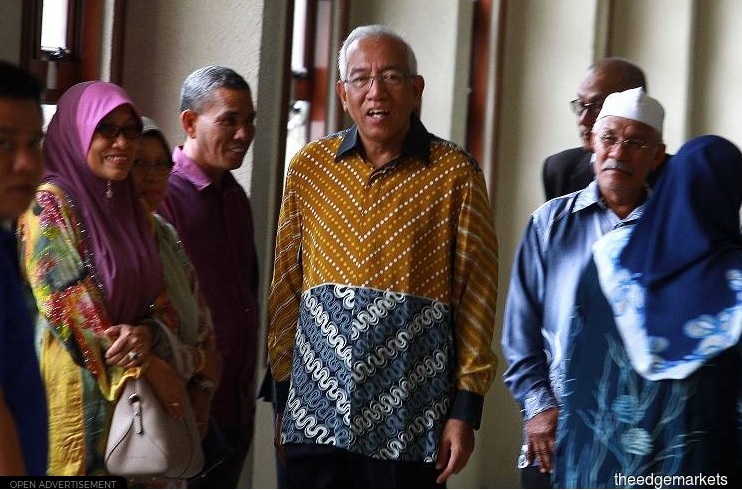 KUALA LUMPUR (Feb 17): Former education minister Datuk Seri Mahdzir Khalid (pictured) said Datuk Seri Najib Razak ordered him to issue a letter of acceptance for the RM1.25 billion solar hybrid power project to Jepak Holdings Sdn Bhd despite his ministry's lack of funds to implement the project.
During his re-examination by senior deputy public prosecutor (DPP) Datuk Seri Gopal Sri Ram, the 59-year-old Padang Terap MP said he had to comply with the directive — in the form of minutes signed by Najib — as it came from the then-prime minister and finance minister.
Sri Ram: When you are directed by Najib to issue the surat setuju terima (letter of acceptance) immediately, what effect [did] that had on you?
Mahdzir: It (the ministry) must issue the letter of award immediately.
Sri Ram: How did you act on the minutes?
Mahdzir: I must do the task immediately.
Sri Ram: When Najib asked you to delegate powers to the then education ministry secretary-general Datuk Seri Alias Ahmad, to sign the solar hybrid project agreement with Jepak, what did you do?
Mahdzir: I must act on it immediately to delegate my powers [to Alias].
Sri Ram: Did you act on these minutes?
Mahdzir: Yes.
Former Federal Court judge Sri Ram also revisited accusations against Mahdzir by Datin Seri Rosmah Mansor's defence that he had cut a deal with the prosecution to implicate her in exchange for avoiding charges against himself, which the witness had repeatedly denied.
DPP Idham Abdul Ghani, who heads the money laundering crimes and forfeiture proceeds department in the Attorney-General's Chambers, then took over the questioning.
Mahdzir said the letter of exemption for payment to Jepak had to be issued because the approval for the project was not secured through regular procedures.
Idham: Regarding the letter of exemption for payment be made to Jepak written to Najib in middle 2017, why was it done?
Mahdzir: The letter had to be done as the Education Ministry cannot make the payment to the contractor (Jepak). The option is to ask from the Finance Ministry. That is the only option available.
Idham: Is this a normal letter?
Mahdzir: It had never happened before, when done normally [according to procedure]. [But] when SST (letter of acceptance) is issued in a hurry, this is what happens.
The former minister, who is the fifth prosecution witness, was testifying in Rosmah's graft trial. Najib's wife is facing three counts of graft, namely soliciting RM187.5 million between January and April 2016, receiving RM5 million from Jepak's managing director Saidi Abang Samsudin on Dec 20, 2016 and another RM1.5 million on Sept 7, 2017.
The solar hybrid and diesel generator set project is for 369 rural schools in Sarawak.