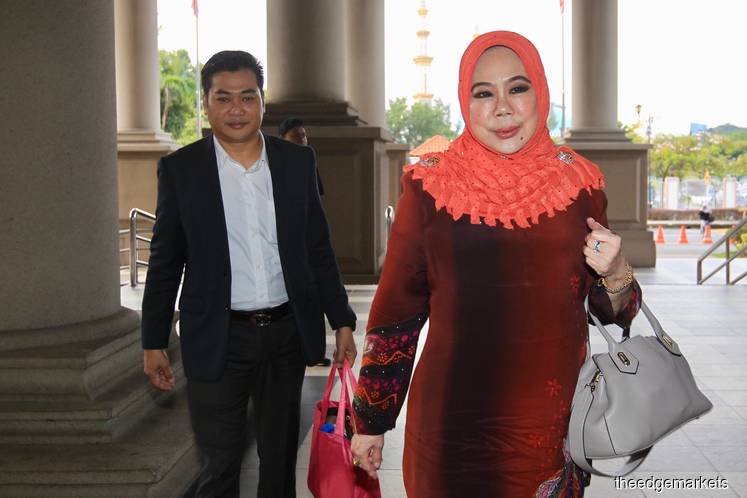 KUALA LUMPUR (Feb 18): Datin Seri Rosmah Mansor's lawyers today highlighted what they see as former Education Ministry secretary-general Tan Sri Madinah Mohamad's inconsistent stand in court on the issue of generator sets for 369 rural schools in Sarawak.
Counsel Datuk Akberdin Abdul Kader told Madinah that she appeared to believe that the solar hybrid gensets proposed by Jepak Holdings Sdn Bhd were not suitable as some of the schools are located in areas covered by deep forests where sunlight may be blocked.
When the lawyer pointed out that solar energy was previously used in some schools in Sarawak, the witness agreed that it may have been used since 2010, but the implementation was not that wide.
When Akberdin suggested that diesel gensets were only brought back when Datuk Seri Hishammuddin Hussein and subsequently Tan Sri Muhyiddin Yassin served as education ministers, Madinah agreed but maintained her opposition to the use of solar gensets.
"The schools in question are in rural areas and faced inconsistent supply of electricity. Hence, the Education Ministry needed to find the best way to supply 12 hours of electricity a day as the schools are in remote areas and are not connected to the national electricity grid.
"Being a former Ministry of Science, Technology and Innovation secretary-general, I find benefits in the solar project but it may not be suitable for schools which are covered with forest trees, which are also thick. Solar may not be suitable," Madinah said.
The witness, speaking during cross-examination by Akberdin, said she did discuss the difficulties in the implementation of the solar project with then education minister Datuk Seri Mahdzir Khalid.
Rosmah, the wife of former premier Datuk Seri Najib Razak, is on trial in the High Court for allegedly soliciting RM187.5 million from Jepak managing director Saidi Abang Samsudin between January and April 2016, and receiving RM5 million and RM1.5 million in 2016 and 2017.
Did not bring disagreement over Jepak project to PM
She agreed with Akberdin that she did not raise her disagreement with Najib, who was the then prime minister and finance minister.
"I cannot bring this matter up as Najib had written a second note on June 2, 2016 asking Mahdzir to implement the project, after also writing on Dec 20, 2015 for the ministry to implement the project," she said.
"I also tried to bring up the matter when Najib asked about the progress of the solar project. I told him that the application for direct negotiations had been submitted to the finance minister and that the Education Ministry is having problems regarding budget allocation. Najib then asked the deputy secretary-general of the ministry Datuk Othman Semail to look into the matter."
However, Akberdin said this conversation does not represent her opposition to the solar hybrid project, and the former Education Ministry secretary-general agreed.
The lawyer also quizzed Madinah on her statement opposing Jepak's ability to conduct the project, but agreeing on Sept 2, 2016 to write a letter to the Finance Ministry to urge it to quickly issue the letter of acceptance for the project.
She agreed that she wrote and signed the letter on her last day at the ministry as she retired after that, and was later appointed as the auditor-general.
Madinah further agreed that she also issued another letter dated the same day (Sept 2, 2016) seeking an additional allocation of RM461.7 million from then treasury secretary-general Tan Sri Irwan Serigar Abdullah to finance the early portion of Jepak project beginning 2017.
In the end, the letter of acceptance was issued by the Finance Ministry on Nov 10, 2016 to Jepak.
While Madinah had shown opposition to the solar hybrid project earlier, in her letter dated June 16, 2016 to Mahdzir, she stated that solar energy is a good alternative to the diesel gensets and proposed that Jepak's proposal be brought to the Finance Ministry for consideration.
Rosmah's defence tried to show the inconsistency in Madinah's stand and suggested that she was changing her testimony to suit the present circumstances. Similar suggestions were made earlier on Mahdzir, including that the former education minister may have received a bribe for the project and was to be charged with graft and had therefore made a deal to testify against Rosmah.
Throughout her two days on the witness stand during examination-in-chief, Madinah tried to portray that the Education Ministry was forced to hurry in processing Jepak's request following pressures from Najib, Rosmah and also Saidi and Saidi's partner Rayyan Radzwill Abdullah.
Akberdin: This project applied for was in 2015 and 2016... today, in 2020, you come to court and go all out to condemn this project
Madinah: That's incorrect.
Akberdin: What is incorrect? I put to you that your actions in court are in bad faith. You say that your decision is based on the prime minister's minutes on June 7, 2016. It's bad faith, when you are trapped, you find a scapegoat. You push the blame to others.
Madinah: That's incorrect.
The trial continues before Justice Mohamed Zaini Mazlan tomorrow.
Click here to see industrial property for sale in Sarawak.