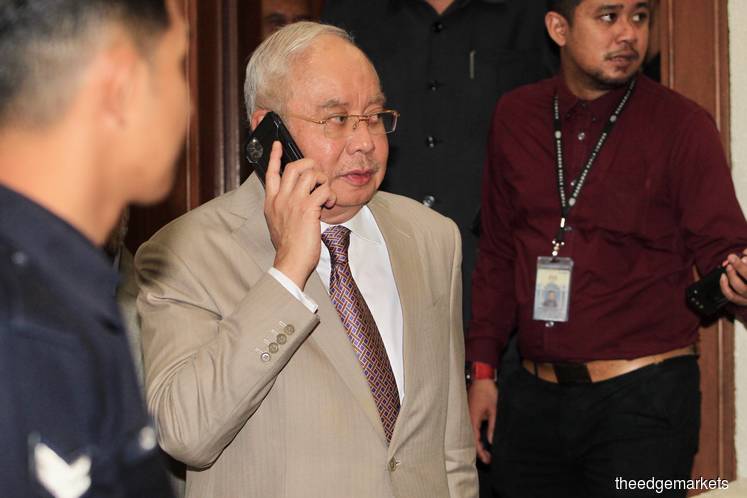 KUALA LUMPUR (Feb 24): Datuk Seri Najib Razak's lawyers intend to call in former attorney-general (AG) Tan Sri Mohamed Apandi Ali, former Malaysian Anti-Corruption Commission (MACC) chief commissioner Tan Sri Dzulkifli Ahmad as well as current chief commissioner Latheefa Koya as defence witnesses in the RM42 million SRC International Sdn Bhd trial.
During proceedings today, lead counsel Tan Sri Muhammad Shafee Abdullah informed the court that Apandi is compliant to the subpoena issued by the defence.
However, the lawyer said Apandi's mother is unwell and that the former AG has requested to be interviewed at a later date as he intends to visit his mother.
"He is currently not in the right state of mind," said Muhammad Shafee.
Recall that Apandi had previously cleared Najib of any wrongdoing over the SRC and 1Malaysia Development Bhd in January 2016. He was appointed as AG in July 2015, following the termination of his predecessor Tan Sri Abdul Gani Patail.
In relation to the audio recordings, which were released by MACC last month, ad hoc prosecutor Datuk V Sithambaram said that it is agreeable to the defence's request to review the said recordings.
The prosecution will provide the true copy of the recordings, with a caveat.
"We wish to put a caveat that by making available the recordings, this is done without prejudice to the prosecution's right to object the admissibility of the audio recordings on grounds of relevancy, necessity or any other grounds as provided under the law," he said.
Due to the manner in which the audio recordings were released by MACC, Muhammad Shafee said that the defence has their doubts and therefore will subpoena the incumbent MACC chief commissioner Latheefa to testify to the authenticity of the recordings.
Meanwhile, Dzulkifli, former MACC chief commissioner, as well as Najib's former private secretary Tan Sri Shukry Mohd Salleh, who were among the subjects in the audio recordings, will be called in to testify as well to "provide context to the conversations", according to the lawyer.
The commission released the recordings last month, during a press conference on Jan 8, which included several recorded phone conversations involving Najib, his wife Datin Seri Rosmah Mansor, Dzulkifli, Shukry as well as officials from the United Arab Emirates.
On Friday (Feb 21), both Najib and Rosmah had recorded their statements in Bukit Aman relating to the audio recordings.
The SRC trial will continue tomorrow at 9am.
Stay on top of trending Narratives
Use Location Scan to view project options and price trends near your preferred location, including MRT3 stations
Check your loan eligibility on LoanCheck, or use LoanReport to get a FREE credit report