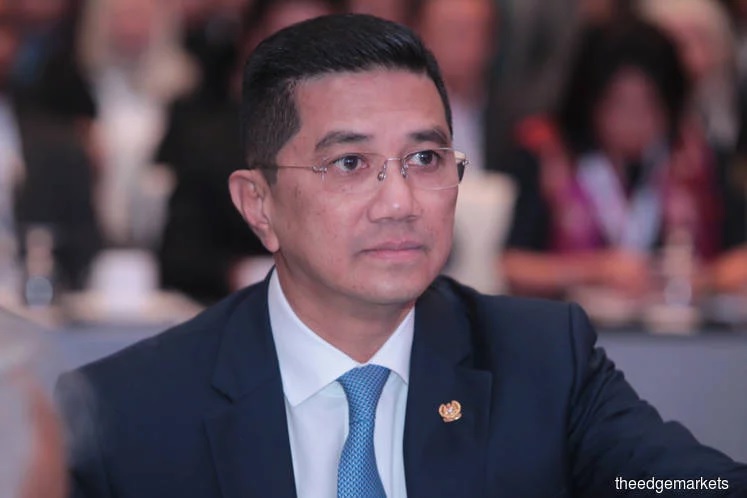 KUALA LUMPUR (Feb 24): Datuk Seri Mohamed Azmin Ali says the departure of 11 members of parliament from PKR, led by him, was a proactive move to halt an alleged conspiracy to prematurely end Tun Dr Mahathir Mohamad's term as prime minister.
In a statement posted on his Facebook account, the erstwhile PKR deputy president said the group was convinced that the efforts to force Mahathir to set a date to hand over his prime ministership was an "evil plot to make the prime minister a lame duck PM".
"The steps we took were aimed at ensuring the confidence of the rakyat and the investing community towards the stability and continuity of government policies meant to improve the people's socio-economy, as underlined in the Shared Prosperity Vision 2030," Azmin said.
"As such we strongly deny accusations labeling us as traitors. On the contrary, those who tried to bring down the prime minister mid-term are the traitors, as they prioritised the agenda to take over the power of the prime minister, over the implementation of government policies meant to improve the economy and the people's wellbeing," he added.
The statement further justified the actions of the rogue MPs to quit PKR (and by extension the ruling Pakatan Harapan (PH) coalition), and form an independent bloc in the Dewan Rakyat.
"Our efforts were indeed on the side of the truth as the perpetrators now realised the mistake they have done; hence their statements supporting Tun Dr Mahathir Mohamad to continue serving as the prime minister till the end of the term," the statement added, referring to today's declaration of support by DAP and Parti Amanah Negara for Mahathir to remain as prime minister.
Mahathir was appointed by the Yang Di-Pertuan Agong as interim prime minister today, after he submitted his resignation to the king earlier this afternoon.
In the midst of Mahathir's resignation, Parti Pribumi Bersatu Malaysia (Bersatu) president Tan Sri Muhyiddin announced that the party has quit PH, and all 26 MPs have signed statutory declarations supporting Mahathir as prime minister.
What followed Bersatu's announcement was Mahathir's resignation as chairman of the party, which he had founded.
The exit of Azmin's bloc and Bersatu means PH no longer holds a simple majority in the Dewan Rakyat, which is needed to remain as the ruling coalition.
The exit of the two sides fuelled talks of a new coalition to be led by Mahathir, being mooted by the opposition, after a series of meetings between both sides of the political divide on Sunday (Feb 23).
Earlier on Friday (Feb 21), Mahathir told a press conference after a PH presidential council meeting that he would decide when to resign after November, as opposed to calls for him to decide at that council meeting.