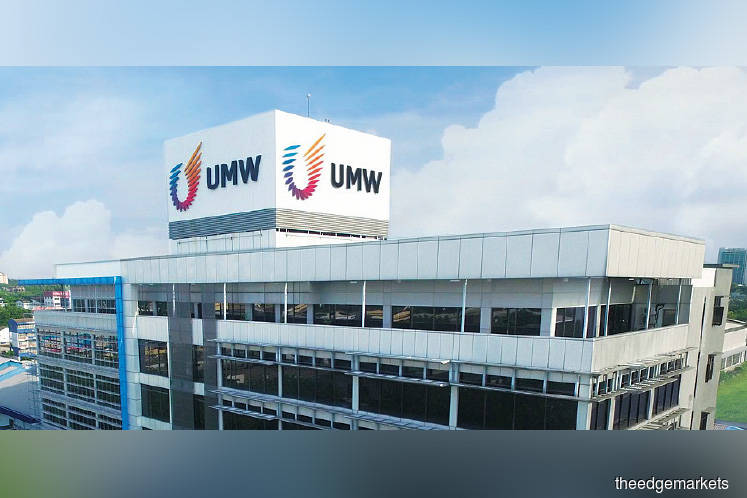 KUALA LUMPUR (Feb 27): UMW Holdings Bhd's net profit for the fourth quarter ended Dec 31, 2019 (4QFY19) jumped 11 times to RM200.46 million from RM17.93 million a year ago, mainly due to a one-off gain for land disposals of RM188.1 million.
Revenue grew 16% to RM3.12 billion from RM2.68 billion, on higher sales in the automotive and manufacturing and engineering businesses, its stock exchange filing today showed.
The group announced a final dividend of two sen per share or RM23.4 million in total, payable on March 31, bringing its full FY19 payout to six sen per share, lower than the 7.5 sen it announced for FY18.
For the full year ended Dec 31, the group recorded a 32% increase in net profit to RM454.44 million from RM344.52 million, as revenue came in 4% higher at RM11.74 billion from RM11.30 billion.
UMW, in a separate statement, attributed the stronger annual revenue and profit to its aerospace business, which turned profitable during the year. "Performance was further boosted by higher sales in the automotive, auto-components and lubricants businesses, as well as strategic cost optimisation initiatives," it said.
In particular, it noted that efforts to improve the competitiveness of UMW Toyota Motor under its automotive business, which included an expansion of its model line-up, resulted in an increased market share of 11.6% in 2019.
"The higher number of vehicles sold led to a revenue growth of 3.9% to RM9,295.9 million. Profit before tax (PBT), however, declined 3.6% to RM530.3 million, mainly due to higher depreciation expenses from its Bukit Raja Plant, which commenced operations in late 2018. For 2020, UMW plans to further expand its model line-up, with higher localisation," it said.
As for the aerospace business that commenced commercial production in late 2017, UMW said it is a key part of its broader strategic shift into high-value manufacturing.
"Furthermore, higher sales of auto components and lubricants also contributed to a 26% increase in the M&E (manufacturing and engineering) segment's revenue to RM1.06 billion in 2019. PBT more than doubled to RM60.9 million, supported by improved margins from cost optimisation efforts. Moving forward, the segment will continue to build in-house capabilities and enhance its position in the high-value manufacturing sector," it said.
It also noted that it had managed to successfully monetise its assets in FY19 and generate higher returns for shareholders via the sale of its industrial land bank in Shah Alam. "The monetisation will further enable the group to deleverage its balance sheet and fund capital expenditure for the equipment and M&E businesses in 2020," it added.
UMW shares closed 11 sen or 3.3% lower at RM3.23 yesterday, giving it a market capitalisation of RM3.77 billion. The stock has retreated near 44% in the past one year.
Click here to see industrial properties for sale in Shah Alam, Selangor.