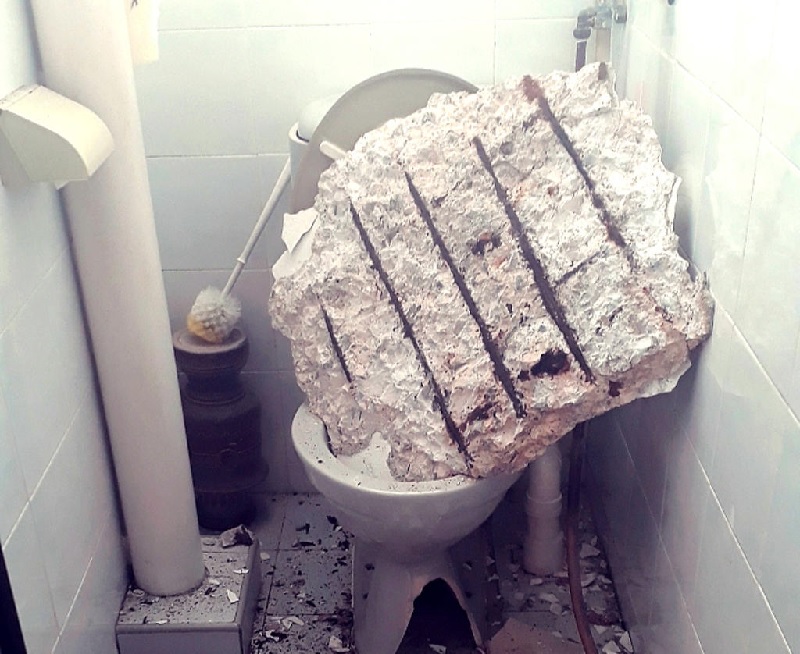 SINGAPORE (Feb 28): A concrete slab fell broke off from the ceiling of a Toa Payoh flat in Singapore and smashed into a toilet bowl just as a foreign domestic helper in her 20s was just about to clean it on Wednesday, Today reported yesterday.
Unit owner Alan Fu told Today yesterday that he "went into a bit of a panic" the domestic helper informed him of the incident through a phone text message.
"It was a close call for her ... We really have to count our blessings," Fu said.
According to Today, the 55-year-old IT manager was at the foot of the 50-year-old public housing block when the incident occurred around 5pm on Wednesday.
His 90-year-old father lives in the three-room Housing and Development Board (HDB) flat in the east of Toa Payoh town.
Fu's 30-year-old nephew also lives in the unit but was out at work at the time of the ceiling collapse.
"She sent me the photos ... I came up and I took a look at it. It was terrible," Fu said.
He estimated that the fallen slab of concrete must have weighed around 10kg and measured about half a metre in length.
While the family is now receiving help from HDB in fixing the ceiling, Fu questioned how many flat owners are aware that it is their responsibility to check on spalling concrete until it happens to them.
HDB's website states that spalling concrete is a common issue for older buildings and it is largely caused by carbonation, a natural deterioration process.
This causes the steel bars embedded in the ceiling slab to corrode, which in turn causes the concrete cover to crack and bulge.
HDB added on its website that it is the flat owner's responsibility to repair any spalling concrete in their flat.
Spalling concrete, as stated on HDB's website, is a surface maintenance problem that occurs in reinforced concrete structures.
"If attended to immediately, the building's structural integrity will not be affected," the housing authority said.
It recommends that homeowners take the following steps:
- Paint ceilings regularly to protect them against carbonation
- Seal cracks and holes properly to prevent moisture and carbon dioxide from entering concrete
- Ensure there is enough ventilation to slow down carbonation