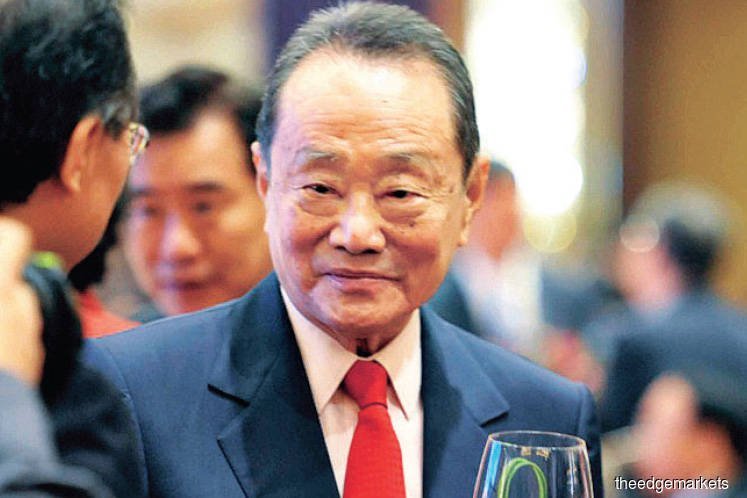 KUALA LUMPUR (April 8): Malaysians occupied 12 spots on Forbes' 2020 Billionares List, compared to 13 in 2019. Notably, tycoon Tan Sri Syed Mokhtar Albukhary has been dropped from the list.
There are 2,095 billionaires on the list this year, compared with 2,153 last year. And over half of them — a record 1,062 — saw a drop in their fortunes, following the pandemic-driven market rout.
Including Syed Mokhtar, who was ranked 1,349th last year with a total net worth of US$1.7 billion, a total of 267 people were dropped off this year's list.
"The richest people on Earth are not immune to the coronavirus. As the pandemic tightened its grip on Europe and America, global equity markets imploded, tanking many fortunes. As of March 18, when we finalised this list, Forbes counted 2,095 billionaires, 58 fewer than a year ago and 226 fewer than just 12 days earlier, when we initially calculated these net worths.
"Of the billionaires who remain, 51% are poorer than they were last year. In raw terms, the world's billionaires are worth US$8 trillion, down US$700 billion from 2019," Forbes wrote on its website following the release of the list yesterday.
The Malaysian line-up this year is again led by tycoon Robert Kuok Hock Nien. But Kuok, who was once dubbed the Sugar King of Asia, fell 37 spots to the 141st place with a total net worth of US$9.6 billion. Last year, he was at the 104th spot on the list of billionaires, with a net worth of US$12.8 billion.
While Hong Leong Group's Tan Sri Quek Leng Chan climbed two places to the 147th spot in the list, from 149th in 2019, his net worth came in slightly lower at US$9.2 billion, versus US$9.4 billion last year.
The third Malaysian billionaire on the list was Maxis Bhd's T Ananda Krishnan, who fell to the 361st place from 261st last year, with a total net worth of US$4.7 billion versus US$6.2 billion in 2019.
After Ananda was casino mogul Tan Sri Dr Chen Lip Keong at 437th place with a total net worth of US$4.1 billion, versus his rank of 355th and net worth of US$5 billion last year, followed by Datuk Lee Yeow Chor and Lee Yeow Seng at 514th place with net worth of US$3.6 billion.
Other Malaysian billionaires that appeared on the list are:
Tan Sri Teh Hong Piow
Rank: 538
Net worth: US$3.5 billion
Kuan Kam Hon & family
Rank: 804
Net worth: US$2.6 billion
Tan Sri Lim Kok Thay
Rank: 1,063
Net worth: US$2 billion
Tan Sri Lau Cho Kun
Rank: 1,267
Net worth: US$1.7 billion
Tan Sri Paul Koon Poh Keong
Rank: 1,613
Net worth: US$1.3 billion
Tan Sri Dr Lim Wee Chai
Rank: 1,613
Net worth: US$1.3 billion
Tan Sri Dr Jeffrey Cheah
Rank: 1,851
Net worth: US$1.1 billion
Amazon's Jeff Bezos took the top spot on the billionaires list, with a net worth of US$113 billion, followed by Microsoft's Bill Gates (net worth of US$98 billion) and LVMH's Bernard Arnault and his family (net worth of US$76 billion).
Berkshire Hathaway CEO Warren Buffett took fourth place with a total net worth of US$67.5 billion, while Oracle Corp executive chairman Larry Ellison came in fifth with a total net worth of US$59 billion.
Notably, US President Donald Trump's net worth plunged US$1 billion in less than a month. "As of March 1, Forbes valued President Donald Trump's net worth at US$3.1 billion. The markets took a turn and reporters went back to work to approximate how much the coronavirus affected the president's fortune. Trump's newly estimated fortune is now US$2.1 billion, bringing him to No. 1001 on this year's ranking, down from No. 715 last year," Forbes wrote.
Stay calm. Stay at home. Keep updated on the latest news at www.EdgeProp.my. #stayathome #flattenthecurve
Click here to see residential properties for sale in Kuala Lumpur.