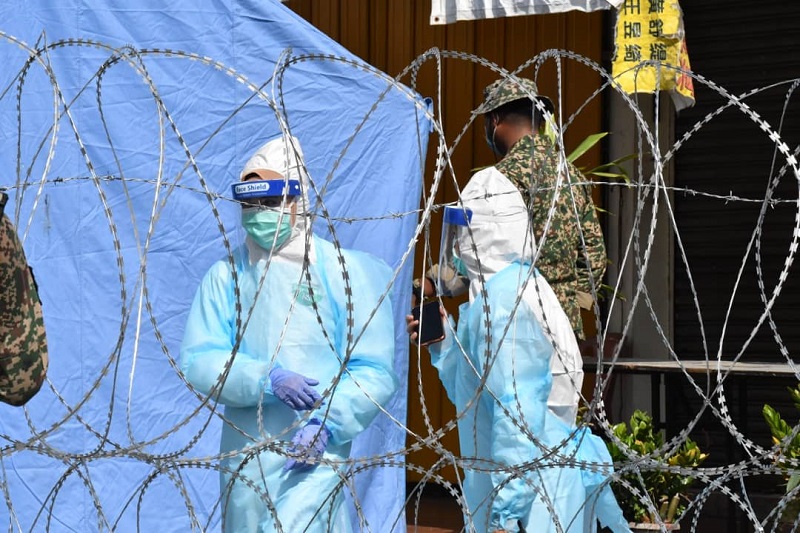 KUALA LUMPUR (May 15): The number of active Covid-19 cases in Pudu, where the government has imposed a semi-enhanced movement control order (SEMCO) starting midnight yesterday, climbed to 40 yesterday, according to the Ministry of Health (MoH).
The number of active cases jumped from 28 reported on Wednesday, putting it one case away from becoming a red zone.
Cumulatively, Pudu had 58 cases, based on a map provided by the MoH's Crisis Preparedness and Response Centre.
According to the ministry, all of the new cases were in the Pudu market vicinity, bringing the total cases of this cluster to 30, with all patients being foreign nationals.
Notably, the cases also accounted for all of the new cases detected here yesterday, pushing the federal territory's tally to 1,493 cases or 21.9% of the country's total.
However, active cases in Kuala Lumpur dropped to 349, from 483 reported a day before.
The capital still had the highest number of active cases among all states and federal territories, followed by Negeri Sembilan (203), Selangor (132), Sarawak (125) and Johor (111).
The MoH has three categories of Covid-19 zones: Red zones are defined as districts with at least 41 active Covid-19 cases, yellow zones have one to 40 cases, while green zones have no active case.
The number of red zones in Kuala Lumpur remained at four, including downtown Kuala Lumpur, Batu, Kampung Baru and Seri Petaling.
The number of active cases in the four health districts dropped from a day before, in which Batu's active cases went down to 65 from 104, downtown Kuala Lumpur fell to 85 from 155, Kampung Baru decreased to 75 from 97, while Seri Petaling fell to 41 from 45 active cases.
Besides, the number of green zones in Kuala Lumpur rose to eight, with the addition of Brickfields after the health district reported zero active case as of noon yesterday from two the day before, according to the MoH.
Other green zones in the capital city included Alam Damai, Bangsar, Bukit Damansara, Connaught, Datuk Keramat, Kepong and Mont Kiara.
Yesterday, 40 new cases of Covid-19 were reported nationwide.
Cumulative cases in the country rose to 6,819, but active cases continued to fall to 1,356.
As at noon yesterday, the number of red zones remained at eight. Yellow zones increased to 71, while the number of green zones dipped to 122.
Stay safe. Keep updated on the latest news at www.EdgeProp.my
Click here to see residential properties for sale in Kuala Lumpur.