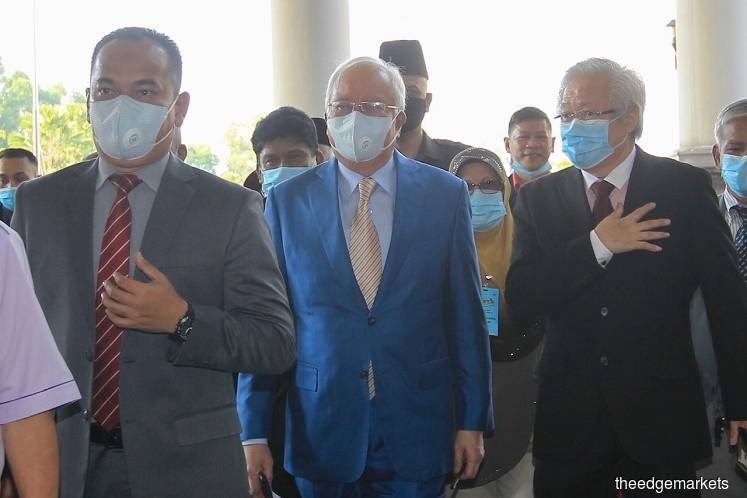 KUALA LUMPUR (June 1): Datuk Seri Najib Razak's (pictured) defence team tells the court today that an affidavit he submitted in 2016 for another case, in which he admitted that the RM42 million that ended up in his personal accounts came from SRC International Sdn Bhd, should not be considered as an admission of guilt.
The former prime minister's lawyer Harvinderjit Singh said there are other circumstances that the court ought to consider, like whether Najib originally — at the material time — knew that the money that went into his accounts came from SRC, formerly a subsidiary of 1Malaysia Development Bhd.
"For charges of criminal breach of trust (CBT), the court must find the accused of [having] dishonest intention to use the fund or property (to find him or her guilty).
"These inferences have been addressed in the submissions. In short, there is evidence as a whole that supports the inference that Najib's belief and state of knowledge was that the funds in his accounts at the material time were from donations made to out to him by the Saudi Arabian royalty in the circumstances prevailing since 2011 and 2012, [and] there was no cause to suspect anything else," the lawyer said.
In his testimony earlier, Najib maintained that he thought the RM42 million in his accounts was still part of the donation he purportedly received from the late King Abdullah of Saudi Arabia. King Abdullah passed away in 2015.
The lawyer was referring to the transfers of RM27 million, RM5 million and RM10 million to two accounts belonging to Najib in AmBank, between Dec 26, 2014 and Feb 10, 2015, for which the Pekan Member of Parliament is facing three counts of CBT and money laundering.
Harvinderjit said Najib had not known, at the time the transfers took place, that the funds actually originated from SRC. He also had not known that those who had dealt with his accounts included his late principal private secretary, Datuk Azlin Alias, fugitive businessman Low Taek Jho (Jho Low), and former SRC managing director Nik Faisal Ariff Kamil, who is also still missing despite arrest warrants having been issued for the latter.
Harvinderjit said it was only later, in February 2016, that Najib affirmed the affidavit — which was for a defamation suit he filed against Tun Dr Ling Liong Sik — and stated that the RM42 million came from SRC, following an exposé made by news portal Sarawak Report.
"DSN (Najib) should not be faulted for the actions of others like Azlin, Jho Low and Nik Faisal (for CBT)," the lawyer said.
Najib filed the suit against the former transport minister and ex-MCA president in 2015, when Ling called him a thief for stealing the people's money. Ling's lawyer Ranjit Singh, who was called in as the prosecution's 55th witness earlier, had produced court documents in relation to the suit and Najib's affidavit.
In the affidavit, the former Umno president said US$700 million in his accounts was from a donation, while RM42 million — which he admitted originated from SRC — had entered into his account without him knowing. It was channelled through two intermediaries, namely Gandingan Mentari Sdn Bhd and Ihsan Perdana Sdn Bhd.
However, when Umno and Barisan Nasional lost the 2018 general election, Najib dropped his suit against Ling.
Najib is facing CBT and money-laundering charges involving the transfers of the RM42 million SRC funds to his accounts. He has also been charged for abusing his power by approving government guarantees on loans worth RM4 billion from Retirement Fund Inc (KWAP) to SRC.
Tomorrow, Harvinderjit and lead counsel Tan Sri Muhammad Shafee Abdullah will continue with the defence's submission before High Court judge Mohd Nazlan Mohd Ghazali.
Stay safe. Keep updated on the latest news at www.EdgeProp.my