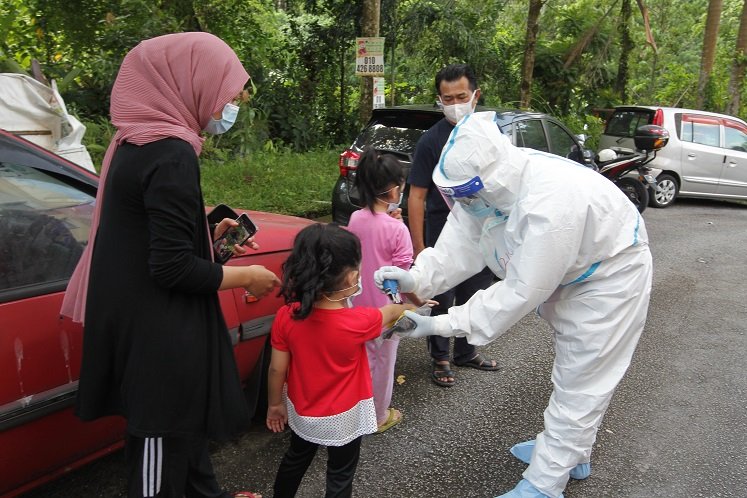 KUALA LUMPUR (June 9): Sepang and Lembah Pantai are no longer categorised as red zones, as the number of active cases in the two health districts fell below 40, according to the Ministry of Health (MoH).
Based on the data provided by the MoH's Crisis Preparedness and Response Centre (CPRC), from May 26 until noon yesterday, the number of active cases in Sepang, Selangor dropped to 32 from 58 previously, while cases in Lembah Pantai in Kuala Lumpur fell to 34 from 80.
All nine health districts in Selangor were no longer listed as red zones, as eight health districts in the state were categorised as yellow zones, namely Sepang (32), Kuala Langat (30), Petaling (7), Hulu Langat (5), Gombak (3), Klang (3), Kuala Selangor (2), and Sabak Bernam (1).
Meanwhile, Hulu Selangor remains a green zone with no active cases during the two-week period.
This brought total active cases in Selangor down to 83, from 130 previously.
Over at Kuala Lumpur, the number of active cases also fell to 549 from 660.
Only Cheras was categorised as a red zone in the capital city, remaining as the worst-hit coronavirus hotspot with 509 active cases over the past two weeks.
Meanwhile, Kepong and Titiwangsa were both yellow zones with three active cases respectively.
The only other red zone in Malaysia is Rembau in Negeri Sembilan, which still has 98 active cases.
The number of red zones has halved from four reported a day before.
In total, there were 783 active cases recorded for the two-week period, said the MoH.
The ministry said the cases counted during the two-week period were local transmissions involving Malaysians and non-citizens, including detainees at immigration detention centres in Bukit Jalil, Semenyih, Sepang and Putrajaya.
Active cases refer to patients being treated in hospitals, noted the MoH.
The MoH has three categories of Covid-19 zones: red zones are defined as districts with at least 41 active Covid-19 cases, yellow zones have one to 40 cases, while green zones have no active case.
As for the other states, Negeri Sembilan had 104 active cases, Pahang had 19, Sabah (10), Sarawak (5) Melaka (4), Putrajaya (4), Johor (3) while Perak had one.
Labuan has joined other states such as Penang, Perlis, Kedah, Kelantan, and Terengganu in the list of green zones, meaning there were no infections for the two-week period.
Yesterday, the MoH reported that Malaysia's daily new cases of Covid-19 fell to seven cases, bringing the total positive cases in the country to 8,329 with 1,518 active cases.
Meanwhile, 20 more patients were discharged, bringing total recoveries to 6,694.
The MoH noted that no new deaths were reported. Thus, the country's Covid-19 death toll remained at 117.
Stay safe. Keep updated on the latest news at www.EdgeProp.my