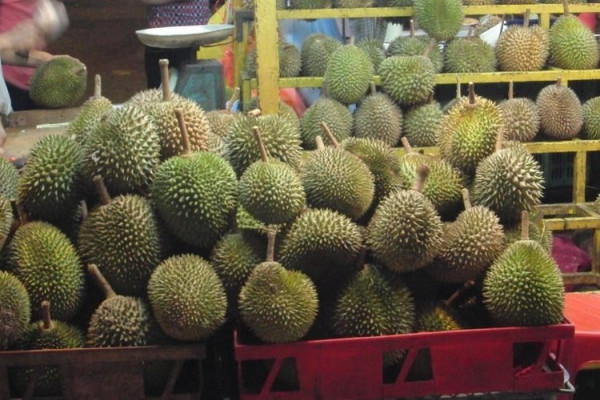 KUALA LUMPUR (July 31): Royal Pahang Durian Group's legalisation scheme for illegal durian growers in Raub can be a boost for exports of the "King of Fruits" overseas.
One of the biggest markets is China, with demand from the Middle Kingdom expected to "to soar exponentially in the coming years, as the exports of Malaysian frozen whole fruit durian to China was approved on May 30 last year", wrote The Edge Malaysia in its latest issue.
Royal Pahang Durian explained to the weekly why the legalisation scheme is important – the General Administration of Customs China (GACC) demands "that the imported Malaysian durians must be sourced from Malaysian Good Agricultural Practices (MyGAP)-certified farms" and that illegal durian farms are not MyGAP-certified "due to the absence of valid land titles".
"Should China discover that a significant portion of Malaysian durians imported are from non-certified farms, this could spell a disaster for the Malaysian durian industry. We don't want another bird nest-like fiasco," said a spokesperson from Royal Pahang Durian.
The spokesperson added that the scheme "intends to directly address the issue of non-MyGAP and others, such as environmental degradation and further encroachment, while allowing farmers to continue farming in lieu of outright enforcement and eviction".
The lack of MyGAP certification for durians taken from illegal farms "is particularly worrying and can potentially destroy the local durian industry".
"If the issue of illegal encroachment remains unresolved and farms continue without the MyGAP certification, the potential for the banning of Malaysia's durian exports to China and the subsequent collapse of the national durian industry is very real.
"This would be extremely unfair to those legal farmers who have dutifully adhered to the regulations and export protocols and have been diligent in contributing to the growth of the industry," the spokesperson clarified to the business publication.
Transparent tax filing and assessment by tax authorities will also be enabled with legalisation.
"If you look at it holistically, the IRB (Inland Revenue Board) will have a basis to collect tax revenues from everyone in the durian industry in Malaysia. Currently, almost all dealings are being done in cash throughout the country.
"With the successful implementation of the legalisation scheme, proper trade transactions will be recorded. The state will rightfully receive revenue from land use and the IRB on tax revenue," said the spokesperson.
The Royal Pahang Durian spokesperson is "confident that the legalisation scheme can better organise the local durian industry and position it for growth in export markets".
Stay safe. Keep updated on the latest news at www.EdgeProp.my
Click here for more property stories
Read the full report in this week's The Edge Malaysia