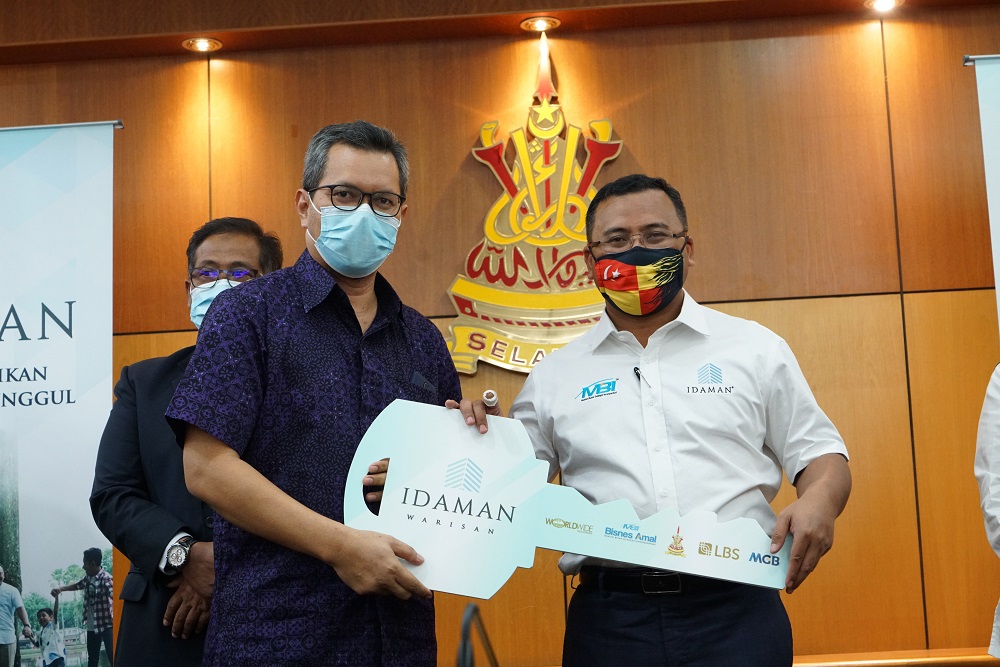 SHAH ALAM (Aug 7): After two decades, 203 Idaman Warisan homeowners can finally rejoice as they received their keys to their homes at a handover ceremony yesterday organised by the Menteri Besar Selangor Incorporated (MBI Selangor).
The housing project, formerly called Arcadia and located in Taman Alam Perdana, Puncak Alam, Selangor, was revitalised and developed into a Rumah Idaman affordable housing project. Arcadia will be renamed as 'Idaman Warisan' and the revitalisation will cost RM38 million or about RM200,000 per unit. Revitalisation efforts began with the signing of an agreement in September 2016 between MBI Selangor and the Strategic Consortium, involving Worldwide Holdings Bhd and LBS Bina Group Bhd.
One of the Idaman Warisan homeowners present at the key handover ceremony, Sharudin Ismail expressed his gratitude over the completion of the project.
"This is a great gift and historical moment for my family as we have waited 21 years for this house. Although the project was abandoned, all the homeowners still have to service the loan because we don't want to be declared bankrupt," offered Sharudin.
The open tender system and transparent project implementation has helped the state government to generate a revenue amount of RM500 million and Idaman Warisan was handed over to the original homeowners without incurring additional cost on them for the revitalisation, a media statement by MBI Selangor said yesterday.
"In the previous agreement, the project will be delivered vacant like the rest of the housing project. However, I have also announced additional incentives for Idaman Warisan homeowners in 2018 whereby every home will come with basic home appliances such as a television set, kitchen cabinet, air-conditioners, water heaters, and refrigerator," said Selangor Menteri Besar Datuk Seri Amirudin Shari in his speech during the handover ceremony.
He added that the revival of this project was complicated and took longer than expected due to some technical and legislation issues that had to be reviewed.
"Also, a few owners were not contactable because they have moved while some have already passed away. Thanks to the close cooperation between the government and private organisation that this project is finally completed," he said.
Stay safe. Keep updated on the latest news at www.EdgeProp.my
Click here for more property stories.
Click here to see residential properties for sale in Selangor.