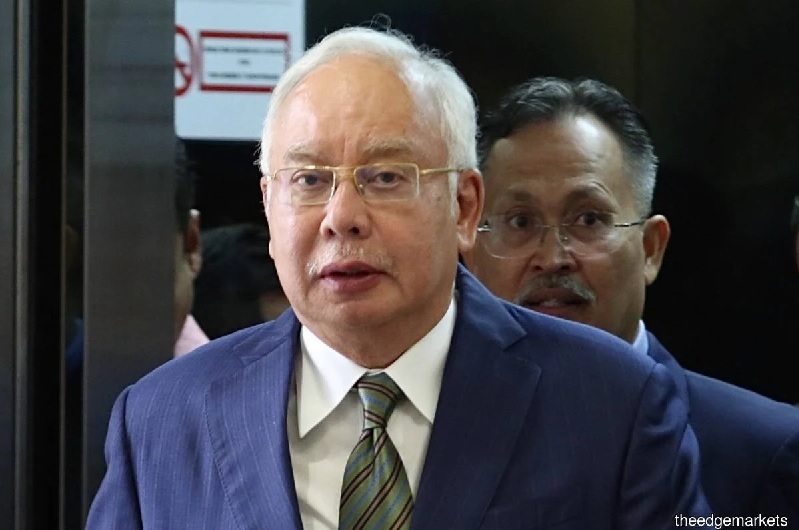 KUALA LUMPUR (Aug 11): The prosecution in Datuk Seri Najib Razak's SRC International Sdn Bhd case has filed a notice of appeal against the sentences imposed by the High Court on July 28.
Najib was sentenced to 12 years' jail and fined RM210 million after Justice Mohd Nazlan Mohd Ghazali convicted the former premier of all seven charges in relation to the SRC case.
The Attorney General's Chambers Appeal Unit head Datuk Dusuki Mokhtar confirmed with theedgemarkets.com that the notice of appeal had been filed last Friday (Aug 7) against the sentences imposed.
"It was filed via e-filing," Dusuki said.
The Appeal Unit is part of the Trial and Appeals division of the Attorney General's Chambers.
Today is the last day for both parties, i.e. the prosecution and defence, to file their appeals, as it is the 14th day after the decision.
Previously, it was reported that Najib's lawyers had on July 30 filed a notice of appeal against the conviction of Najib for all seven charges and the sentence meted out to the Pekan Member of Parliament.
Justice Nazlan had ruled that the defence had failed to create doubts about the prosecution's case.
Najib, who is the most senior politician, is the highest member of the executive to be found guilty of one count of abuse of power, three charges of criminal breach of trust (CBT) and three counts of money-laundering of RM42 million.
He was found guilty of abusing his power in using his position as prime minister and finance minister to move the approval of the RM4 billion loan from Retirement Fund Inc (KWAP) to SRC, where the RM42 million originated.
The former Umno president was also found guilty of three counts of CBT and money laundering in relation to the RM42 million (ie RM27 million, RM5 million and RM10 million) of SRC funds that were deposited into his AmIslamic accounts between Dec 26, 2014 and Feb 10, 2015.
For this, Justice Nazlan sentenced Najib to 12 years' jail and fined him RM210 million for abuse of power, and another 10 years' jail for each CBT charge and another 10 years' jail for each money laundering charge.
However, the judge ordered the jail sentence to run concurrently.
With both appeals filed by the prosecution and defence, the appeals and cross-appeals would be heard at the Court of Appeal and the High Court would have to prepare the record of appeal.
In a related development, the prosecution is said to be calling some 30 witnesses in Najib's other SRC case at the High Court, where he is charged with three counts of money laundering of another RM27 million.
This is according to Deputy Public Prosecutor Mohd Izzat Fauzan after he informed Justice Mohamed Zaini Mazlan, who is presiding over this other SRC case and today fixed Aug 2 to 12, 2021 as additional trial dates.
EdgeProp Malaysia Virtual Property Expo 2020 (VPEX 2020) is happening now! Find out more exclusive projects and exciting deals here
Stay safe. Keep updated on the latest news at www.EdgeProp.my
Click here for more property stories