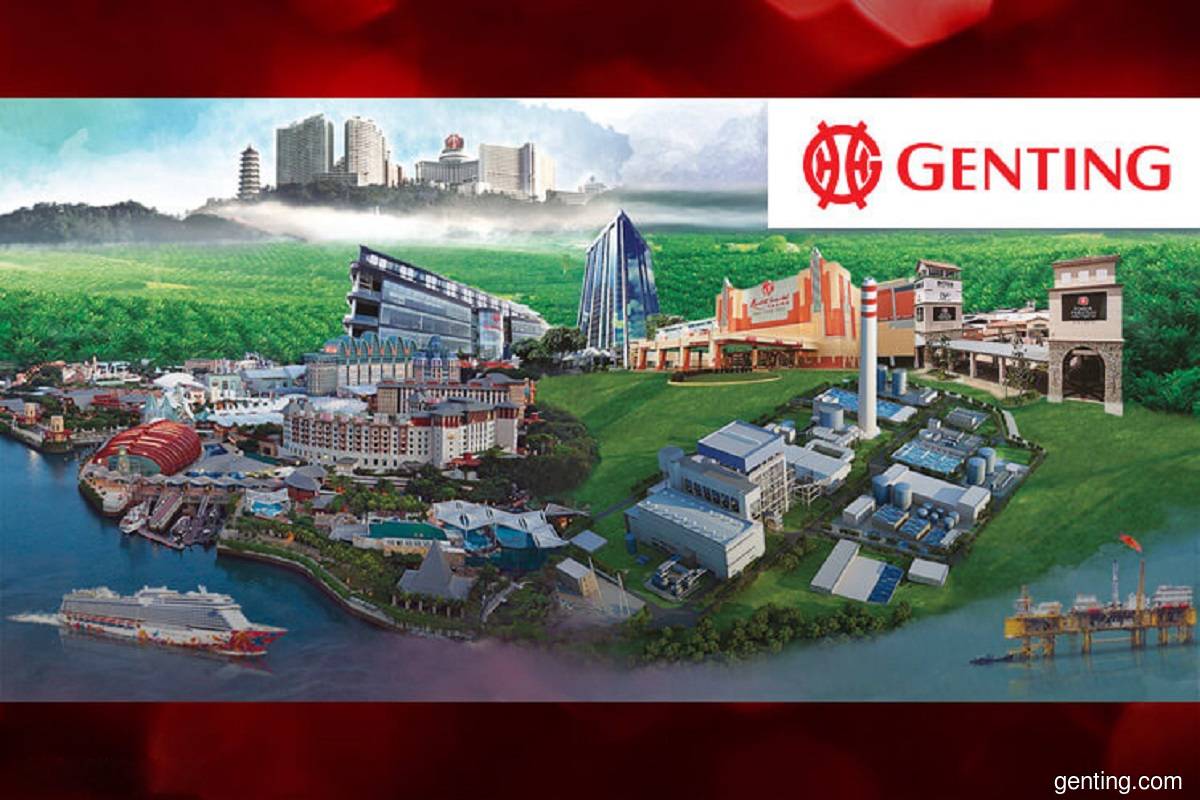 KUALA LUMPUR (Aug 21): Casino and hotel operator Genting Bhd's share price fell more than 4% to become the worst-hit entity among the FBM KLCI's 30 stocks at Bursa Malaysia's afternoon break today after cruise ship operator Genting Hong Kong Ltd said on Wednesday (Aug 19) the company should temporarily suspend all payments to creditors to preserve liquidity.
At Bursa today, Genting settled down 17 sen or 4.47% at RM3.63 for a market capitalisation of RM14.63 billion.
Genting saw some 28 million shares traded. The stock's price cut losses after falling to its lowest so far today at RM3.58.
Meanwhile, Genting Malaysia Bhd (GenM) settled down eight sen or 3.48% at RM2.22 for a market value of RM12.55 billion. Some 37 million shares were traded.
GenM pared losses after falling to its lowest so far today at RM2.16.
On Wednesday (Aug 19), Genting Hong Kong said in a filing with The Stock Exchange of Hong Kong Ltd that the Covid-19 pandemic has resulted in the suspension of sailing globally.
Genting Hong Kong said given the ongoing uncertainty of the situation, the company issued profit warning announcements regarding its results for the six months ended June 30, 2020 on March 13, 2020 and Aug 7, 2020.
According to Genting Hong Kong, the Covid-19 pandemic has had and will continue to have a material impact on the financial position and operating results of the group.
The group said it has undertaken a number of cost reduction and cash conservation measures to mitigate the effects of the resultant loss of revenues from its operations. In addition, the company said it has mandated certain financial institutions (funding advisors) to arrange a fund raising exercise for the group.
"The funding advisors delivered a report on parties interested in the fund raising exercise to the board of directors of the company on Aug 19, 2020. The board has been informed that the group and potential interested parties will require more time to assess the provision of additional funding to the group. There is currently a lack of certainty as to the outcome of the fund raising exercise.
"As the fund raising exercise may or may not be consummated, the board wishes to announce that it has, after careful consultation with its legal and financial advisers, concluded that in order to preserve as much liquidity of the group as possible and to fulfil the board's fiduciary duties and to treat all its financial creditors fairly and equitably, the company should temporarily suspend all payments to the group's financial creditors (including interest and charter payments). The company's remaining available cash will be reserved to maintain critical services for the group's operations, while the company will endeavour to negotiate a holistic debt restructuring solution for the current financial indebtedness of the group and continue to engage with interested parties identified by the funding advisors," Genting Hong Kong said.
Analysts said Genting Bhd and its subsidiaries are not immediately affected by Genting Hong Kong's decision to suspend payments to creditors.
S&P Global Ratings analyst Sandy Lim wrote in a note yesterday saying this was because S&P Global Ratings believed Genting Bhd did not have any material relationship with Genting Hong Kong besides a common brand name.
"Based on our understanding from Genting Bhd, the Genting Bhd group does not have a cross-share ownership with Genting Hong Kong, and no cross-default clause, guarantee, or keepwell structures that would affect a direct financial obligation on Genting Bhd group.
"The Genting Bhd group has recurrent related-party transactions with Genting Hong Kong, such as the payment of licensing fees from Genting Hong Kong to Resorts World Inc Pte Ltd, charge for office space, and for support and consulting services. However, we understand these transactions are arms' length in nature and receivables due from Genting Hong Kong were immaterial as of end June 2020," Lim said.
EdgeProp Malaysia Virtual Property Expo 2020 (VPEX 2020) is happening now! Find out more exclusive projects and exciting deals here
Stay safe. Keep updated on the latest news at www.EdgeProp.my