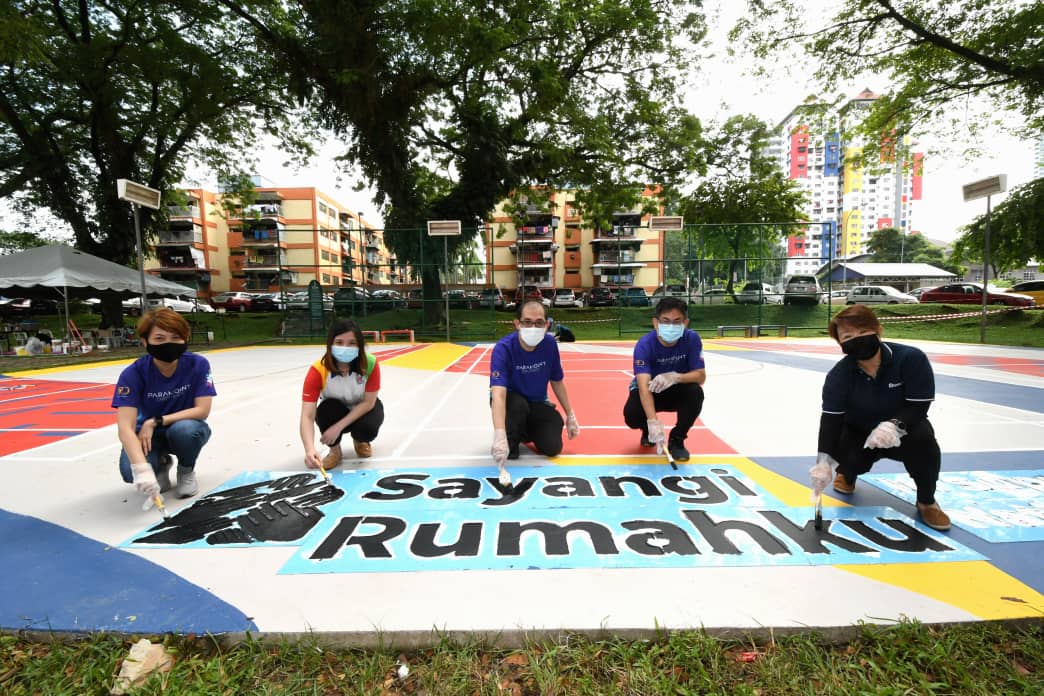 KUALA LUMPUR (Sept 15): A pleasant change came right in time, one day before Malaysia Day, at Perumahan Awam Seri Kedah or Flat Seri Kedah to remind people about the spirit of unity that brings Malaysians together.
Painting work of an outdoor futsal cum badminton court, concrete slides and a gazebo is completed today at the public housing in Gombak Setia, Kuala Lumpur. The public area at Rumah Awam Seri Kedah is now beaming with vigorous colours of the national flag.
This has been done under the Sayangi Rumahku campaign which was launched in July 2019. The campaign is organised jointly by EdgeProp.my, Paramount Property and Nippon Paint Malaysia, in support of the National Community Policy or Dasar Komuniti Negara (DKN) formulated by the Housing and Local Government Ministry (KPKT) that aims to improve the lives of the B40 group.
Paramount Property CEO Beh Chun Chong told EdgeProp.my that he is glad that the refurbishment work was completed one day before Malaysia Day, the residents here could now celebrate a blissful, meaningful occasion with a brand new looking court.
"I am proud that we are able to carry out such a meaningful activity that contributes back to the community," he said today at Perumahan Awam Seri Kedah.
Nippon Paint Malaysia marketing manager Sharon Pong was also delighted to see the dull and greyish environment transformed into a colourful and vibrant place. "I believe that the improvement in the environment would help to instill good mood and a sense of community to residents here," she said.
"It is not just about partaking activities in the court, it is a sight to behold. The feedback is clear that the community here is happy [with the initiative]. Residents, some of them who are elderly, have taken time to join the work here," EdgeProp Malaysia editor-in-chief and managing director Au Foong Yee enthused.
Concurring with this, Nabil Nasyriq, 27, who has been staying here his whole life, said he is now more motivated to utilise the courts after seeing the refurbishment done. "I like to play futsal with my friends. I also hope that the makeover would prompt the residents here to take good care of the court," he added.
Nabil is also the secretary of the Rumah Awam Sri Kedah residents' association.
The painting work in Flat Kedah began on Sept 5, 2020 and has been completed sooner than expected, thanks to the active participation of volunteers including those from EdgeProp.my, Paramount Property, Nippon Paint Malaysia and, of course, residents at Perumahan Awam Seri Kedah.
Perumahan Awam Seri Kedah is among the three PPRs selected for the sports court makeovers, along with PPR Lembah Subang 1 and PPR Seri Cempaka where refurbishment work has been completed.
EdgeProp Malaysia Virtual Property Expo 2020 (VPEX 2020) is happening now! Find out more exclusive projects and exciting deals here
Stay safe. Keep updated on the latest news at www.EdgeProp.my
Click here for more property stories.