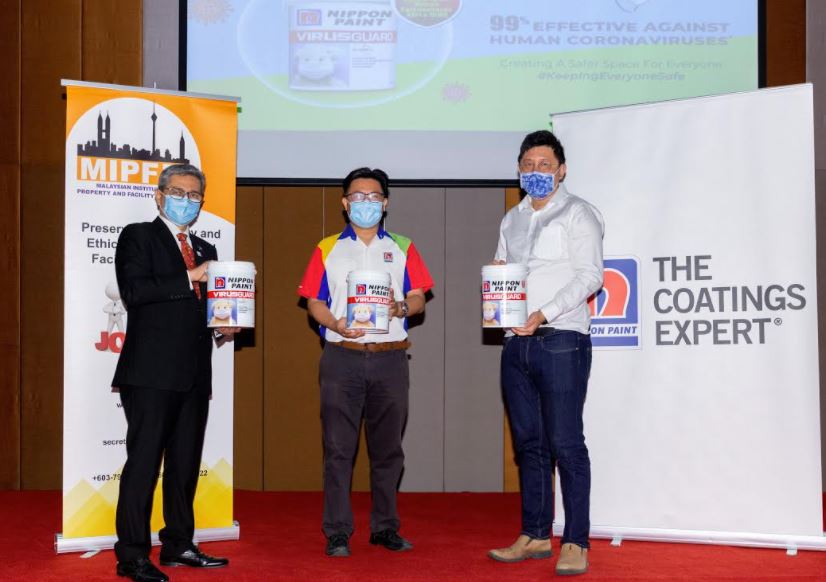 PETALING JAYA (Sept 30): Coating solutions provider Nippon Paint Malaysia (Nippon Paint) has given 600 litre of the Nippon Paint VirusGuard paint to 42 property management agencies in Malaysia.
The move under the #RuangSelamat initiative, which was launched in partnership with the Malaysian Institute of Property and Facility Managers (MIPFM) during its ninth annual general meeting on August 19, 2020, is a part of the Nippon Paint's corporate social responsibility (CSR) efforts to safeguard the frontliners who have been looking after our buildings and the community within.
The Nippon Paint VirusGuard has been tested by Analytical Lab Group against the Human Coronavirus, ATCC VR-740, strain 229E. With the Silver Ion Technology, the paint has achieved a 99.9% effectiveness in viral titer reduction upon contact of the virus on the paint film. The human coronavirus (strain 229E) is linked to common cold symptoms and respiratory tract infections.
The Nippon Paint VirusGuard could also mitigate the growth of viruses and bacteria such as the hand, foot and mouth disease (HFMD), influenza A (H1N1), Escherichia coli and Staphylococcus aureus.
"We are certain that the VirusGuard innovation will benefit our partners in the property industry by keeping common areas safe, as we continue to navigate through the new normal. And as the wall forms the largest surface of a space, VirusGuard will be one mitigating factor against viruses and bacteria, while maintaining other important hygiene practices," Nippon Paint Malaysia senior sales manager Matt Wong Say Peng said in a media statement today.
"The collaboration with the MIPFM is one of the many efforts that Nippon Paint has embarked on, to provide support, and further elevate the health and wellness of individuals, businesses and organisations during this unprecedented time,"Nippon Paint Malaysia assistant general manager of marketing Datin Wong Meng Lee noted.
MIPFM president Haji Adzman Shah Mohd Ariffin deemed the contribution by Nippon Paint timely, as the property managers and security frontliners have remained resilient and have been working tirelessly throughout the different phases of the movement control order (MCO).
"The Nippon Paint VirusGuard will be an added protection to further safeguard their management offices and guardhouses which gradually have high-traffic footfall. We are indeed honoured to collaborate with Nippon Paint Malaysia and are appreciative of their commitment in supporting the property industry," he said.
Get the latest news @ www.EdgeProp.my