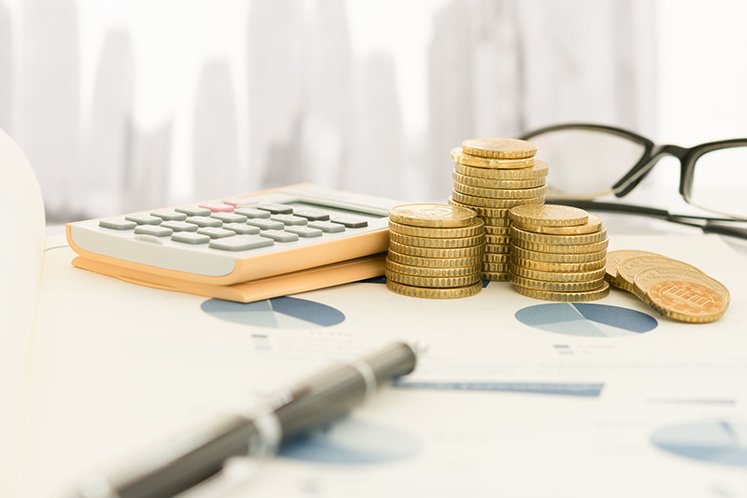 KUALA LUMPUR (Oct 14): Despite the expected weakening in financial health among non-financial corporates (NFCs) due to the Covid-19 pandemic, the aggregate indicator of the debt- servicing capacity of NFCs has remained above the prudent threshold, reflecting the reasonably healthy financial conditions prior to the pandemic, according to Bank Negara Malaysia's (BNM) Financial Stability Review for the first half of 2020 (1H20).
The debt servicing capacity as measured by interest coverage ratio (ICR) stood at 3.7 times in 1H20. The prudent threshold for ICR is two times.
Also, NFCs' cash to short-term debt ratio was also maintained at one time in 1H20, which is within the prudent threshold level.
While the ICR remained above the prudent threshold level, the central bank said it has weakened from 4.8 times in 2H19 due to the impact of Covid-19. The number of listed firms with an ICR of less than two times also rose to 32.1% in 1H20 against 28.1% in 2H19.
Hence, the central bank warned that the share of firms at risk is expected to rise further by end-2020 as more businesses may struggle to adapt to new operating conditions.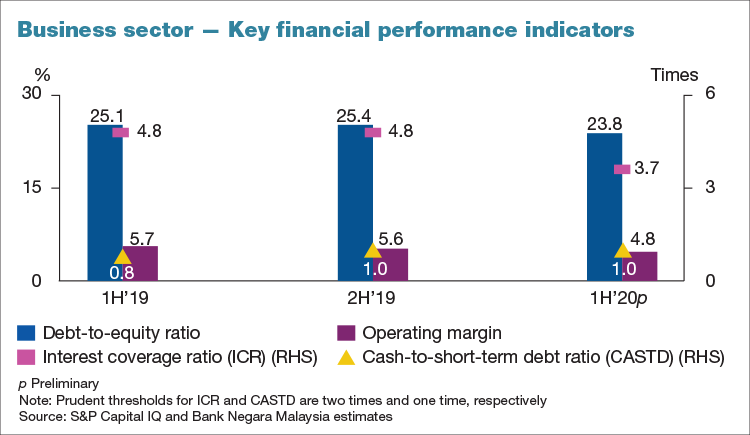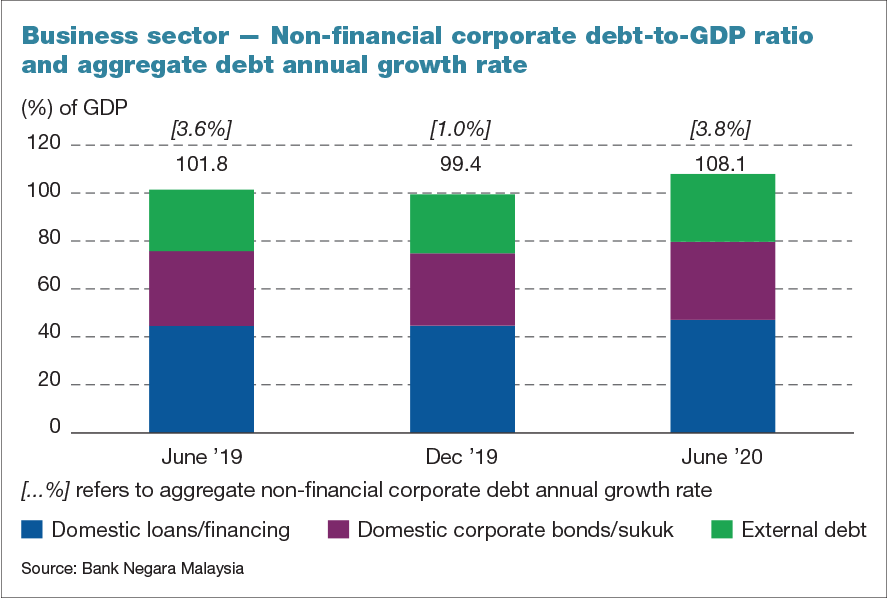 For the outlook for business credit risks, BNM said it will, however, continue to be highly dependent on the pace and strength of economic recovery.
While business conditions are expected to improve in 2H20, moving in line with the gradual improvement in economic activity, the vulnerabilities remain elevated for sectors that may see a slower recovery, particularly tourism-related sectors and high-touch service industries where border restrictions and precautionary consumer behaviour continue to weigh on business activities.
BNM also said banks have reported a higher share of business loans with increased credit risk, indicating signs of businesses facing greater financial stress.
Notwithstanding that, it said the targeted debt assistance and relief measures extended by banks will help viable businesses maintain debt serviceability and avoid widespread defaults.
"For the period between April and July 2020, banks approved 6.3 times as many applications from businesses to reschedule and restructure (R&R) their loans compared to total outstanding R&R business exposures as at end-2019," it noted.
It added that the significant relief measures introduced have kept business loan impairment ratios low and stable at 2.5% in for overall NFCs.
As at June 2020, the total outstanding debt of the NFC sector grew by 3.8% annually to RM1.6 trillion or 108.1% of GDP, mainly attributed to lower repayments due to the moratorium and an increase in working capital loans.
Meanwhile, aggregate new loans disbursed to NFCs however declined 3.4%, as demand for financing moderated sharply and banks re-assessed business sector risks.
For corporate sector external debt, it increased by 4.9%, mainly driven by additional borrowings by firms in the oil and gas-related sector and valuation effects following the weaker ringgit during 1H20 against selected major and regional currencies.
Having said that, BNM stated that risks to financial stability from external borrowings remain manageable as borrowings are mostly medium to long term in nature and hedged against exposures to currency movements.
Get the latest news @ www.EdgeProp.my