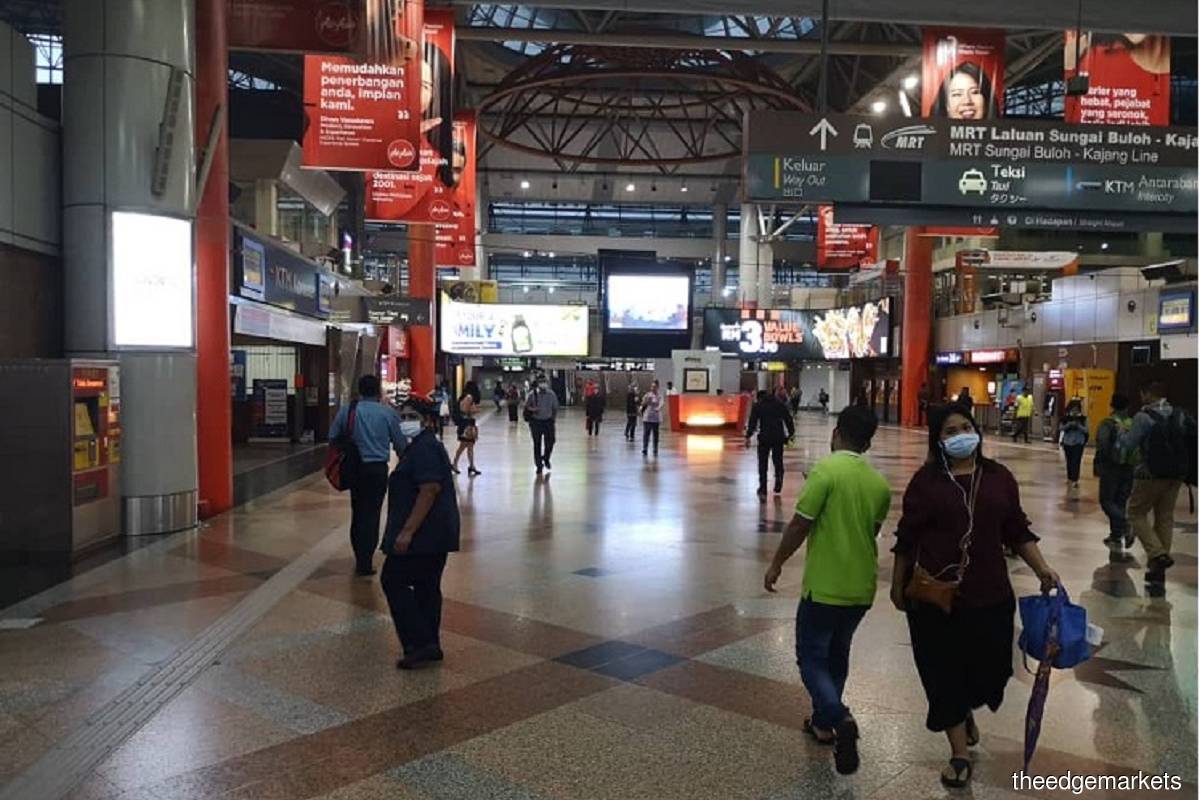 KUALA LUMPUR (Oct 19): Malaysia reported 865 new Covid-19 cases, bringing the tally of infections in the country to 21,363, according to the Ministry of Health (MoH).
The number of active cases, or Covid-19 patients undergoing treatment, soared to 7,456 from 7,049 reported yesterday. There are 99 Covid-19 patients in intensive care with 32 of them needing respiratory aid.
Currently, there are 11,076 beds in hospitals and quarantine and low-risk treatment centres across Malaysia to treat Covid-19 patients, according to MoH. A total of 3,505 beds are hospital beds, whereas 7,571 are beds in quarantine and low-risk treatment centres.
The death toll has risen to 190 after three more fatalities were reported in Sabah today. The deceased were aged between 52 and 85.
MoH director-general Tan Sri Dr Noor Hisham Abdullah said 154 cases (17.8%) today were from the Kepayan Prison, Seberang Perai Prison, Tembok clusters and detainees at Tapah prison, where four cases were detected.
"These cases are isolated in the prisons and do not infect the community.
"[Earlier], Senior Minister of Defence Datuk Seri Ismail Sabri Yaakob has announced the Enhanced Movement Control Order (EMCO) [will be enforced] at Kepayan Prison and officers' quarters in Kampung Matambai from Oct 20 until Nov 2, 2020," he said at a media briefing today.
Looking into the breakdown of cases, Sabah continues to be the worst-hit state with 643 cases reported today, accounting for 74.3% of new infections.
Some 343 cases were found from screening close contacts of Covid-19 positive patients, 183 from existing Covid-19 clusters, while the remaining 117 were from other Covid-19 screenings.
In addition, five cases were reported among travellers from Sabah, bringing total infected travellers who came from the high-risk state since Sept 20 to 448.
This brought the total confirmed infections in Sabah to 8,082 so far — the highest among all states and federal territories.
Selangor's Covid-19 cases rose to 3,357, with 107 infections, comprising 101 local transmissions and six imported cases.
Kuala Lumpur saw seven more infections, with only one imported case, bringing its total to 2,853, while Putrajaya reported three new cases today.
Only three states in Malaysia did not record any new cases today, namely Sarawak, Kelantan and Perlis.
"From the 865 cases nationwide, only seven were imported cases involving three Malaysians and four foreigners who returned from China (four cases), Australia (one), the US (one) and Qatar (one)," said Noor Hisham.
Meanwhile, 455 patients recovered from the deadly virus today. The total recoveries in the country rose to 13,717, representing 64.2% of total cases to date.
Due to the spike in new Covid-19 cases, Hisham further added: "We hope we can bring down the Rt [Covid-19 infectivity rate]. the Rt today is 1.5, not good enough, if we continue [to maintain the Rt at 1.5], that means by Oct 31, we may reach four digits [of infections], but if we continue to work, facilitate and increase intervention activities, we hope it will be brought down to less than 1.
"For example in Kedah, we know that there were so many clusters in Kedah once upon a time, and today we manage to contain the infection in Kedah. The Rt in Kedah is less than 1."
The Rt value refers to the number of people an infectious person can spread the coronavirus to.
Two new clusters found in Selangor and Melaka
Noor Hisham said the ministry also detected two more Covid-19 clusters in Selangor and Melaka with 22 confirmed infections.
The Hentian cluster, which was identified in Hulu Selangor, Selangor, has seven positive cases from 127 individuals who went for Covid-19 screening.
Meanwhile, the Bukit cluster, which spread around Melaka Tengah, Alor Gajah and Jasin in Melaka, has 15 infections.
"Overall, 192 clusters have been reported [in the country], with 105 clusters declared ended as no new cases [were] recorded within 28 days," said Noor Hisham.
Get the latest news @ www.EdgeProp.my