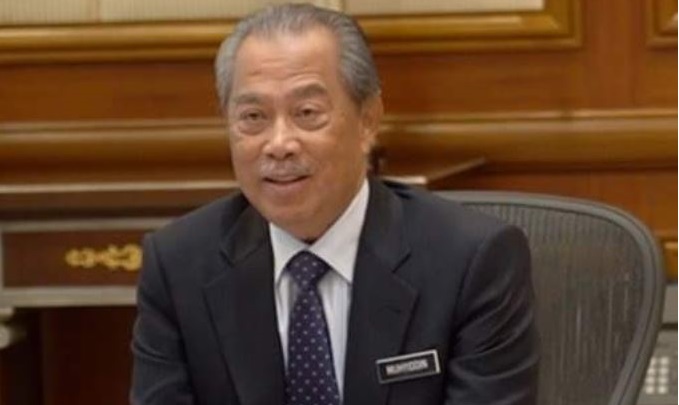 KUALA LUMPUR (Oct 31): Prime Minister Tan Sri Muhyiddin Yassin (pictured) today said that the Batu Sapi by-election and Sarawak's 12th state election will have to be held despite the current Covid-19 pandemic — unless a state of emergency is declared.
During his national address earlier today, the premier said the Batu Sapi election, which is slated for Dec 5, has to be held according to Clause 1, Article 54 of the Federal Constitution, which states that an election must be held within 60 days after a seat falls vacant.
Similarly, Clause 4, Article 21 of Sarawak's State Constitution requires an election to be held within 60 days following the dissolution of the State Legislative Assembly.
"We cannot do anything as this is stated in the Federal Constitution and therefore elections must be held. If a state of emergency can be declared under Article 150 of the Federal Constitution in Batu Sapi and Sarawak, we can postpone both elections until the end of the Covid-19 pandemic," he said.
Hence, since the two elections cannot be postponed, he urged those voting to be very careful and to obey the standard operating procedures (SOPs), adding that he will be closely monitoring the SOPs provided by the Election Commission (EC).
On that note, he also said it is difficult for the EC to come up with SOPs to ensure zero transmission during the elections as the EC cannot limit the movement of voters — whether they be from a red zones or green — given that voting is a right enshrined under the Constitution.
"Batu Sapi is a red zone. We have asked for those in Batu Sapi to stay at home but they will have to come out to vote. The turnout may be lower, but that is democracy," said the premier.
"Kuching is a red zone currently with over 70 Covid-19 infections. Based on the conditional movement control order (CMCO) in force, those in Kuching cannot leave the Kuching district. With the CMCO, we can curb the spread of Covid-19 to other districts that are still [categorised as] green zones with zero cases.
"If an election has to be called, we cannot block the Kuching voters, who will be voting in Samarahan, Sri Aman, Miri, Bintulu and other districts, from coming out to vote. The same goes for Sarawak voters who are currently in Sabah, Selangor, Kuala Lumpur, Negeri Sembilan and the other states which have recorded high numbers of cases," he added.
In response to suggestions that the government increase testing for those going to Sarawak to vote, he said the issue arises as to who will pay for the tests and whether Malaysia has the lab capacity to carry out tests on hundreds of thousands of voters within a short period. "Screening tests also cannot guarantee that they won't be infected after taking the tests," he said.
And because many Covid-19 patients are asymptomatic, he said there is no way to be absolutely sure that no coronavirus carriers are travelling across state borders to vote.
"The director-general of health has also reported that if the Sarawak state election has to be carried out, he is worried about the ability of some rural areas in Sarawak that do not have full health facilities in handling an increase in Covid-19 cases, which will likely spike after the election.
"The ability of frontliners and healthcare logistics would be stressed further due to the wide geography of Sarawak and the inaccessibility of certain areas," said Muhyiddin, adding that the costs involved would be enormous not just to the government but to the economy in the event of a surge in infections.
"In Sabah alone, it is estimated that the government will have to spend half a billon ringgit if the MCO is enforced," he added.
Get the latest news @ www.EdgeProp.my