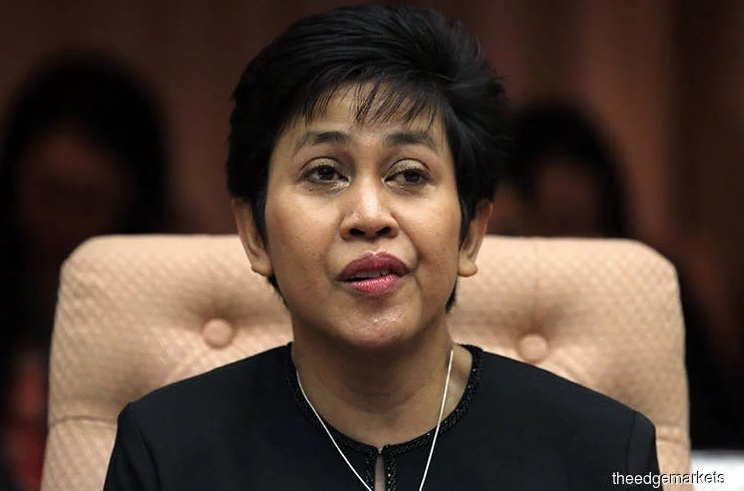 KUALA LUMPUR (Nov 13): Bank Negara Malaysia (BNM) governor Datuk Nor Shamsiah Yunus (pictured) said with the new statutory debt level of 60%, the government still has additional fiscal space in the event further support is needed to be lent out to the economy.
"An expansionary fiscal policy has been necessary to support economic recovery the world over. What is key is the government's commitment to gradually embarking on a fiscal consolidation path in the medium term.
"The Malaysian government does have a positive track record of reverting to a fiscal consolidation path after undertaking large stimulus spending. For instance, after the global financial crisis in 2008, the fiscal deficit declined by half from -6.7% of gross domestic product (GDP) in 2009 to -3.4% of GDP in 2019," she said during a virtual press conference announcing Malaysia's third-quarter GDP growth.
She said the fiscal deficit is expected to consolidate from -6% this year to -5.4% next year and to narrow further, averaging at -4.5% of GDP in the next three years.
The Temporary Measures for Government Financing (Coronavirus Disease 2019) (Covid-19) Act 2020 which was passed by Parliament this year allows the government to further increase its debt statutory limit from 55% of GDP to 60%.
Nor Shamsiah said the government's Budget 2021 remains expansionary with sizable allocation accorded for projects with high multiplier impact, adding that the higher allocation given to transportation and connectivity projects such as the construction of Pan Borneo Highway and Rapid Transit System (RTS) will help strengthen the long-term potential of the economy.
The central bank governor also noted that the government is "not expected to face issues with regard to funding" as the government is still able to tap into the domestic bond market, noting that the average year-to-date (YTD) bid-to-cover ratio is about 2.3 times.
"The secondary bond market also remains liquid, with an average YTD daily trading volume of RM5.3 billion [worth]," said Nor Shamsiah.
Noting that the banking system's liquidity remains adequate at RM143 billion, Nor Shamsiah pointed out that the "deep and liquid bond market with a diverse investor base" will also provide continued support to the government bond market next year.
"So, there is no need for Bank Negara to undertake large-scale purchase of government bonds. In fact, unwarranted proposals like this tend to have adverse impact on investors' confidence and may even trigger a selldown in the Malaysia Government Securities market and this will make government borrowings harder and more expensive," said Nor Shamsiah.
Get the latest news @ www.EdgeProp.my