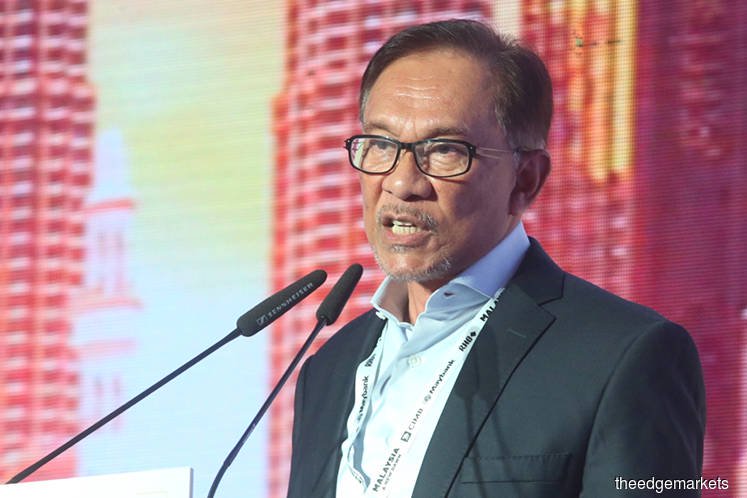 KUALA LUMPUR (Nov 30): Opposition leader Datuk Seri Anwar Ibrahim questioned the Federal Government's decision to increase allocations for contract staff who come under the purview of the Prime Minister (PM)'s department, saying that the RM181.4 million increase in allocations should be justified by PM Tan Sri Muhyiddin Yassin himself.
"I want the Prime Minister himself to stand up and answer about this allocation [increase]," he said in Dewan Rakyat today.
The government says it cares about Covid-19 and the suffering people, but this does not tally with the RM181.4 million allocation given to the political contract staff in the PM's department, said Anwar.
"This is for contract political staff. I want to ask, how does this tally when the people are unemployed and suffering and the government gives out this amount [to] contract staff," he said.
"This is at a time when we are declaring the government as a caring government, we should be channelling this amount to frontliners battling Covid-19," he added.
Anwar also set his sights on the allocations set aside for special envoys under the PM's department and questioned the role of the Foreign Ministry.
"The PM's department has special envoys to the Middle East, China, Japan, South Korea and Taiwan. I want to ask what is the role of the Foreign Ministry? Why should we have all this that increase the administration cost," he said.
He also said Muhyiddin's cabinet was inflated with five minister's in his department alone.
Anwar was speaking today at the committee stage debates for Supply Bill 2021 which started with him.
Get the latest news @ www.EdgeProp.my