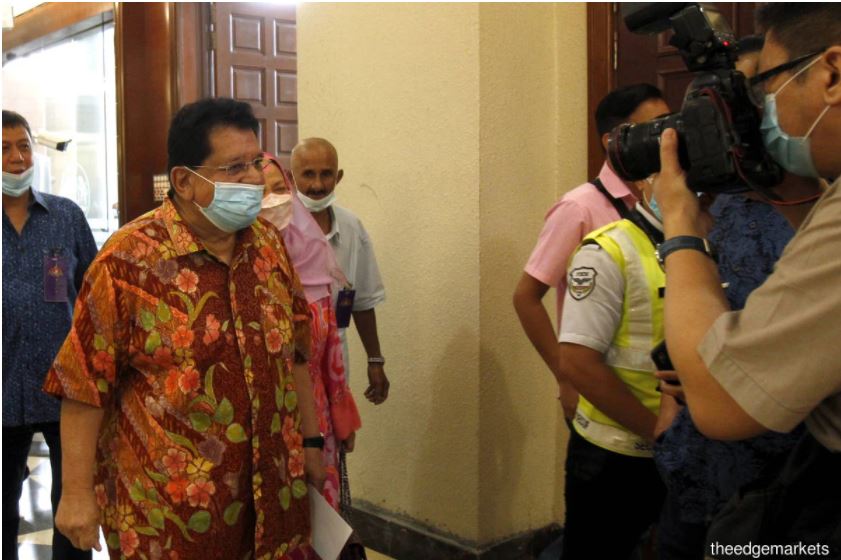 KUALA LUMPUR (Dec 7): The High Court has granted the prosecution in Datuk Seri Tengku Adnan Tengku Mansor's second graft trial's application for an order of discharge not amounting to acquittal (DNAA) — amid the Malaysian Anti-Corruption Commission's (MACC) complaint against one of the witnesses.
The decision today marks the third high profile discharge this year, after the granting of a DNAA to Riza Aziz for money laundering involving 1Malaysia Development Bhd funds in May and the subsequent discharge and acquittal of Tan Sri Musa Aman of all 46 criminal charges in June this year.
Deputy Public Prosecutor (DPP) Julia Ibrahim said the prosecution requires some time to investigate the MACC's complaint as it may have implications for the witness in question.
"We need time to investigate this. We do not want to waste the court's time," said the DPP, who made the application under Section 254(1) of the Criminal Procedure Act.
During the session, Tengku Adnan's lawyer Datuk Tan Hock Chuan submitted that it would be unfair for a DNAA to be granted, as opposed to a full acquittal, as the charge would be "hanging over my client's head indefinitely".
"It is very unfair for the charge to be hanging over his head. Assuming that what she says is true, the prosecution should go ahead and investigate. My client cannot be left hanging for an indefinite period of time," said Hock Chuan.
High Court Justice Mohd Nazlan Mohd Ghazali also queried the prosecution on whether there is any indication of the amount of time needed by the prosecution before taking any further action relating to the charge.
However, the DPP said there is nothing stopping the defence from inquiring with the prosecution within a month or two, adding that there should be some progress made relating to its investigation of the "new development" after a reasonable period of time.
In giving his decision, Justice Mohd Nazlan said Section 254 of the act states that a discharge should not amount to acquittal unless the court deems so.
He further said that the question is whether there are good grounds for a DNAA.
"The reason submitted by the leaned DPP on the recent development is a basis for this court not to give a full acquittal," he said, before granting the DNAA.
Tengku Adnan, 69, better known as Ku Nan, is accused of receiving a RM1 million bribe from property developer Datuk Tan Eng Boon.
Eng Boon, who is also the chairman of the Joland Group of Companies, initially claimed trial for bribing Tengku Adnan.
However, in September last year, he pleaded guilty to the alternative charge of abetting the politician in receiving the bribe, and was fined RM1.5 million by Justice Mohd Nazlan.
Ku Nan allegedly received the sum as an inducement to approve the application of Nucleus Properties Sdn Bhd (now Paragon City Development Sdn Bhd) to increase its plot ratio in the development of Lot 228 in Jalan Semarak, Kuala Lumpur.
The offence, for which he is charged under the Malaysian Anti-Corruption Commission (MACC) Act, was allegedly committed at CIMB Bank, Putra World Trade Centre, Second Floor, Podium Block, Jalan Tun Ismail here on Dec 27, 2013.
He also faces an alternative charge in his capacity as the then federal territories minister with receiving for himself RM1 million from Eng Boon via a Public Bank cheque belonging to Pekan Nenas Industries Sdn Bhd, which was deposited into his CIMB account, knowing that Eng Boon as a director of Nucleus Properties had connection with his official duties.
The charge is framed under Section 165 of the Penal Code, which provides imprisonment of up to two years or a fine, or both, if found guilty.
Decision on first trial slated for Dec 21
This is the second graft trial for Tengku Adnan after the first RM2 million graft charge in his capacity as a civil servant. The decision on the first trial is slated for Dec 21.
In the first trial, he is alleged to have received the amount from businessman Tan Sri Chai Kin Kong, who is a director of Aset Kayamas Sdn Bhd, via a Hong Leong Islamic Bank cheque from the company, which was deposited into a CIMB account owned by Tadmansori Holdings Sdn Bhd (THSB) when it was known that Aset Kayamas had connection with his official duties.
Ku Nan is the largest shareholder of THSB.
He is accused of committing the offence at the CIMB Bank branch in Pusat Bandar Damansara here on June 14, 2016 and charged under Section 165 of the Penal Code, which provides for a jail term of up to two years or a fine, or both, upon conviction.
Get the latest news @ www.EdgeProp.my