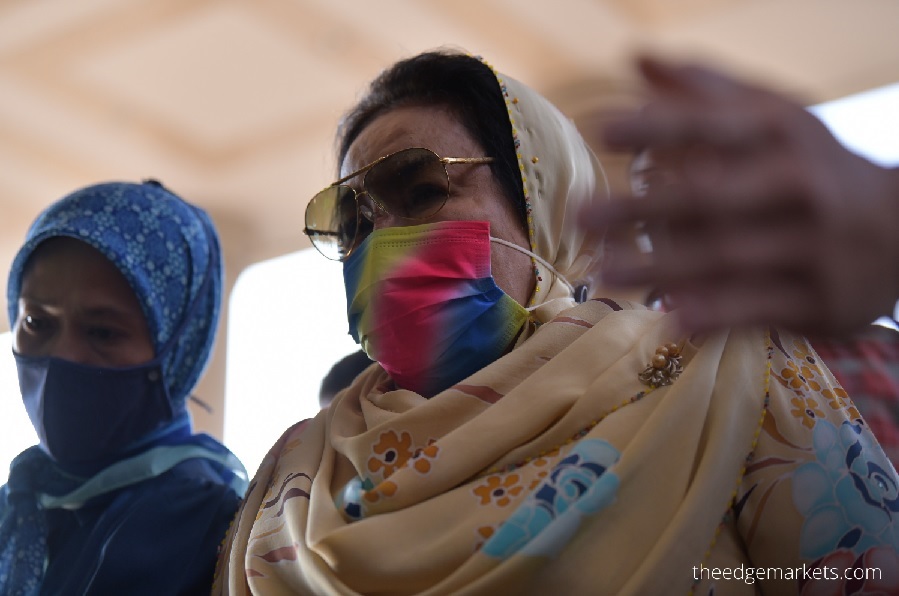 KUALA LUMPUR (Feb 18): The High Court has today ordered Datin Seri Rosmah Mansor (pictured) to enter her defence over all three graft charges in relation to the solar hybrid project for 369 rural schools in Sarawak.
Justice Mohamed Zaini Mazlan ruled the prosecution had proven a prima facie case against Datuk Seri Najib Razak's wife.
"It is my findings that the prosecution has adduced credible evidence to prove every element of the offences under the three charges, and if unrebutted, warrants a conviction. For these reasons, this court called upon the accused to enter her defence."
The judge also accepted the audio recording of her conversation as evidence in the trial, after reviewing his earlier decision last December not to admit the clip.
"However, the weightage on the video recording would be ascertained later," Justice Zaini added.
Rosmah, 69, is charged with soliciting a RM187.5 million bribe out of a total of RM1.25 billion project that was awarded to then Jepak Holdings Sdn Bhd managing director Saidi Abang Samsudin between January to April 2016 through her aide Datuk Rizal Mansor.
She also faces two charges of receiving a total of RM6.5 million — RM1.5 million and RM5 million from Saidi between December 20, 2016 and September 7, 2017 at her official residence in Seri Perdana, Putrajaya and also her private residence in Jalan Langgak Duta.
The trial took a period of 34 days, including last week's submission at the end of the prosecution's case, with 23 witnesses who tesfitied.
Among the witnesses who testified included former education minister Datuk Seri Mahdzir Khalid, the ministry's secretary-general Tan Sri Madinah Mohamad, her successor Datuk Seri Alias Ahmad, Rizal, as well as Saidi and his former business partner Rayyan Radzwill Abdullah.
In the opening statement to the trial, senior Deputy Public Prosecutor Datuk Seri Gopal Sri Ram said Rosmah "wielded considerable influence by reason of her overbearing nature".
"She placed herself in a position where she was able to influence decisions in the public sector. The prosecution will lead direct and circumstantial evidence to show that the accused solicited bribe and received gratification as alleged in the charges brought against her," he said.
With the calling of her defence, the court is now fixing the trial dates for the defence case.
Rosmah is given three options — to testify under oath; to give testimony from the accused dock while not under oath, where she cannot be cross-examined; or to choose to remain quiet.
After the court interpreter explained her options, Rosmah said she would be testifying under oath from the witness stand.
The court has fixed nine days for the defence case — June 9, 10, 15, 16, 17, 22, 23, and July 12 and 15.
Now, the court is deciding on how many witnesses the defence would call.
Get the latest news @ www.EdgeProp.my
Subscribe to our Telegram channel for the latest stories and updates