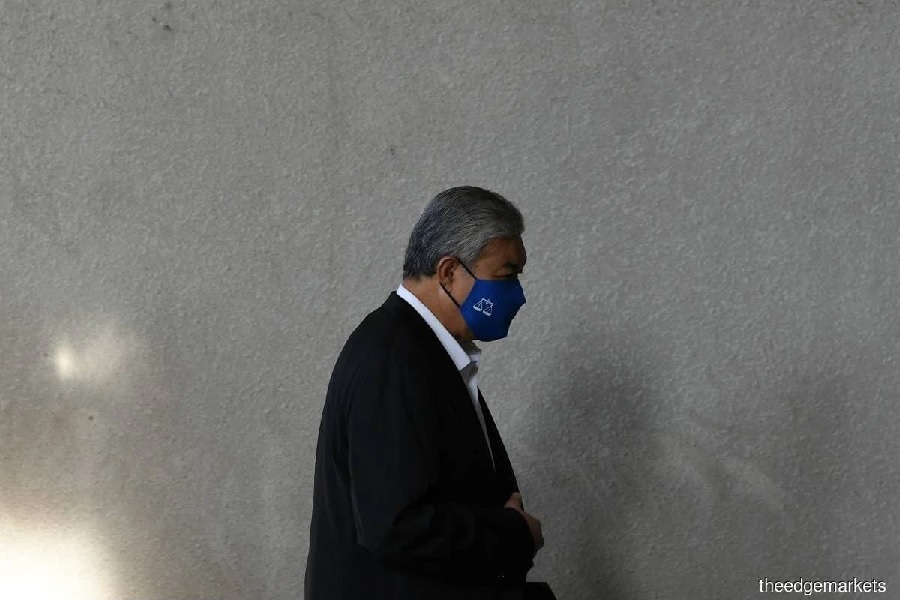 KUALA LUMPUR (March 11): Former deputy prime minister Datuk Seri Ahmad Zahid Hamidi (pictured) had in 2015 asked Singaporean businessman Wong Sang Woo @ Wong Shuh Chain for a RM10 million donation, which was proposed to be channelled to Zahid's charity arm Akalbudi Foundation, Malaysian Anti-Corruption Commission investigating officer Christ Sheldon Anak Merun told the High Court here today.
Akalbudi Foundation is also known as Yayasan Akalbudi.
Prosecution witness Christ Sheldon testified before High Court Judge Collin Lawrence Sequerah today that Zahid had proposed the donation in 2015 when he met Wong at a dinner then.
Christ Sheldon, who had recorded a statement in Sarawak from Wong when the businessman was 82 in 2019, told the court today that Zahid had asked for the donation to be channelled to Yayasan Akalbudi.
The witness told the court that in 2016, a man representing Zahid had called Wong to explain about Yayasan Akalbudi and the charity work it was doing.
"In early 2016, Wong said he had received a call from someone who was instructed by Zahid to enquire about the RM10 million donation," Christ Sheldon said in his sworn testimony today.
According to the witness, the man had asked Wong to bank in the RM10 million to the bank account of law firm Messrs Lewis & Co.
"Wong said he knew that the request via the phone call was true because that person who called him had mentioned details of the conversation between himself and Zahid. He then told Wong to make the payment to Lewis & Co," the witness said.
Wong could not remember the name of the man he spoke to but told Christ Sheldon that Lewis & Co handled Yayasan Akalbudi's finances then, according to the witness today.
Christ Sheldon, who is the 98th prosecution witness in Zahid's money laundering, bribery and criminal breach of trust trial, told the court that Wong had then instructed his company Chia Bee Enterprise Sdn Bhd to issue ten cheques worth RM1 million each to Lewis & Co.
The witness said he was unsure as to why Wong had written ten cheques instead of one.
According to the witness, Wong had made the donation through Chia Bee Enterprise because the businessman had previously donated to charitable foundations under the Deputy Prime Minister's office.
"He (Wong) felt that it was a privilege that the deputy prime minister had asked him for donations," Christ Sheldon said.
Since that dinner in 2015, Wong, who is now abroad, had not had any contact with Zahid, who became deputy prime minister during that year (2015), the witness said today.
Zahid's lawyers chose to not cross-examine Christ Sheldon to challenge Wong's testimony.
The court was told that the reason for Christ Sheldon's third-hand account of Wong's testimony is because the businessman could not be traced to testify in the trial, as immigration records show that he is no longer in Malaysia.
According to news reports, Zahid is facing 47 charges involving millions of ringgit belonging to Yayasan Akalbudi.
It was reported that the charges comprise 27 for money laundering, eight for bribery and 12 for criminal breach of trust.
Get the latest news @ www.EdgeProp.my
Subscribe to our Telegram channel for the latest stories and updates