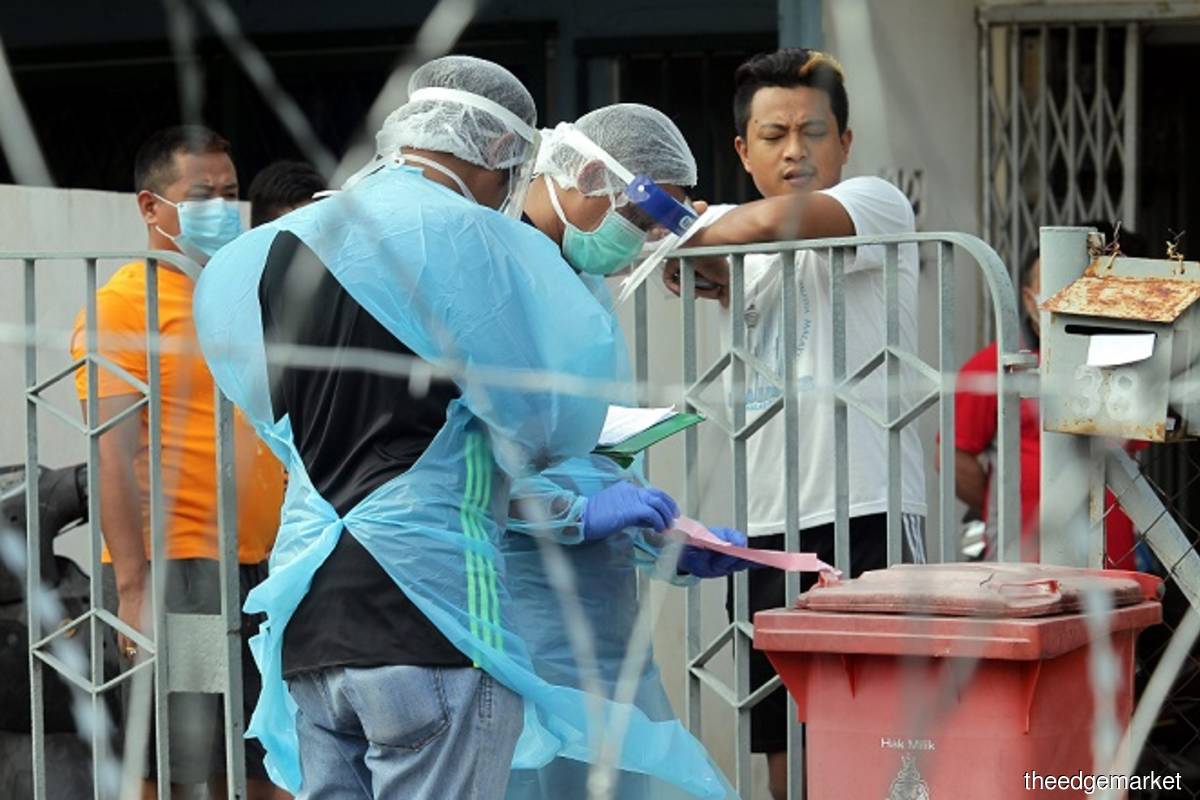 KUALA LUMPUR (March 14): Malaysia reported 1,354 new Covid-19 cases and four more deaths today.
Ministry of Health (MOH) director-general Tan Sri Dr Noor Hisham Abdullah said that Selangor, Sarawak and Penang contributed to the highest numbers of cases today. Selangor contributed 577 cases today, followed by Sarawak (178) and Penang (154).
He noted that of the 1,354 new cases today, 1,340 were transmitted locally. Of these, 1,042 cases involved Malaysian nationals while 298 involved foreign nationals.
In a statement, Dr Noor Hisham elaborated that 64 of the cases reported today came from prison clusters involving the Tembok Tapah cluster (57 cases), Tembok Sungai Udang (two), Tembok Pengkalan Chepa (two), Jalan Harapan Prison cluster (two) and Tembok Taiping cluster (one).
Meanwhile, there were 14 imported infections, with 13 of them involving Malaysians and one involving a non-Malaysian. In total, the country now has 323,763 cumulative cases.
Recoveries continued to outpace new cases with 1,782 cured cases reported. As a result, total recoveries now stand at 306,274 cases or 94.6% of cumulative cases.
This means that the country has 16,279 active cases today.
Malaysia now has 158 cases that are in the intensive care unit, with 71 patients currently intubated.
The country saw four more deaths today, all who were Malaysian nationals. The death toll for the virus now stands at 1,210 with a 0.37% mortality rate.
Two of today's deaths occurred in Kuala Lumpur, while one death each was reported in Selangor and Sarawak.
Three new clusters detected
Dr Noor Hisham also announced that the MOH detected three new clusters today. Two of the clusters are workplace clusters while one is a community cluster.
The index case of the Jalan Tun Mutalib Tiga cluster located in Kota Tinggi, Johor tested positive on March 5.
The cluster involves a factory along Jalan Tun Mutalib 3, Kawasan Perindustrian in Bandar Tenggara, Kota Tinggi. Four hundred and sixty-nine individuals have been tested as of March 14, with 10 found positive from this cluster.
Meanwhile, the Jalan Sutera cluster located in Hulu Langat was detected among workers at a factory located along Jalan Sutera 1/5A in Bukit Angkat, Kajang. As of today, 26 individuals have been tested, with eight testing positive.
The Begalak cluster in Sarawak is a community cluster involving Sibu and Song. The index case tested positive on March 10. The spread of the coronavirus in this cluster occurred in Sungai Begalak, Batang Rajang, Song with the residences involved located around the Song and Sibu districts. As of today, 335 individuals have been tested, with 49 confirmed positive for the viral infection.
With the addition of these three new clusters, the country now has a grand total of 1,237 clusters.
Meanwhile, five clusters were declared ended today. These clusters are the Jalan Kuala Selangor cluster, Tanjung Megah cluster, Tembok Renggam cluster, Jalan Jelatek cluster, and Batu 57 cluster.
Consequently, the total number of clusters that have ended stands at 813.
Malaysia's active clusters now stand at 424.
Sixty-four clusters reported new cases today. The clusters with the highest numbers of cases today were the Tembok Tapah cluster (57 cases), Jalan Kebun Nenas cluster (30), and Rawang Bestari cluster (28).
Get the latest news @ www.EdgeProp.my
Subscribe to our Telegram channel for the latest stories and updates