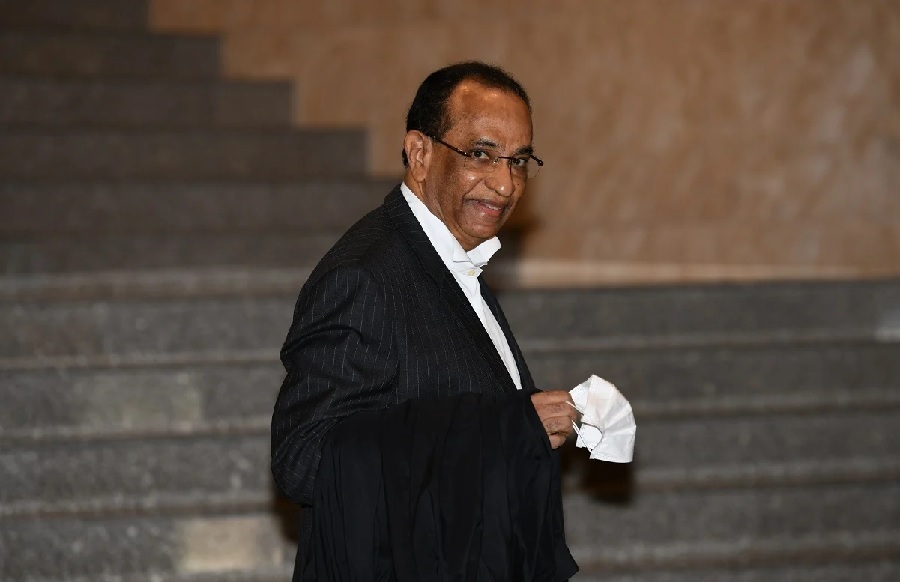 PUTRAJAYA (April 14): The prosecution in the hearing of ex-prime minister Datuk Seri Najib Razak's appeal here today against his conviction and sentencing with regard to the SRC International Sdn Bhd case, indicated that there is clear evidence Najib had a personal interest in SRC when he chaired two Cabinet meetings that deliberated over and approved the application for government guarantees (GG) linked to Retirement Fund (Incorporated)'s RM4 billion loan to SRC.
Retirement Fund (Incorporated) is also known as Kumpulan Wang Persaraan (Diperbadankan) (KWAP).
Prosecutor Datuk V Sithambaram (pictured) said the fact that Najib chaired the Cabinet meetings showed that he was indeed personally involved in the decisions to grant the GGs for KWAP's loan to 1Malaysia Development Bhd's (1MDB) former subsidiary SRC.
Sithambaram had made the submissions before a three-member Court of Appeal bench which comprises Justices Datuk Abdul Karim Abdul Jalil, Datuk Has Zanah Mehat and Datuk Vazeer Alam Mydin Meera.
Sithambaram said: "The prime minister must not only make a declaration of interest in the matter but also to disqualify oneself, which includes not to be physically present during the meetings."
"The presence and involvement of the appellant during those meetings had precipitated the approval of both the GGs. His presence there led to the decision being made by the Cabinet to ultimately grant the two GGs for the RM4 billion loans, without which KWAP would never have granted the loans to SRC.
"This was clearly an act of the appellant in making decisions and taking action which triggered the operation of Section 23(2) of the Malaysian Anti-Corruption Commission Act 2009," Sithambaram said.
Sithambaram argued that Najib was involved in SRC even before its inception and that there is overwhelming evidence that Najib had control over SRC's board of directors.
Such control over SRC's board of directors shows that SRC was at Najib's disposal, according to Sithambaram.
According to Sithambaram, Najib, as prime minister, also held the position of minister of finance, hence he was a shareholder of SRC and had "hire and fire" power over the board of directors of SRC.
Sithambaram said the notion of Najib's authority coincides with multiple witness testimonies from SRC directors who said they had to follow Najib's instructions due to the "hire and fire" power he had over them.
Referencing Najib's involvement in the Cabinet meetings and also his control over SRC directors, Sithambaram contended, citing previous case laws, that legal decisions showcasing personal interest were sufficient to prove that the appellant used his position for gratification.
As such, it should not matter whether there was in fact proof of gratification or pecuniary interest on Najib's behalf, as asserted by the defence in the case.
Najib's defence team is led by lawyer Tan Sri Muhammad Shafee Abdullah.
On July 28, 2020, the High Court in Kuala Lumpur sentenced Najib to 12 years in jail and fined him RM210 million after the court found him guilty of all seven charges linked to the SRC case.
It was reported that High Court Judge Mohd Nazlan Mohd Ghazali found Najib guilty of all the seven charges — one for abuse of power involving KWAP's RM4 billion loan to SRC besides three charges for criminal breach of trust involving RM42 million, and three for money laundering.
Today is the seventh day of Najib's scheduled 12-day appeal hearing at the Court of Appeal here during April 2021.
It was reported that the hearing dates for the appeal have been fixed on April 5 to 8, 12 to 15 and 19 to 22.
On April 12, It was reported that defence lawyer Farhan Read told the Court of Appeal the prosecution needed to prove that Najib had control over SRC to show that Najib had pecuniary interests in KWAP's RM4 billion loan to SRC.
It was reported that the defence contended approving the two GGs issued in August 2011 and March 2012 for RM2 billion each, when Najib was present in the Cabinet meeting, did not amount to an abuse of power.
It was reported that Farhan and Shafee had also questioned the purported gratification of RM42 million, which Najib received three-and-a-half years after the approval was given for the GGs.
Today, Sithambaram claimed that Najib had treated SRC as his personal bank account, referring to how Najib made three separate SRC-linked fund transfers when he needed more money for his personal use.
Sithambaram claimed Najib had transferred three separate sums of RM5 million, RM10 million, and RM27 million through Gandingan Mentari Sdn Bhd and Ihsan Perdana Sdn Bhd.
Get the latest news @ www.EdgeProp.my
Subscribe to our Telegram channel for the latest stories and updates