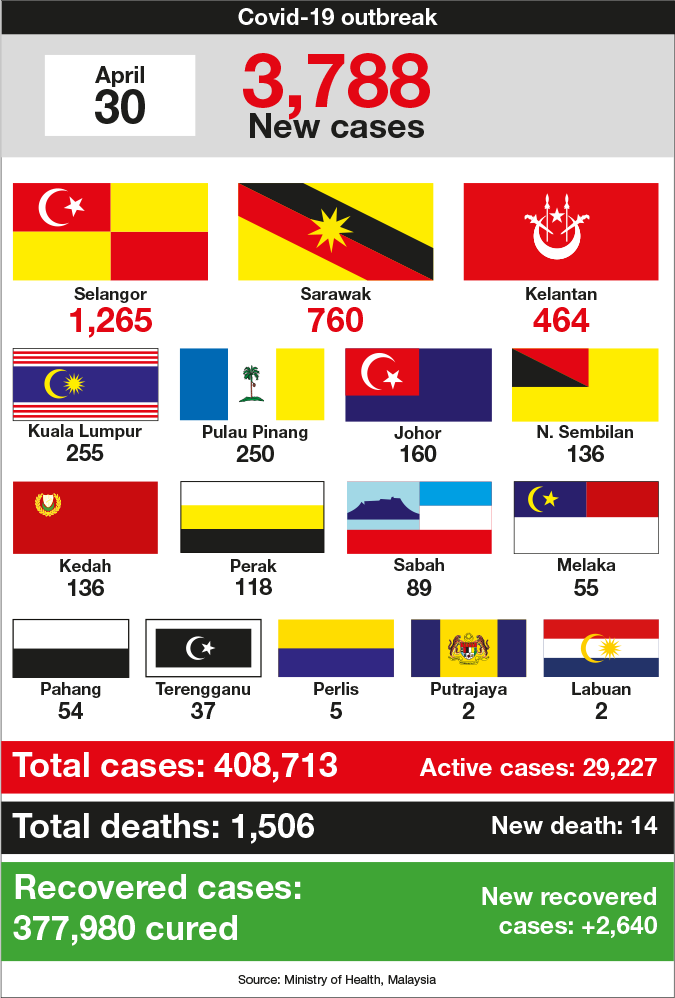 KUALA LUMPUR (April 30): Malaysia's daily Covid-19 cases stayed above the 3,000 mark for the third straight day, as 3,788 new infections were reported in the last 24 hours, according to health director-general Tan Sri Dr Noor Hisham Abdullah. This raised cumulative infections in the country to 408,713.
Daily cases breached the 3,000 mark for the first time in two months on Wednesday, with 3,142 cases. Yesterday, 3,332 cases were reported.
The number of active cases, meaning those who carry high transmission risks, jumped to 29,227 – the 12th straight day it has remained above 20,000 – as new cases outpaced new recoveries, which came in at 2,640 patients. Total recoveries now stand at 377,980, indicating a recovery rate of 92.5%.
There are also 14 more deaths reported – six from Selangor, five in Sarawak, two in Johor, and one in Negeri Sembilan. The deceased – involving 13 Malaysians and one foreigner – were aged between 33 and 97 years. This raised total fatalities from the coronavirus in the country to 1,506, from just 474 as at the start of this year.
Selangor again topped the states with the most daily infections at 1,265. This was followed by Sarawak (760 cases), Kelantan (464), and Kuala Lumpur (255), said Dr Noor Hisham in a statement.
Among new infections, 3,786 were local transmissions, while two were imported cases.
17 more clusters detected
A total of 17 new Covid-19 clusters were recorded – a daily high last recorded two months back on Feb 18.
The new clusters include five community clusters, five workplace clusters, two Education Ministry's school/institution clusters, two education clusters. The remainder is a high-risk group cluster, a detention centre cluster, and a religious group cluster.
The five community clusters are the Nanga Tajam (34 infections), Sungan Ranan (31) and Sungai Ngungun (27) clusters in Sarawak; the Kampung Bergosong cluster (21) in Sabah; and the Kampung Hilir Alor Gajah cluster in Melaka (18).
The five workplace clusters are the Jalan Taming Dua cluster (12) in Selangor; the Air Padang cluster (19) in Sarawak; the Perusahaan Baru Dua (113) and Tapak Bina Jalan Todak Satu (23) clusters in Penang; and the Kemayang cluster (15) in Kelantan.
The two Education Ministry's school/institution clusters are the Jalan Wau cluster in Selangor (37) and the Chersonese cluster in Perak (17), while the two education centre clusters are the Jalan Agama cluster in Sarawak (38) and the Jalan Dataran cluster in Negeri Sembilan (96).
The three remaining clusters are the Taman Bukit Hijau cluster (11) in Kuala Lumpur; and the Pagar Rimba (12) and Jalan Sultanah (22) clusters in Johor.
There are a total of 390 active clusters in the country, while 1,265 have since ended.
To date, 1,655 clusters have been reported by the Health Ministry.
Get the latest news @ www.EdgeProp.my
Subscribe to our Telegram channel for the latest stories and updates