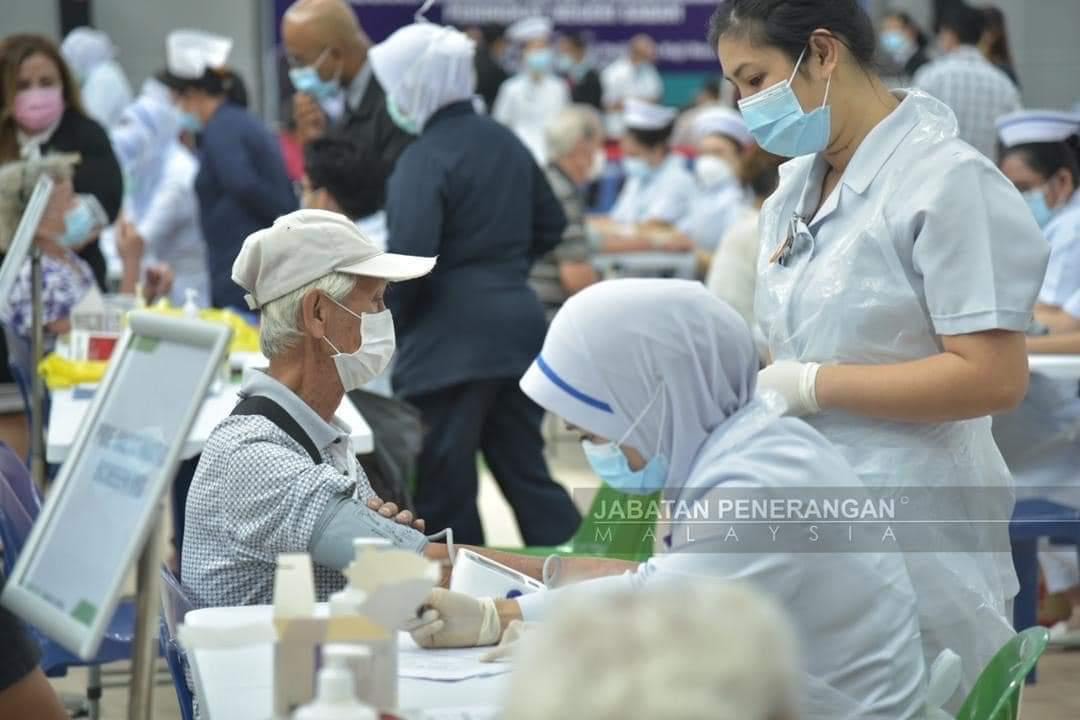 KUALA LUMPUR (May 29): Malaysia registered 50,719 new Covid-19 infections between May 21 and May 28 — the worst week ever — as daily new cases breached the 8,000 mark.
In comparison, 36,606 infections were recorded in the preceding week, while it was 30,150 in the week before that.
The country's new cases stayed above the 7,000 mark for three straight days before breaching a new high of 8,290 yesterday. Sadly, it climbed to 9,020 cases today.
Malaysia is the country with the third highest number of Covid-19 infections (549,514 versus a population of 32.77 million) in ASEAN after Indonesia (1.803 million versus a population of 276.36 million) and the Philippines (1.209 million versus a population of 110.86 million).
475,681 doses of vaccines given this week
Due to the worsening Covid-19 pandemic, the government has expedited the roll-out of Covid-19 vaccines, aiming to reach 150,000 jabs a day compared with the current 107,340 doses in a day.
So far, Malaysia — which only started its vaccination plan on March 2 — had administered 2.712 million doses of Covid-19 vaccines as of yesterday, of whom 1.725 million people had received their first dose, while 987,012 were fully inoculated.
In the past week alone, 475,681 doses of Covid-19 vaccines were administered, compared with 322,141 the week before.
To ramp up the government's vaccination plan, Coordinating Minister of National Covid-19 Immunisation Programme Khairy Jamaluddin said that additional vaccines are expected to arrive soon.
These include 2.2 million doses of the Pfizer BioNTech vaccine, 12 million doses of the Sinovac vaccine and 1.2 million doses of the AstraZeneca vaccine to ramp up vaccination efforts to flatten the Covid-19 infection curve.
The country is aiming to achieve herd immunity by inoculating 80% of its population or 26.7 million people.
Malaysia has second highest active cases after Indonesia in ASEAN
Malaysia had the second highest number of active cases in Asean with 72,823 cases recorded as of yesterday, compared with Indonesia (98,704) and the Philippines (53,770).
The number of active cases has been in the five-figure range since November last year.
As for the past week, a total of 20,716 active cases were recorded. This showed a 95% jump from 10,636 active cases in the past week as the total number of active cases surged to an all-time of 72,823 today after staying above the 6,000 mark for four consecutive days.
Selangor leads again with most active cases at 28,352
Malaysia recorded 84,914 active cases for the two-week period data of which Selangor — the most populous state — posted 28,352 active cases, the highest among all states and federal territories.
Petaling registered the highest number of active cases at 9,393, followed by Hulu Langat (6,069), Klang (4,368), Gombak (3,649), Sepang (1,390), Kuala Langat (1,322), Kuala Selangor (1,203), Hulu Selangor (621) and Sabak Bernam (337).
Selangor's new infections rose 22% in the past week to 15,755 from 12,866 recorded previously.
After Selangor, Kuala Lumpur and Putrajaya reported 8,031 active cases, followed by Sarawak (7,632), Johor (7,155) and Kelantan (6,616).
Consequently, the number of Covid-19 patients in intensive care units (ICU) climbed to 808 from 643 previously.
The Covid-19 virus killed 403 more people the past week, more than 327 the week before. Also this week, Malaysia reported its highest daily deaths at 63 cases on Wednesday (May 26).
Some 29,599 Covid-19 patients recovered from the disease this week, a 15% increase from 25,643 recorded last Friday.
On a positive note, despite the high number of infections, the R-Nought dropped to 1.14.
The basic reproduction number (R-naught or R0) for Covid-19 infections dropped to 1.14, compared with 1.17 last Friday.
From 1.17 recorded last Friday, the R0 jumped to a high of 1.21 last Sunday before dropping to 1.14 on Thursday. It is worth noting that the highest R0 recorded in this year was 1.21.
The R0/Rt data projects the average number of people that each new Covid-19 patient will infect. Rt means the effective reproduction number. An Rt of less than 1.0 means the infection is not spreading.
Looking at the Ministry of Health's (MoH) data as at May 27, Labuan registered the highest R0 at 1.87, followed by Negeri Sembilan (1.27), Melaka (1.27), Sabah (1.26), Pahang (1.25), Terengganu (1.23), Kedah (1.21), Putrajaya (1.20), Kelantan (1.15), Selangor (1.12), Johor (1.12), Perak (1.09), Sarawak (1.08), Penang (1.07) and Kuala Lumpur (1.07).
Get the latest news @ www.EdgeProp.my
Subscribe to our Telegram channel for the latest stories and updates