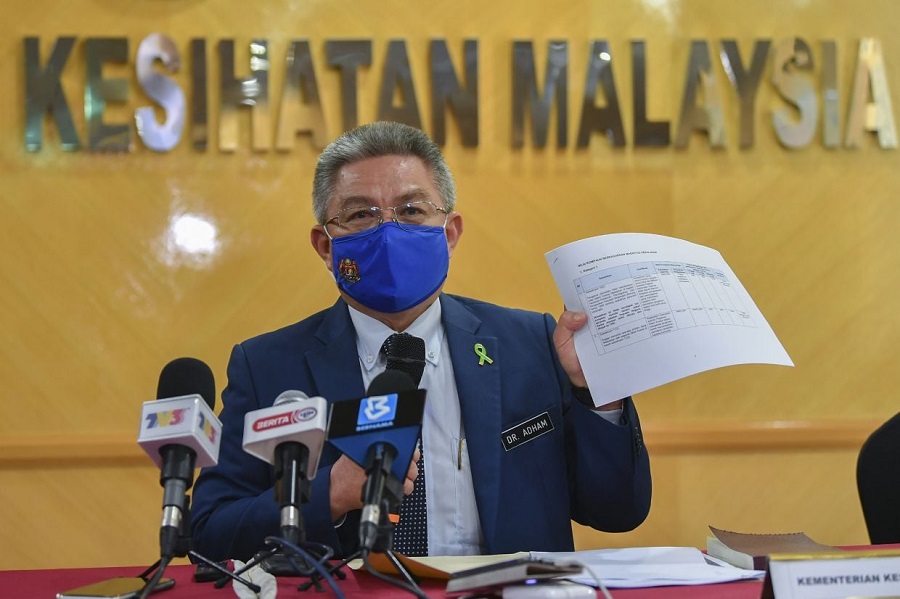 KUALA LUMPUR (July 4): The Ministry of Health (MoH) will be increasing bed capacity and manpower, as well as outsource more non-Covid-19 patients to private hospitals, in order to accommodate the influx of Categories 3 to 5 Covid-19 patients to the public healthcare system.
The move comes as the total bed capacity in the Klang Valley has reached more than 85% and an increase in hospital beds is now needed, said Health Minister Datuk Seri Dr Adham Baba (pictured), following a rise in the number of such patients being referred to public hospitals, especially Hospital Kuala Lumpur (HKL).
Covid-19 patients are grouped into categories based on the severity of their symptoms, with Category 1 indicating those who are without symptoms and Category 2 being those who are symptomatic but without lung infection. Category 3 entails symptomatic patients with lung infection, while Category 4 is for those needing oxygen supplementation and Category 5 is for critical patients with multiple organ complications.
"Of the total Covid-19 cases handled by HKL, as many as 71% are Covid-19 patients in Categories 3 to 5, while the remainders are Categories 1 and 2.
"Based on the latest records, HKL's emergency and trauma unit receives between 60 to 70 Covid-19 patients per day, with an average of three patients in Categories 4 and 5 requiring respiratory assistance. And for Category 5 patients, they need to be treated in the ICU (intensive care unit)," he said.
Hence, the MoH will expand the outsourcing of non-Covid-19 patients to private hospitals to allow HKL to admit and treat more Covid-19 patients.
MoH will also increase the ICU and non-ICU bed capacity, including necessary equipment and facilities such as respiratory aids at MoH hospitals and university teaching hospitals (HPUs) such as the UKM Specialist Children's Hospital, Universiti Putra Malaysia and Hospital Universiti Teknologi MARA, in order to treat more Covid-19 patients.
Health workers from certain states will also be mobilised to support MoH hospitals and HPUs in need of additional manpower in treating Covid-19 patients.
"Support of volunteers and final-year nursing students from Institut Latihan Kementerian Kesihatan Malaysia undergoing practical training aiding in vaccination centres (PPVs) will be optimised. Meanwhile, experienced nurses previously assigned to PPVs will be reassigned to support MoH hospitals," said Adham.
He also noted that the government plans to increase the average daily vaccination rate of 250,000 doses to 300,000 doses a day, following the acquisitions of additional vaccine supply and the opening of more PPVs nationwide.
The MoH hopes to decrease the pressure placed on its hospitals via these affirmative measures, Adham added.
Get the latest news @ www.EdgeProp.my
Subscribe to our Telegram channel for the latest stories and updates