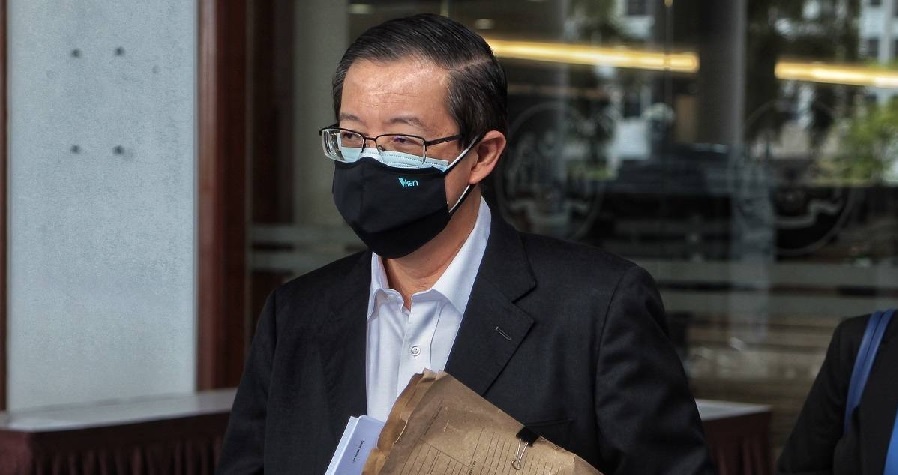 KUALA LUMPUR (July 14): The Sessions Court was told today that while the Penang government claimed that its undersea tunnel project was awarded to Consortium Zenith BUCG Sdn Bhd via an open tender, former chief minister Lim Guan Eng (pictured) had asked for the request for proposal (RFP) to be hastened.
Former Penang executive councillor Lim Hock Seng testified that Guan Eng asked for the RFP to be hastened on May 19, 2011, after having decided on May 4 that the project would be awarded via an open tender.
Hock Seng, who served as Penang's public works, utilities and transportation executive councillor, was reading from his sworn statement as the third prosecution witness of Guan Eng's graft trial in connection with the tunnel project.
The former Bagan Jermal state assemblyman said that while the project was still under open tender, Guan Eng instructed his representatives to meet with BUCG representative Lee Chee Hoe and Consortium Zenith Construction Sdn Bhd senior executive director Datuk Zarul Ahmad Mohd Zulkifli.
He said that on the evening of May 19 (after Guan Eng's request to hasten the RFP), the Penang representatives prepared the RFP and invited Zarul and Lee for a meeting.
As consultants were being appointed to conduct a study for a transport master plan in Penang, the state signed a memorandum of understanding (MoU) with the Beijing Urban Construction Group Co Ltd (BUCG) on April 28, 2011 for the construction of an undersea tunnel and three road expansion packages. The signing of the MoU was witnessed by then prime minister Datuk Seri Najib Razak and his Chinese counterpart Wen Jiabao.
The four projects comprise a 4.2km bypass from Gurney Drive to Lebuhraya Tun Dr Lim Chong Eu, a 4.6km bypass between Lebuhraya Tun Dr Lim Chong Eu and Bandar Baru Air Itam, a 12km paired road from Jalan Tanjung Bungah to Teluk Bahang and the 6.5km Penang-Butterworth sea tunnel.
Hock Seng testified that according to the agreement between the state and with BUCG, the state government will not pay anything to Consortium Zenith BUCG for the four projects. Instead, 110 acres of reclaimed land near Bandar Tanjung Pinang will be allocated to it as payment in lieu of cash.
The consortium is also not allowed to collect any toll on the three highways. Toll equivalent to the rates on the Second Penang Bridge is allowed to be collected for the undersea tunnel during a 30-year concession period.
The witness also testified that Guan Eng and 10 state executive councillors had made a trip to China on the invitation of BUCG to study its construction projects in Beijing.
However, he said the six-day trip from June 2 to June 8, 2011 was fully paid for by the Penang government.
Guan Eng is accused of using his position as the then chief minister to solicit gratification to help Consortium Zenith Construction secure the tunnel project. He is alleged to have sought 10% of the profit to be made by the company from its owner Zarul.
He is also accused of using his position as the then chief minister to receive RM3.3 million in gratification for himself as an inducement for helping the company secure the project valued at RM6.3 billion.
Guan Eng also faces two charges for allegedlly causing two plots of land belonging to the Penang government worth RM208.8 million to be disposed of to two companies linked to the tunnel project.
The ex-chief minister pleaded not guilty to all four charges. The trial before judge Azura Alwi continues tomorrow.
Get the latest news @ www.EdgeProp.my
Subscribe to our Telegram channel for the latest stories and updates