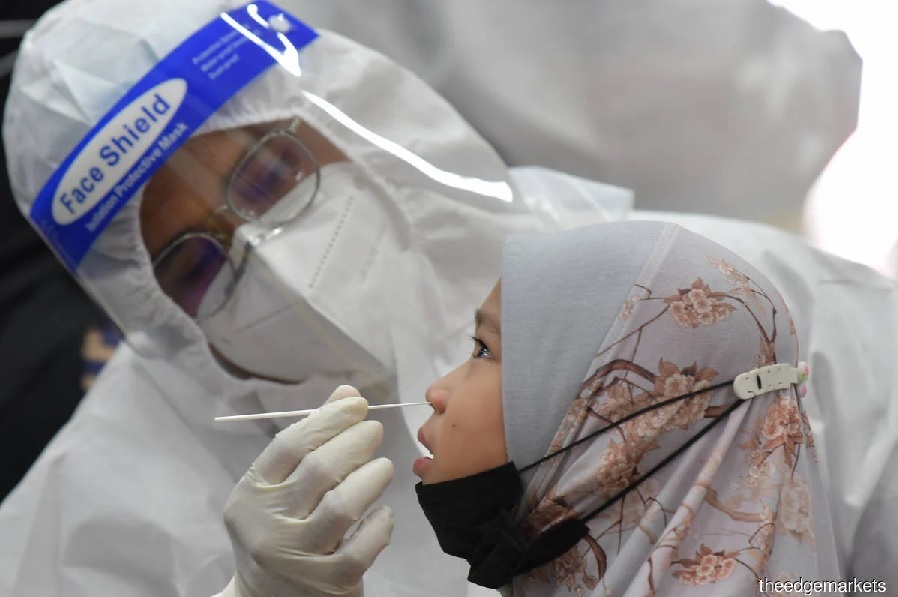 KUALA LUMPUR (July 28): Daily Covid-19 cases are expected to rise in the Klang Valley in the next few days as the Ministry of Health (MoH) encourages more self-testing and the use of antigen rapid test kits (RTK-AG), according to deputy Health director-general Datuk Dr Chong Chee Kheong.
"Do not be alarmed by this; we need to identify as many cases as possible to reduce transmission in the community.
"As more of these positive cases and their contacts are isolated and quarantined, cases will start to gradually come down in the weeks to come.
"Once that happens, testing will be restrategised to ensure effective detection of cases for isolation and monitoring," he said in a statement.
On why the number of daily Covid-19 cases is still rising in the Klang Valley despite more people being vaccinated, Chong explained that the size of the outbreak is far larger than the numbers detected each day.
"Many asymptomatic or pre-symptomatic individuals, who are not aware of their infection, are spreading the virus. Remember that the vaccine's effectiveness is best two weeks after the second dose, so this takes time.
"An important contribution is the Delta variant that has a high infectivity rate. In addition, we recognise, from the experience and data of nations with high vaccination rates, that infections can still occur due to the Delta variant, although hospitalisation and severe infections are significantly reduced," Chong said.
Chong also advised the public residing in the Klang Valley exhibiting Covid-19 symptoms to consider themselves as possibly infected and undergo Covid-19 tests.
"Once you are confirmed positive, please home-isolate, notify yourself and do self-monitoring frequently through the MySejahtera application. Home isolation is for asymptomatic and mildly symptomatic patients who do not need hospitalisation and will recover.
"We do not want to congest hospitals with mild cases, so that treatment for severe patients can be prioritised. Our staff will contact those that are 'red flagged' as high-risk and request them to come to the nearest CAC (Covid-19 assessment centre) or hospital.
"[And] If you are positive, please inform all those you have been in contact with to quarantine for 10 days. Testing is not necessary unless they develop symptoms. What is important is to stay at home and monitor your condition daily," explained Chong.
The deputy DG said those who think that they have been exposed but are not identified as close contacts are encouraged to test at private health facilities, and this may include doing a saliva-based self-test.
"Vaccination will greatly reduce the risk of infection, so register and get vaccinated as soon as you get an appointment. Those who are contacts of positive cases should defer vaccination for at least 10 days.
"We appeal to the community to support us. Some can volunteer to help in the health system at the CACs, health centres or hospitals. Others can volunteer to help boost the social and emotional support systems for the public," he added.
Get the latest news @ www.EdgeProp.my
Subscribe to our Telegram channel for the latest stories and updates