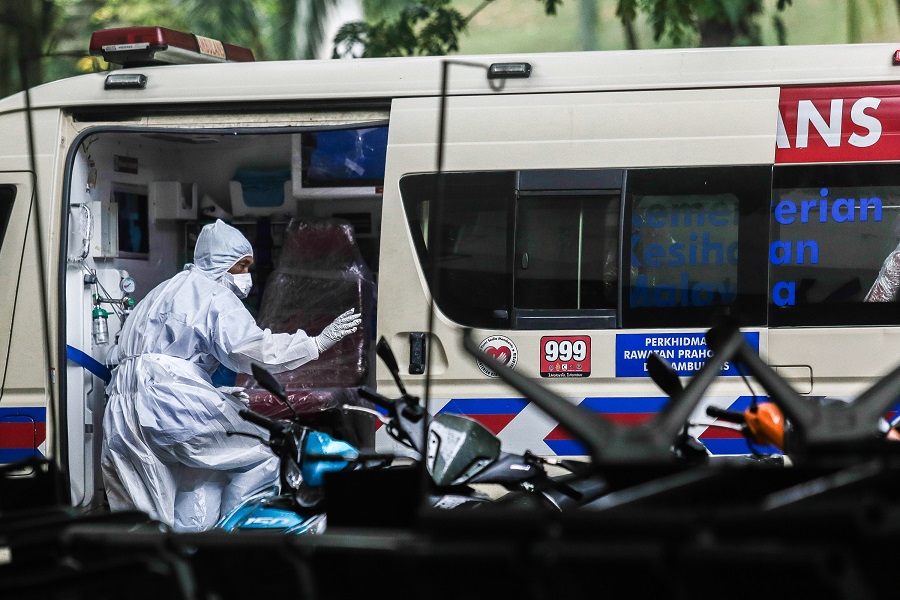 KUALA LUMPUR (Aug 5): Malaysia's daily number of newly confirmed Covid-19 cases climbed past 20,000 for the first time to a record high of 20,596 today — from 19,819 reported the day before — pushing further active cases to a new high of 217,061.
The latest cases were detected from 156,352 individuals tested across the country — versus 156,483 yesterday — with today's positivity rate recorded at 13.17%.
The cumulative fatalities linked to the coronavirus breached the 10,000-level at 10,019 today, after the Ministry of Health (MoH) announced another 164 daily deaths.
Forty-five deaths were reported in Selangor, followed by 27 in Johor, 24 in Kuala Lumpur, 18 in Kedah, 10 in Perak, nine in Sabah, nine in Penang, nine in Melaka, seven in Negeri Sembilan, two in Sarawak, two in Pahang, and one each in Kelantan and Terengganu.
The latest fatalities involved 150 Malaysians and 14 foreigners, according to Health director-general Tan Sri Dr Noor Hisham Abdullah in a statement.
The number of Covid-19 patients in intensive care units increased further to the highest level of 1,078 – the eleventh straight day of staying above 1,000 – leaving 549 patients needing ventilators to breathe.
Selangor reports record 8,549 new Covid-19 cases — highest daily figure
Selangor today recorded 8,549 Covid-19 infections — the highest daily figure in the worst hit state — as it marked a second straight day of new cases staying above the 8,000 mark.
The previous high for the populous state was 8,500 posted on July 25.
Meanwhile, Kuala Lumpur recorded 2,163 cases, down from 2,467 a day ago.
Other states that recorded more than 1,000 cases were Kedah (1,446), Johor (1,300), Sabah (1,062) and Penang (1,022).
These were followed by Negeri Sembilan (989), Perak (916), Kelantan (772), Sarawak (759), Melaka (622), Terengganu (501), Pahang (426), Putrajaya (50), Labuan (15) and Perlis (four).
Meanwhile, new recoveries came in lower than new infections at 13,893.
Cumulatively, Malaysia's Covid-19 infections now stand at 1.2 million versus 976,626 total recoveries.
A fifth of cases involve vaccinated individuals, most with mild symptoms
The ministry said 4,660 cases or 22.6% of today's new infections involved vaccinated individuals
The breakdown of cases and unvaccinated individuals is as follows:
*10,814 cases in Category 1 (no symptoms); 88.1% unvaccinated
*9,384 cases in Category 2 (mild symptoms); 64.9% unvaccinated
*205 cases in Category 3 (patients with pneumonia); 70.2% unvaccinated
*79 cases in Category 4 (pneumonia requiring oxygen therapy); 87.3% unvaccinated
*114 cases in Category 5 (critical cases requiring assisted ventilation); 92.1% unvaccinated
R0 stays at 1.07
On the other hand, the country's Covid-19 infectivity rate — pronounced as R-naught (R0) — stayed at 1.07 as of Aug 4.
Kelantan had the highest R0 at 1.31, followed by Terengganu (1.26), Perak (1.22), Pahang (1.22), Penang (1.19), Sabah (1.17), Kedah (1.16), Johor (1.14), Kuala Lumpur (1.13), Sarawak (1.11) and Selangor (1.08).
33 more clusters detected
The ministry also reported 33 more Covid-19 clusters. This comprised 18 workplace clusters, 12 community clusters, two detention clusters and one high-risk group cluster with a total of 1,234 infections.
To date, 3,829 clusters have been reported nationwide, including 2,652 that have been declared ended.
Get the latest news @ www.EdgeProp.my
Subscribe to our Telegram channel for the latest stories and updates