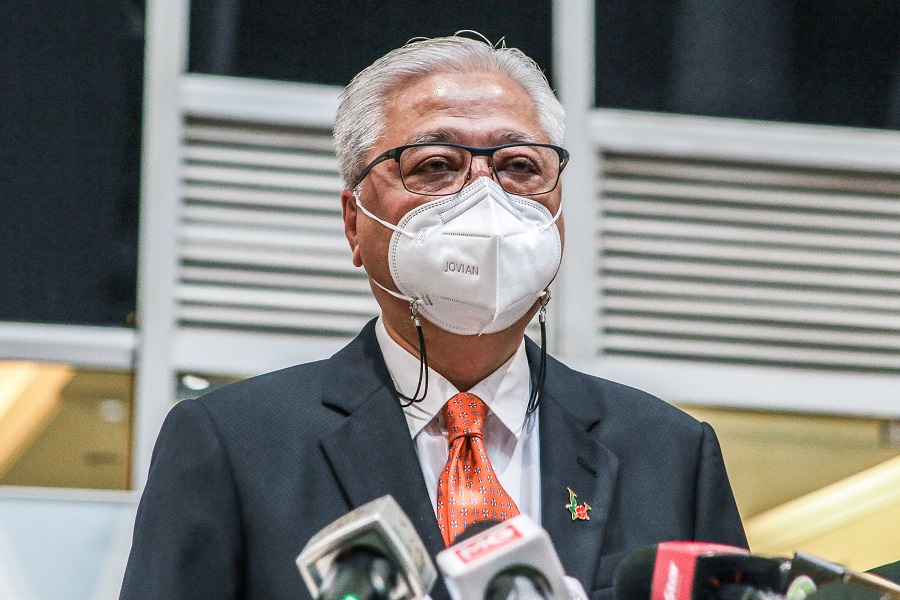 KUALA LUMPUR (Aug 20): Datuk Seri Ismail Sabri Yaakob (pictured) will be sworn in as Malaysia's ninth Prime Minister tomorrow (Aug 21), following the conclusion of the two-and-a-half-hour long special meeting among the Malay Rulers today.
In a statement by Istana Negara, the palace said that based on the statutory declaration letters received on Aug 18 from the 220 members of Parliament (MPs), 114 had nominated the former deputy prime minister — a sufficient majority to form the government.
"In accordance with Article 40(2)(a) and Article 43(2)(a) of the Federal Constitution, His Majesty has agreed to appoint Datuk Seri Ismail Sabri Yaakob as the ninth Prime Minister of Malaysia.
"The next step is the presentation of the instrument of appointment and swearing-in ceremony, scheduled for Aug 21, 2021 (Saturday), at 2.30pm at the Istana Negara," it said.
The statement said the Yang di-Pertuan Agong expressed that with the appointment of the Prime Minister, the government must immediately continue its efforts against the Covid-19 pandemic for the benefit and safety of the people and the well-being of the nation, which has been greatly affected by this crisis.
He also hopes that the appointment of the new prime minister will bring an end to the political crisis and that all MPs will set aside their political agenda and work towards addressing the pandemic in the interest of the people and the country.
"His Majesty reiterated that the people should not be burdened with endless political turmoil at a time when the country is struggling with health issues and economic depression due to the Covid-19 pandemic," the palace said.
The Malay Rulers are also in support of the King's stand that a stable government must be formed as soon as possible following the resignation of the previous prime minister, it said.
The special meeting among the Malay Rulers was a continuation of the King's audience with the heads and representatives of Malaysia's major political parties on Aug 17, where all 220 MPs were asked to nominate their prime ministerial candidate of choice.
Leaders and representatives from UMNO, PKR, DAP, Bersatu, PAS, Amanah, Warisan and Pejuang attended the meeting in Istana Negara, while those of GPS component parties had a virtual meeting with the King on the same day.
The King previously said the upcoming prime minister must still file a motion of confidence in the Dewan Rakyat as soon as possible to confirm that the newly elected premier commands majority support in Parliament.
Get the latest news @ www.EdgeProp.my
Subscribe to our Telegram channel for the latest stories and updates