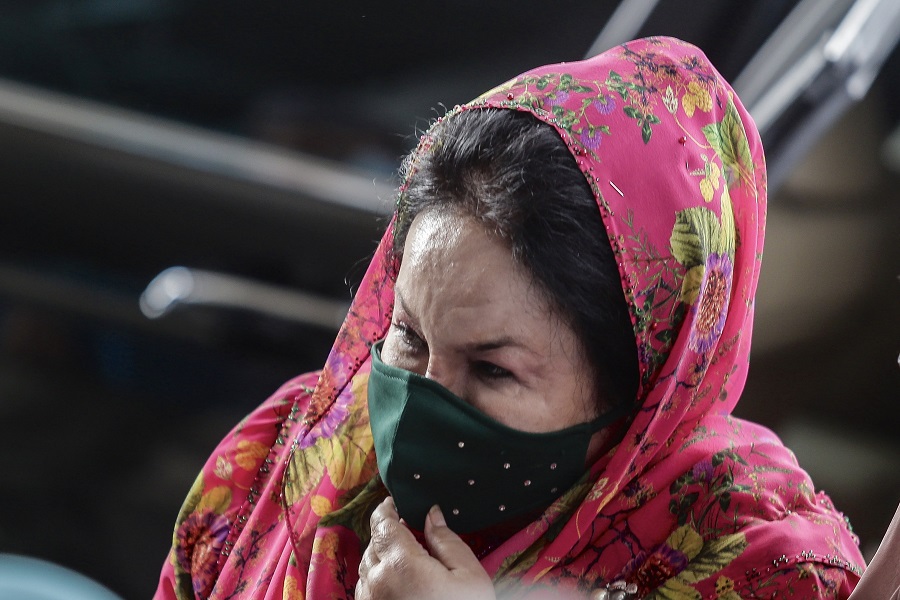 KUALA LUMPUR (Oct 5): Datin Seri Rosmah Mansor (pictured) testified on Tuesday that it was her former aide Datuk Rizal Mansor who solicited bribes of RM187.5 million for a solar hybrid project in Sarawak, and received RM6.5 million cash.
The wife of former premier Datuk Seri Najib Razak claimed repeatedly at the High Court that it was Rizal who asked for the amount as political donation from Jepak Holdings Sdn Bhd managing director Saidi Abang Samsudin and his former partner Rayyan Radzwill Abdullah.
She also claimed that it was Rizal who asked for the amount to be increased from 10% of the project value to 15%.
"In fact, I should have been the witness to testify against him, and not the other way round. Rizal is now saying or putting the case on me so that he would be freed of the charges himself."
Rizal had been jointly charged with Rosmah on the corruption charges in relation to the solar hybrid project for 369 rural schools in Sarawak. However, in January 2020, the four charges against him were dropped and he has since become the crown witness for the prosecution.
"I have never ever asked or solicited for a bribe nor received any cash," Rosmah testified in her defence on Tuesday.
"I am also forbidden to meet any contractors. It is a fact that it was Rizal who arranged for Saidi and Rayyan to come to my Jalan Langgak Duta home, without my permission."
She noted that her former aide admitted under oath in his testimony of receiving monies from Saidi and Rayyan. Rizal acknowledged receiving close to RM1 million apart from accepting a sponsored umrah trip from them.
Rosmah further denied Rizal's assertion in his testimony that she had given him RM100,000 a month to be paid to cybertroopers to protect her reputation and good name.
"I was the wife of the PM. I do not receive monthly wages or allowances from the government or pension. The RM100,000 is a huge sum and it is impossible for me to give such a sum to Rizal on a monthly basis.
"What Rizal claimed is slander against me, aimed at hurting my reputation and my honour. Let me say that Rizal has not shown any evidence to support those allegations. This clearly shows that Rizal is out to tarnish my reputation by making all these allegations in order for his charges to be dropped by the prosecution," she said.
Rosmah, who will turn 70 in December, testified that Rizal was never her special officer, but had been seconded from the Prime Minister's Office to the office of the First Lady of Malaysia (FLOM).
She further described Rizal as someone who was not competent and responsible in his job.
"He could not write my speech text well. He had disciplinary problems as he always 'hilang' (went missing) from work. I was not satisfied with the quality of his work as he needed constant supervision [so] that he would not avoid completing his work.
"I also heard similar complaints from FLOM's special officer Datin Seri Siti Azizah Sheikh Abod over Rizal," Rosmah said of the former aide.
Rosmah was replying to questions from her counsel Datuk Akberdin Abdul Kader that Rizal stood to benefit in testifying against her as the latter would be a free man while she still has to face the continuous trial.
'I am an Eastern lady with values'
Rosmah also criticised senior deputy public prosecutor Datuk Seri Gopal Sri Ram's line of questioning towards Saidi, formerly Jepak's managing director.
Sri Ram, a former Federal Court judge, asked Saidi at the prosecution stage whether Rosmah had thrown him and Rayyan out of her Langgak Duta home, when she refused to accept the money or when he offered a certain percentage to help UMNO and Barisan Nasional in their campaign in the 14th general election.
Rosmah in her testimony said as a Malay and Muslim lady from the East, she understands the traditions and ethics practised here.
"It is ingrained in me and among Malaysians that I [was] the prime minister's wife, and I should always display proper manners, character, and politeness as the country's first lady. I purposely brought up this issue when Sri Ram asked whether I did chase them away when Saidi and Rayyan made the offer of political donation.
"I state here that such questions do not show the proper manners or character the society expects from me as the former first lady. Maybe Sri Ram when he does not like someone he would chase them away. As the PM's wife, I would always maintain my character and good manners," she added.
Although she did not usher them away from her house, Rosmah said she ended the meeting after not more than five minutes.
"I have never accepted political donations when offered. The culture of chasing away a guest is not a practice for a lady who is the wife of the number one leader of the country and a well-known political leader. This is due to the negative connotation that it may bring. As people will say, I have no manners and was not brought up well.
"My lawyers did ask Saidi about this and the witness agreed that such conduct of chasing away a guest was improper. I want to state here that I wanted to end the meeting with them abruptly as I was uncomfortable over the offer of political donation. That was why I left and quickly went upstairs, and not follow what Sri Ram suggested by chasing them away when they made the offer," she said.
Rosmah maintained that Rizal had arranged the meeting with both Saidi and Rayyan and had bypassed the proper protocol by asking her to meet them.
She also said it defies logic that after the guests left, Rizal met her to discuss the proper percentage for the political donation and only told them that she allegedly wanted not 10% but 15% of the price of the project and later meet them at a restaurant to reveal her demands.
Rosmah is charged with soliciting a RM187.5 million bribe out of the RM1.25 billion project that was awarded to Saidi, then managing director of Jepak, between January and April 2016 through her aide Rizal.
She also faces two charges of receiving a total of RM6.5 million-RM1.5 million and RM5 million respectively — from Saidi between Dec 20, 2016 and Sept 7, 2017 at private residence in Jalan Langgak Duta here.
Rosmah will continue with her testimony before Justice Mohamed Zaini Mazlan on Wednesday.
Get the latest news @ www.EdgeProp.my
Subscribe to our Telegram channel for the latest stories and updates
Stay on top of trending Narratives
Use Location Scan to view project options and price trends near your preferred location, including MRT3 stations
Check your loan eligibility on LoanCheck, or use LoanReport to get a FREE credit report