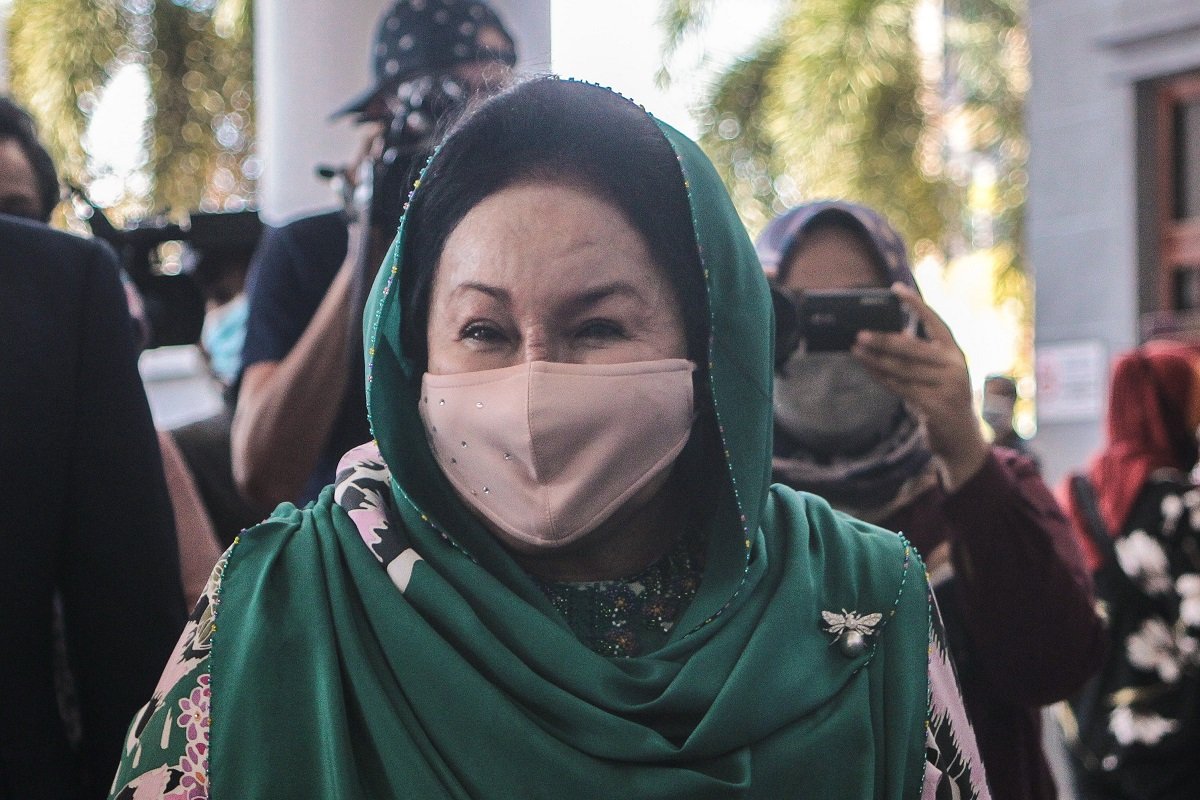 KUALA LUMPUR (Nov 11): Datin Seri Rosmah Mansor has filed an application to recuse High Court Judge Mohamed Zaini Mazlan from presiding over her second trial involving 17 counts of money laundering and income tax offences to a sum of RM7.1 million.
Rosmah filed the application on Nov 2 through Messrs Geethan Ram Advocates & Solicitors, where the firm and Datuk Geetham Ram Vincent are representing her in the case.
In the grounds of her application, Rosmah cites that Justice Zaini is presently presiding over her solar hybrid graft trial and has already ordered her to enter into her defence.
Furthermore, she said Justice Zaini had already allowed the prosecution's application in the solar hybrid graft trial to use her cautioned statement to the Malaysian Anti-Corruption Commission (MACC) with regard to the money laundering case against her.
"This resulted in the prosecution being allowed to cross-examine her (Rosmah) based on the statement given in the money laundering case. This may affect Justice Zaini's judgement if he continues to preside over the money laundering case after hearing the evidence of the cross-examination [in the solar hybrid case]," the application stated.
Rosmah, who would turn 70 on Dec 10, also affirmed an affidavit in support of the application dated Oct 22 to recuse Justice Zaini.
It was reported last month that Justice Zaini had allowed the prosecution led by former Federal Court judge Datuk Seri Gopal Sri Ram to impeach Rosmah by using the cautioned statement she gave in the money laundering trial against her.
Rosmah has claimed trial to 17 charges over some RM7.1 million allegedly transferred into her personal bank account between 2013 and 2017.
The 17 charges were framed under the Anti-Money Laundering and Anti-Terrorism Financing Act 2001 and the Anti-Money Laundering, Anti-Terrorism Financing and Proceeds of Unlawful Activities Act 2001.
Under the first eight charges, Rosmah is accused of being involved in money laundering by directly engaging in a transaction that involved proceeds of unlawful activities amounting to RM1.1 million, which was deposited into her account.
For the ninth to the 12th charges, Rosmah is alleged to have directly engaged in 227 transactions involving proceeds of unlawful activities totalling RM6 million, which was deposited into the same account.
On the 13th to 17th counts, Rosmah is accused of engaging in money laundering by failing to file a return on the sum that was deposited into her account — as required under the Income Tax Act 1967.
For the ongoing solar project trial, Rosmah is charged with two counts of bribery under Section 16(a)(A) of the MACC Act over her alleged soliciting of RM187.5 million from the RM1.75 billion project and acceptance of bribes totalling RM6.5 million.
Initially, the prosecution applied for a joint trial for the solar hybrid and money-laundering cases, but this was objected by the defence, resulting in separate trials where the money laundering case has yet to commence.
Get the latest news @ www.EdgeProp.my
Subscribe to our Telegram channel for the latest stories and updates