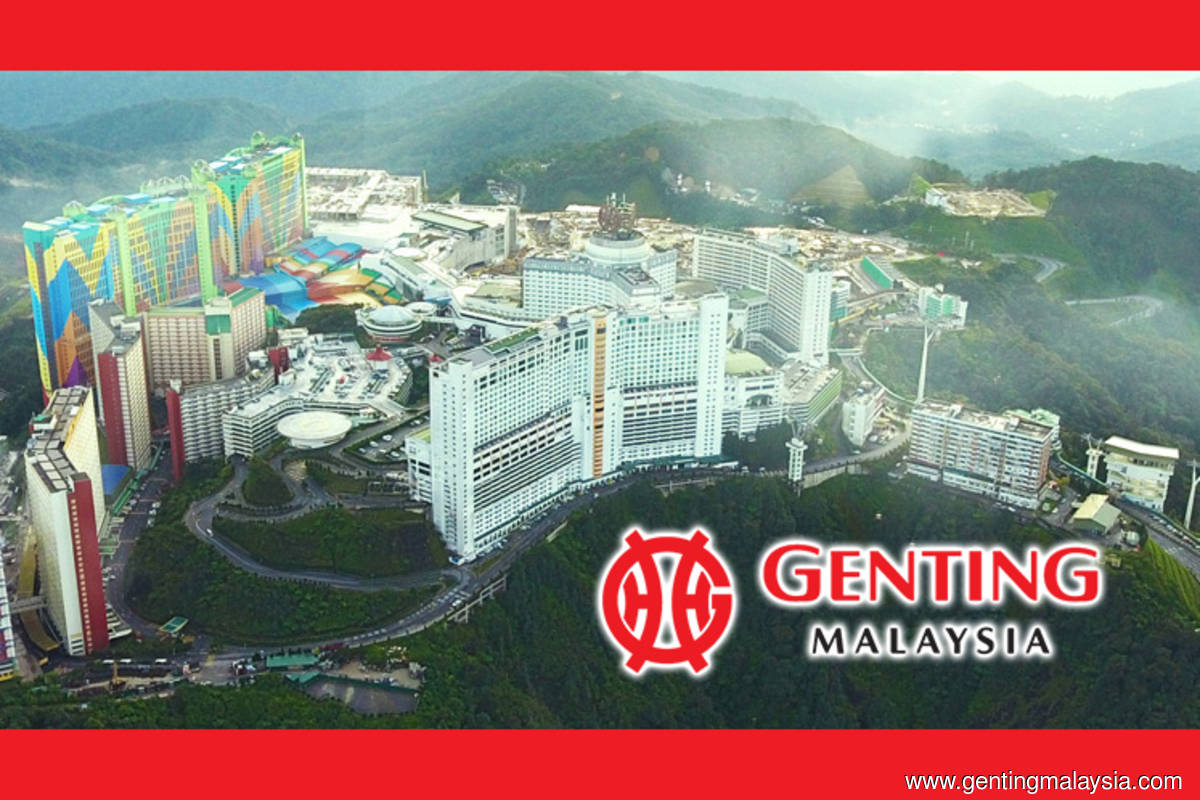 KUALA LUMPUR (Nov 26): Analysts on Friday maintained their buy calls on Genting Bhd and Genting Malaysia Bhd (GENM) as they foresee solid recovery for the two companies.
Hong Leong Investment Bank Research said in a note Genting's core loss after tax and minority interests (LATAMI) of RM296.9 million in the third quarter ended Sept 30, 2021 (3QFY21), which brought its 9MFY21 cumulative loss to RM998.1 million, was above its expectation as it expects Genting to be profitable in the next quarter.
It revised its earnings forecasts for the financial year ending Dec 31, 2021 (FY21) to a net loss of RM582.2 million from the previous loss forecast of RM844 million, after lifting its subsidiaries' projections.
It also revised its FY22 to FY23 earnings forecasts to RM1.5 billion and RM2.4 billion, from RM1.4 billion and RM2.1 billion.
"We expect a solid recovery in 4QFY21 supported by the recovery from its gaming businesses in Malaysia and Singapore," it said.
According to the research house, GENM witnessed a strong return of local visitors to Resorts World Genting (RWG) since Malaysia lifted its interstate travel ban on Oct 11.
It said Singapore is progressively easing its border restrictions for more countries including Malaysia which will also bode well for Genting Singapore (GENS) as it relies heavily on international visitors.
It also said Genting's US and UK operations continue to contribute positively towards its financials, while Resorts World Las Vegas (RWLV) is enjoying excellent footfall at its casinos since its opening.
It maintained buy on Genting with an unchanged target price (TP) of RM 5.65.
"With GENM and GENS prospects improving, Genting is finally seeing the light at the end of the tunnel. We like Genting for its deep expertise and experience in managing the gaming and hospitality business and its well spread operations across different regions which help mitigate regulatory and country risks," it said.
As for GENM, it also said its reported 3QFY21 core LATAMI of RM282.4 million which brought 9MFY21 LATAMI to RM1.01 billion, was above its expectation as it expects GENM to return to profitability in 4QFY21.
It projected a lower loss forecast of RM943.3 million for the group in FY21, from a previous loss forecast of RM1.2 billion, to account for the reopening and strong recovery of RWG. It also revised up its FY22 earnings forecast to RM1.03 billion, from RM1.01 billion.
It maintained buy on GENM and revised up its TP to RM3.61 from RM3.59 following the earnings adjustments.
Meanwhile, CGS-CIMB said in a note that Genting 9MFY21 core net loss would be in line if not for RWLV net losses.
It sees Genting returning to the black in 4QFY21 post-reopening of GENM's RWG.
"We now see Genting FY21 core net profit of RM56 million (previous: RM21 million loss) on narrower GENM loss (earlier-than-expected RWG reopening) and higher GENP profit (higher CPO prices)," it said.
As for GENM, it expects the company to post a core net loss of RM1.14 billion in FY21 due to intermittent closures and capacity restrictions across its casino resorts globally, before rebounding to a core net profit of RM1.06 billion and RM1.63 billion in FY22 and FY23, as the negative impact from Covid-19 gradually wanes.
It reiterated an add call on GENM with an unchanged TP of RM3.40.
Meanwhile, Kenanga Research said in a note that Genting's losses, which ballooned to RM355.2 million in 3QFY21, missed its forecasts, and it is now expecting its FY21 to be loss making against its previous net profit forecast of RM351.4 million.
"Having said that, we believe that a swift recovery is in store for RWG and RWS once the borders reopen. Thus, we still believe that Genting is a good pick as a recovery play," it said.
It maintained an outperform call on Genting but lowered its TP to RM6.38 from RM6.47.
As for GENM, it said its 3QFY21 results disappointed with higher-than-expected losses by RWG.
However, it said its UK and US units' numbers are fairly encouraging, helping mitigate the RWG losses.
"We believe GENM should benefit from imminent border reopening. Keep outperform on the stock albeit with a revised lower TP of RM3.41 (from RM3.47)," it said.
At noon break, Genting fell 20 sen or 4.05% to RM4.74, valuing the group at RM19.07 billion.
GENM also slipped six sen or 1.99% to RM2.95, valuing the group at RM18.11 billion.
Year-to-date, Genting has risen 5.8% while GENM has climbed 10.49%.
Get the latest news @ www.EdgeProp.my
Subscribe to our Telegram channel for the latest stories and updates