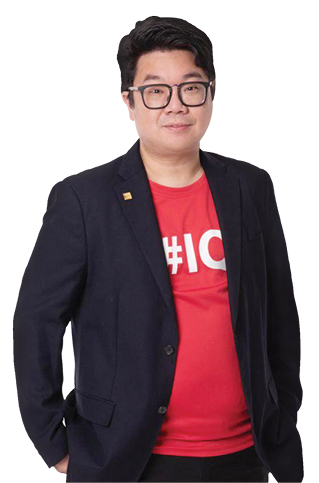 Real estate negotiator Abby Tan volunteered at a non-governmental organisation as well as working in the finance industry before his foray into the property industry in January 2017.
How he entered the industry really boils down to one word: coincidence.
According to Tan, in 2016, he was looking to sell his townhouse and was having trouble doing so. His townhouse ended up being on the market for a year before it was sold! Before that, while Tan asked his agent why the sale was taking some time, the pair ended up embarking on a series of discussions that sparked Tan's interest towards the industry.
Just after he joined the industry as a real estate negotiator, Tan managed to close a deal within just two weeks.
As of January this year, Tan has entered into his fifth year as a real estate negotiator. Under IQI Realty Sdn Bhd, Tan is now based in Sabah, specialising in the Kota Kinabalu (KK) real estate market. Mainly focusing in the sub-sale residential market, he also ventures into the commercial and industrial market occasionally.
Day in a life of a real estate negotiator
A look into Tan's life will reveal that he divides his working hours by being in the office and doing groundwork, just like any other negotiator and agent, he shares.
"When I am in the office, I mostly try to settle all the paperwork and documentation. At the same time, I will also attend virtual training sessions provided by IQI."
The virtual training session provided by the agency has helped Tan to better understand and prepare the way of doing business amidst the pandemic. As a team leader, he encourages his apprentice to join these training sessions when they have the time.
When not in the office, his tasks include meeting up with clients for property viewings and looking for new listings.
Tan adds, "Unlike Klang Valley, if you are specialising in the KK area, you are covering a very big market that includes several areas. So sometimes when I am out for property viewings, I can be driving from one side of the town to another side of the town."
Tan is always on the go as travelling takes up a good portion of his day-to-day job.
Setting goals
Within a year of joining the industry in 2018, Tan was promoted to team leader in IQI. As a team leader, he set a goal each year: to groom 10 of his apprentices into becoming team leaders as well.
In 2021 alone, he has managed to do just that
"Being in this line is not an easy job. Not only do you have to manage your own time, you also need to be disciplined and have the commitment in order to stay for a long-term game."
While Tan tries to do a bit of everything, from leadership to selling various types of property segments, he also has his own personal goal that he wants to achieve.
"Starting this year, I want to slowly try selling primary properties as well. All this time I have been focusing on the sub-sale market. But now, I want to start diversifying into selling projects in the primary market too," says Tan, who explains that the markets are quite different.
For instance, with sub-sale properties, "clients will be able to see the real condition of the property", explains Tan.
"For primary properties, clients are only able to feel the essence of the property according to what is shown in the sales gallery. Therefore, as an agent, it takes a certain skill to be able to sell a unit that is not in its original condition," he adds.
Expecting a busy year ahead, Tan wants to maximise his opportunities by trying both markets.
"I will try to leverage my time as I slowly get involved with selling primary properties. I am doing this as I want to challenge myself with something new," he says determinedly.
Get the latest news @ www.EdgeProp.my
Subscribe to our Telegram channel for the latest stories and updates