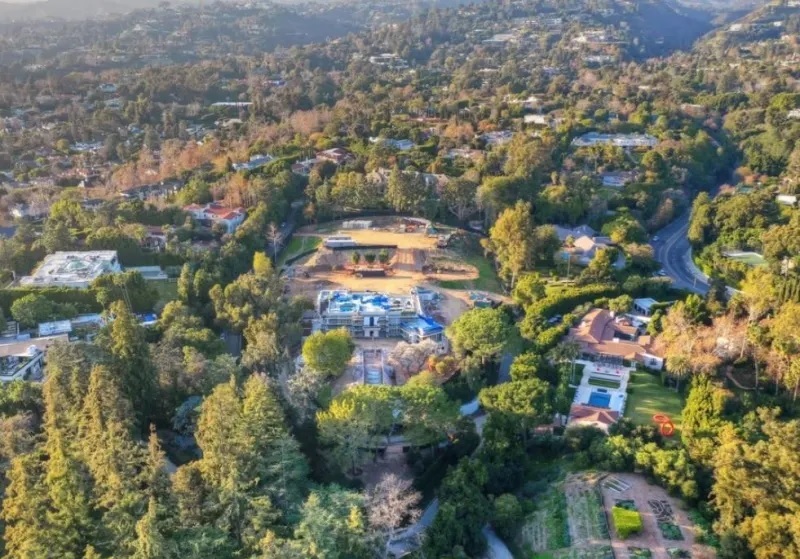 The property's "four contiguous acres" belonging to Evan Spiegel and Miranda Kerr are located "directly across the street from the Playboy Mansion, in prime Holmby Hills".
KUALA LUMPUR (Aug 17): Snapchat founder Evan Spiegel and Australian supermodel/actress Miranda Kerr took two years to "secure" their new home in Los Angeles, according to reports.
Real estate website dirt.com reported that, "the deal has been in the works since early 2021 or possibly even late 2020… it's only now that property records reveal Snapchat billionaire Evan Spiegel has finally closed the deal for his new Los Angeles home".
The real estate website stated that the "unusually long escrow" is due the property "currently undergoing a multi-year rebuild… presumably there were certain construction phases that had to be completed before Spiegel would take official ownership of the place".
dirt.com also revealed that Spiegel forked out US$25 million (RM111.67 million) for a smaller piece of land immediately next door to the US$120 million main property meaning the "total estate actually cost him US$145 million".
The same report stated that the property's "four contiguous acres" (pictured) are located "directly across the street from the Playboy Mansion, in prime Holmby Hills". Spiegel bought the property from British billionaire Ian Livingstone, "who acquired the two-parcel estate in two separate transactions in 2014 and 2017 for US$72 million".
This transaction is reportedly among the highest for a California home, behind entrepreneur tycoon Marc Andreessen's US$177 million Malibu home and Jeff Bezos' US$165 million Beverly Hills property.
Meanwhile, as they wait for their new home to be completed, Spiegel and Kerr are reportedly living in a Brentwood home once owned by actor Harrison Ford.
Spiegel, CEO of Snap Inc, became a billionaire at the age of 25. Snapchat is a multimedia instant messaging app and service developed by Snap.
Kerr became famous in 2007 as one of the Victoria's Secret Angels. She was once married to actor Orlando Bloom and there were reports that she dated fugitive businessman Jho Low of 1MDB fame.
Stephen Resnick and Jonathan Nash of Hilton & Hyland held the listing while Drew Fenton of Hilton & Hyland represented the buyer.