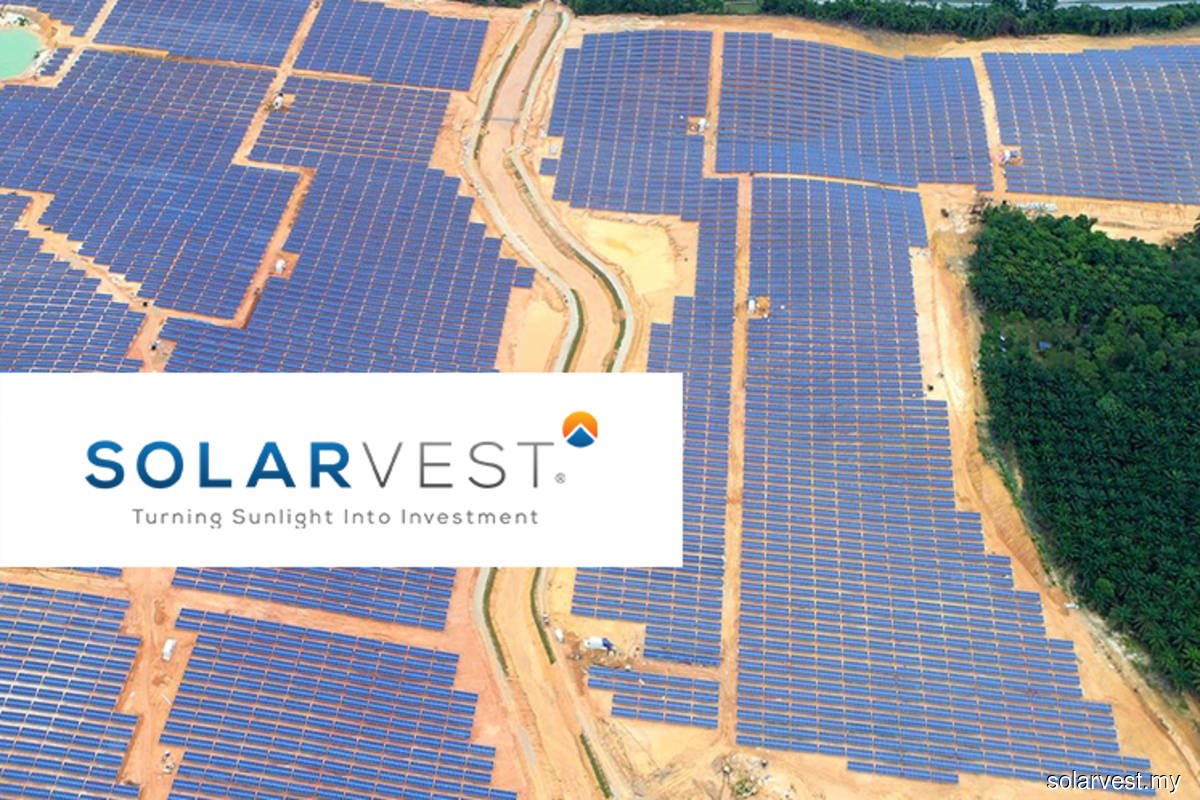 The group expects an increase in net profit of around RM7 million, as two of the three LSS4 projects are scheduled to be commissioned by May 2023.
KUALA LUMPUR (Feb 27): Solarvest Holdings Bhd's net profit surged more than twofold to RM5.2 million for the third quarter ended Dec 31, 2022 (3QFY2023), from RM2.01 million a year earlier.
As a result, earnings per share increased to 0.78 sen for 3QFY2023, from 0.3 sen per share a year earlier, the clean energy specialist showed in a bourse filing on Monday (Feb 27).
Quarterly revenue also surged to RM101.5 million, from RM47.44 million previously.
The increases in Solarvest's top line and bottom line were attributed to the recognition of the construction progress of the fourth cycle of the large-scale solar (LSS4) projects.
The strong quarterly performance lifted Solarvest's cumulative nine-month net profit to RM14.5 million, four times higher than RM3.19 million previously, while revenue expanded 151% to RM252.32 million, up from RM100.41 million.
On its prospects, Solarvest co-founding executive director and group chief executive officer Davis Chong Chun Shiong said the group expects an increase in net profit of around RM7 million, as two of the three LSS4 projects are scheduled to be commissioned by May 2023.
"The Malaysian government's recent announcement of a 20 sen per kilowatt-hour (kWh) imbalance cost pass-through mechanism surcharge from the previous 3.7 sen per kWh on medium-voltage and high-voltage commercial and industrial (C&I) users will serve as a positive catalyst for the solar industry. Arising from this, the pace of solar adoption in the C&I sector is expected to accelerate. As for the recent release of the 600MW quota of solar photovoltaic (PV) assets under the Corporate Green Power Programme, we intend to leverage this opportunity to replenish our unbilled order book," Chong said.
Additionally, Solarvest's current unbilled order book of RM595 million, which will be progressively recognised in FY2023-24, is expected to be boosted by the robust job pipeline, with a tender book of large-scale power plants and overseas projects of approximately 2.5 gigawatts.
"As we move forward, we are expanding our focus across the clean energy value chain by venturing into other renewable energy and green technological innovations. On top of that, we will continue to explore further geographical expansion opportunities in the Philippines, Taiwan, Vietnam, and Indonesia for renewable assets development and ownership," Chong said.
Three MOUs are off
In a separate filing, Solarvest said it had called off its memorandum of understanding (MOU) with Advancecon Solar Sdn Bhd — a subsidiary of Advancecon Holdings Bhd — to cooperate for the purpose of undertaking solar renewable energy projects in Malaysia under the commercial and industrial category.
"Both parties have mutually agreed to terminate this MOU in view that the purpose is deemed satisfied, after the completion of the development and operation of the solar PV system for Oon Corp Resources (M) Sdn Bhd," it explained.
Meanwhile, Solarvest said another two MOUs had lapsed.
The MOU with Hong Leong Bank Bhd lapsed last Thursday. It was signed in February 2021 for the purpose of jointly cooperating to enable accessibility to finance of solar systems for businesses across Malaysia via Hong Leong Bank's solar PV programme.
Solarvest said both parties had agreed not to renew the MOU, because Hong Leong Bank was in the midst of reviewing the solar PV financing programme for further enhancement.
The other MOU lapsed on Feb 20 this year. It was signed in January 2022 for Solarvest to collaborate with insurers QBE Insurance (Malaysia) Bhd and Anora Agency Sdn Bhd to provide solar PV investors a solar investment insurance product, dubbed the SolarPro Line-Stoppage insurance policy.
"There was no conclusion to the negotiations between the parties as at the expiry date of the MOU, and thus the MOU expired and lapsed on Jan 20, 2023," it said.