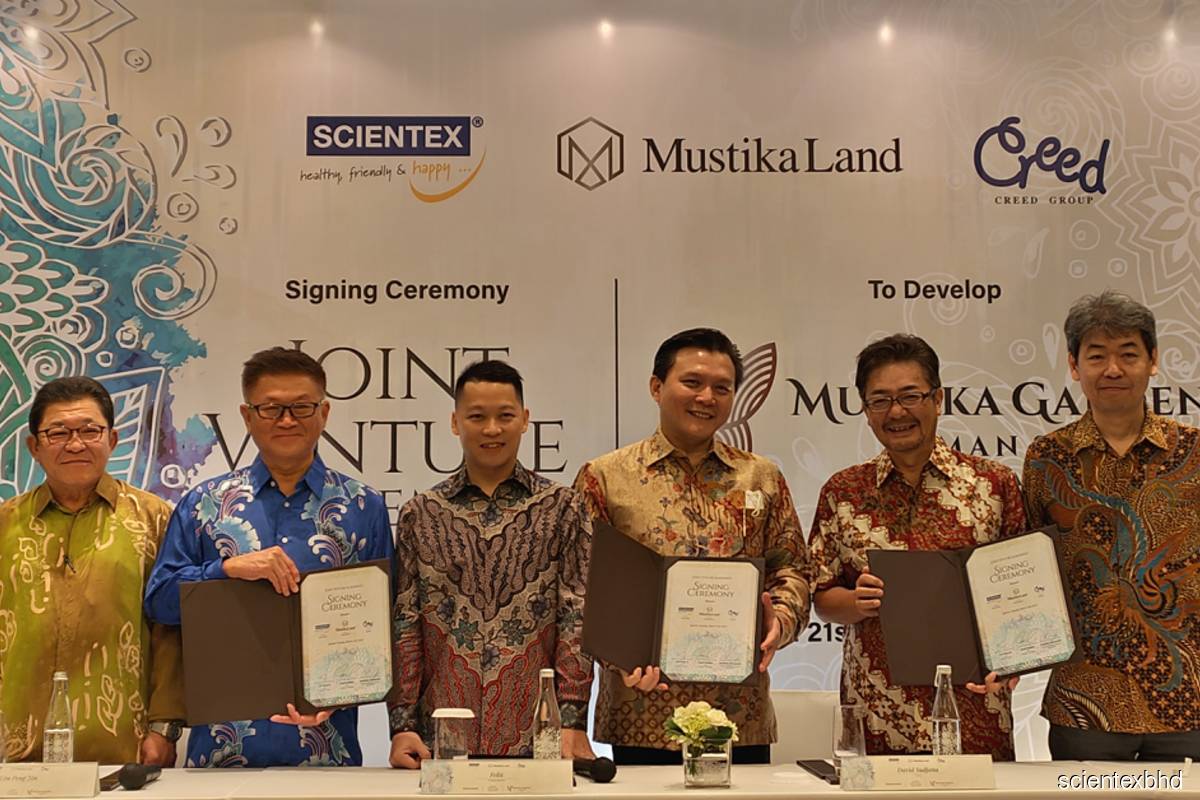 Phase 1 involves developing 400 affordable landed homes with estimated GDV of US$19 million (approximately RM85.5 million).
KUALA LUMPUR (March 21): Scientex Bhd announced on Tuesday (March 21) it had inked a joint venture (JV) with Indonesia's Mustika Land and Japan's Creed Group to make its maiden foray into building affordable homes in Indonesia.
This comes shortly after the group's RM518.1 million cash purchase of a 960-acre (388.5-hectare) land in Tebrau, Johor from S P Setia Bhd was cancelled on March 6, following its failure to obtain a waiver of the Bumiputera equity condition imposed by the Economic Planning Unit for the acquisition. The acquisition was to expand its landbank, and geared towards Scientex's goal to build 50,000 affordable homes throughout the nation by 2028.
In a statement, the packaging manufacturer and property developer said its unit Scientex Quatari Sdn Bhd (STX) had entered into a JV with PT Graha Mustika Tamansari (PT GMT) and Creed Property PH-1 Pte Ltd (CRD) to form a JV company, with PT GMT holding a 60% stake, and STX and CRD holding 20% each.
The JV company will develop the 40-acre Graha Mustika Tamansari township in Bekasi, Greater Jakarta. Scientex said the JV company will acquire land from PT GMT for the township's Phase 1, which involves developing 400 affordable landed homes with an estimated gross development value (GDV) of US$19 million (RM85.5 million).
Mustika Land, according to Scientex, has 18 property development projects in Greater Jakarta since 1995, including three township developments and commercial properties.
Creed Group, meanwhile, is a Japanese real estate investment group focusing on property development in Southeast and South Asia, including Cambodia, Thailand, Indonesia, Vietnam and Bangladesh. Creed Group has developed projects worth over US$3 billion in GDV in Southeast Asia since 1996.
Scientex chief executive officer Lim Peng Jin said Scientex is now ready to embark on its cross-border strategy to penetrate new markets in Southeast Asia and fulfil regional demand, after having delivered nearly 28,000 affordable landed homes of RM8 billion in cumulative GDV across Malaysia.
"While our JV with these reputable property players leverages their deep knowledge of the local domain in Indonesia, Scientex will bring to the table our proven expertise in developing large-scale townships with quality and efficiency, based on our home-grown building technologies, which has been our hallmark for the past 28 years.
"Our long-term vision is to expand our Scientex brand in Indonesia's property development sector, and share our affordable housing knowledge, expertise and experience in the region," he said.
The JV company will develop Phase 1 of Graha Mustika Tamansari, comprising approximately 12 acres, in 2023, with targeted completion in 2025.