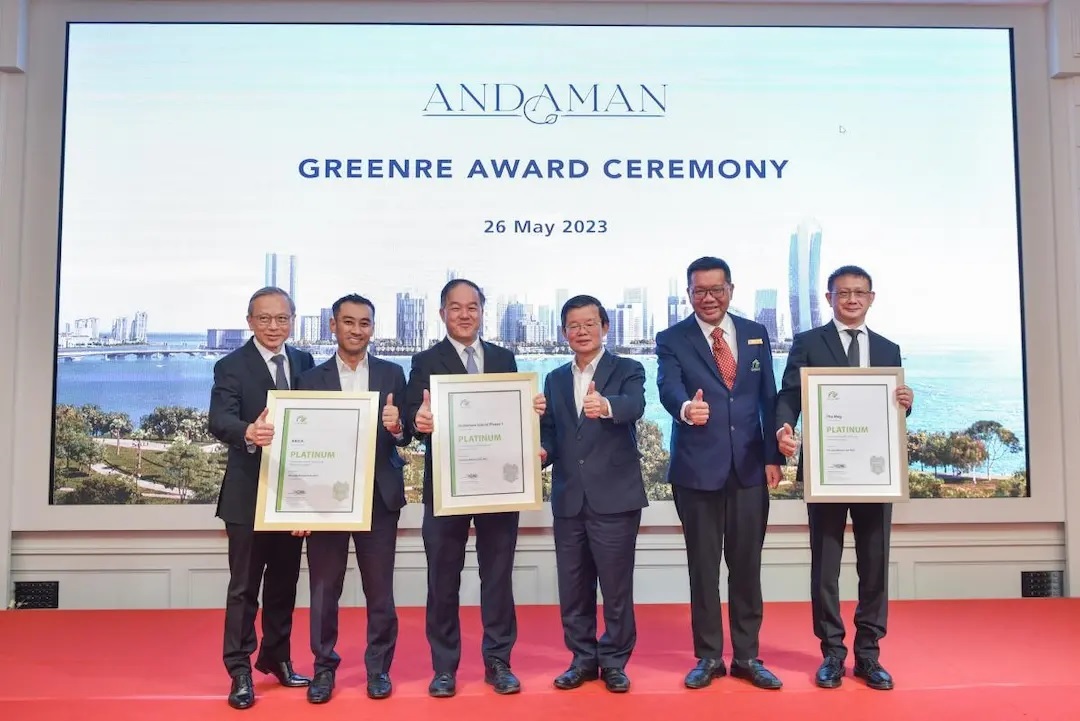 E&O managing director Kok Tuck Cheong: "We are honoured to receive recognition from Rehda for our Andaman Island Phase 1, The Meg and Arica. Being the first township in Malaysia to receive such an award, it is a testament to our commitment to sustainable development and living.
KUALA LUMPUR (May 26): Eastern & Oriental Bhd (E&O) on Wednesday (May 26) announced that its township development project, Andaman Island Phase 1 has attained GreenRE Platinum Provisional Certification under the township category.
GreenRE was formed by Real Estate and Housing Developers Association Malaysia (Rehda) in 2003 to promote sustainability in the property sector.
Alongside the township category win, both Andaman's maiden launch, The Meg, and second development, Arica, have also received the GreenRE Platinum Provisional Certifications under the residential category.
E&O managing director Kok Tuck Cheong said at the GreenRE award ceremony in Penang on Friday: "We are honoured to receive recognition from Rehda for our Andaman Island Phase 1, The Meg and Arica. Being the first township in Malaysia to receive such an award, it is a testament to our commitment to sustainable development and living.
"In December 2021, we launched our first project on Andaman — The Meg, a 1,020 unit serviced apartment project, which was fully sold in 13 months. This is followed by our second project, Arica in March 2023 with 380 units (which) has since received encouraging sales [of between 40 to 50% so far].
"Both projects have attained the GreenRE Platinum Provisional Certificate for residential category. Our green buildings incorporate infrastructure and facilities that support low-carbon operations and transportation, natural cooling and ventilation, energy efficiency, water conservation, sustainable building materials, waste management systems, and recycling programmes," Kok said at the award ceremony, which was also attended by DME Solutions managing director Joseph Kong, Rehda Malaysia national council member Datuk Rick Cheng, Local Government, Housing, Town and Country Planning exco Jagdeep Singh Deo and Penang Chief Minister Chow Kon Yeow.
Andaman Island is a 760-acre urban island with a gross development value (GDV) of over RM60 billion. Developed into two phases, Andaman Phase 1 of 253 acres has been fully reclaimed at end-2019, while Andaman Phase 2 of 507 acres is currently ongoing.
Kok revealed during the subsequent press conference: "We have plans for more future launches in Andaman Phase 1 with all our key ESG (environmental, social and governance) principles (in them). It is currently a work in progress; we have submitted for approvals for landed-type properties. Moving forward, we will also focus on the commercial belt (of about 75 acres) which will [potentially] comprise a retail mall, hotel, education and hospital and perhaps a medical centre."
He added, "At Andaman, we have increased our adoption of recycled materials, utilising building materials that have a low carbon footprint, and improving the lifecycle of materials used. At the heart of Andaman is green living and community building. With green spaces embedded throughout the island, residents can enjoy generous open areas on this urban island."
The group aims to promote a healthy, active lifestyle by developing a pedestrian and cycle-friendly environment with dedicated pedestrian and cycle paths "and expansive seafront promenades to enhance connectivity with Andaman, installing green facilities across the island and implementing exclusive bus lanes".
"These initiatives not only mitigate carbon-based fuel usage but also relieve road congestion, making public transit a more attractive option for swift and convenient journeys to key destinations in Penang," Kok said.
E&O's commitment to sustainability principles is exemplified by the urban design guidelines of Andaman Island, which will be the guiding principles for our sustainable development over the next 30 years.
For a bit of background, Andaman Island Phase 1 is a 15- to 20-year township development project between E&O's subsidiary, Tanjung Pinang Development Sdn Bhd and KWEST Sdn Bhd, a wholly owned subsidiary of Kumpulan Wang Persaraan (Diperbadankan), commonly known as KWAP, through a special-purpose vehicle, Persada Mentari Sdn Bhd, under an 80% and 20% basis.
In Kuala Lumpur, E&O's landmark properties include The Mews, St Mary Residences, Dua Residency, Idamansara and Seventy Damansara, all located in the prime neighbourhoods of the city. The Peak in Damansara Heights and Conlay in the city centre are currently under construction.
In Penang, the award-winning Seri Tanjung Pinang (STP) development is the island's first master planned seafront development that has now become a thriving community to locals as well as expatriates from over 30 nationalities.
Following the delivery of STP, E&O has gone on to introduce Andaman. Andaman's ongoing reclamation project, which will eventually comprise 760 acres, promises to be an urban island just off the coast of Gurney Wharf and STP.
In Johor's southern development corridor of Iskandar Malaysia, also under construction is Avira, a 34-acre township offering green spaces with clubhouse facilities within Bandar Medini Iskandar. It offers easy accessibility to the Second Link connection to Singapore.
Meanwhile, E&O's international foray into real estate investment and development is focused within prime locations in London, including Princes House along Kingsway, ESCA House in Bayswater, and a commercial property in Hammersmith.