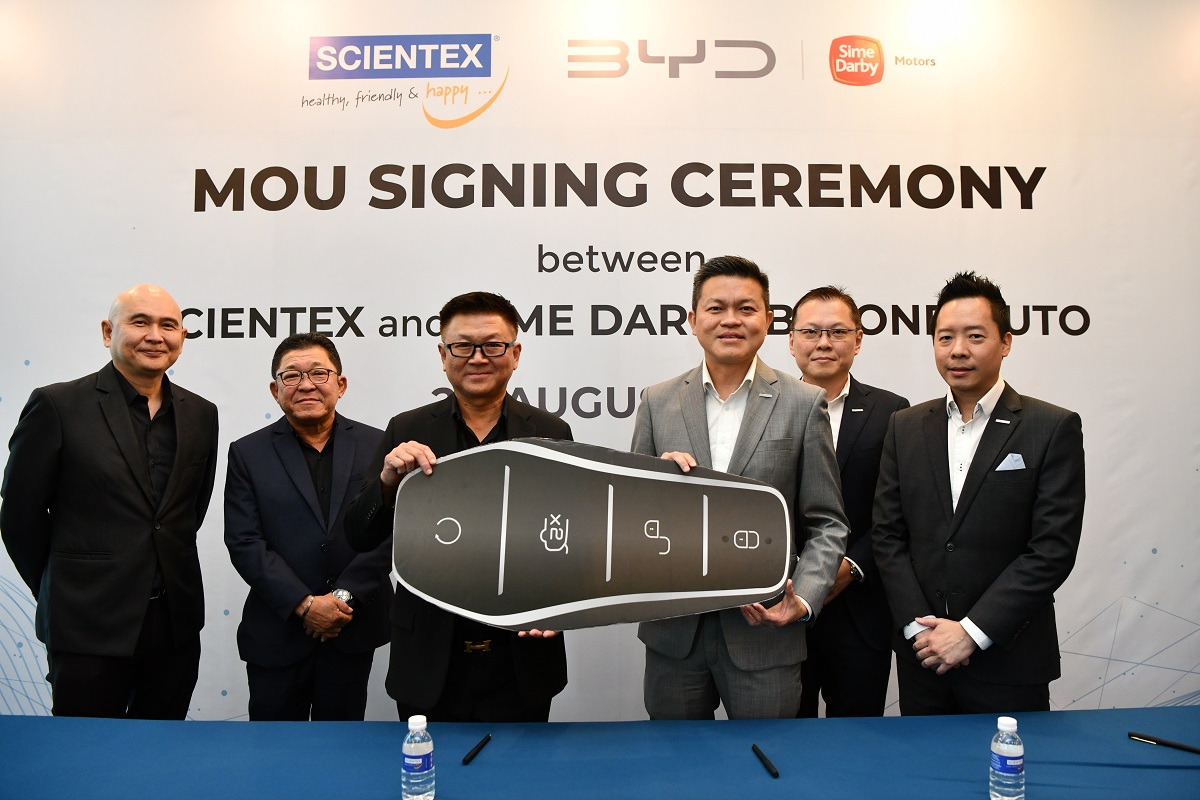 All Mori Residences 2 buyers will stand a chance to win a brand new BYD Atto 3 and other attractive prizes, on top of homebuyer rewards worth up to RM3,888 via EdgeProp START. The campaign will run for six months till the end of the year.
RAWANG (Aug 3): Scientex Bhd has signed a memorandum of understanding (MOU) with Sime Darby Motors, the automotive arm of Sime Darby Bhd, to bring affordability into sustainable property development and mobility solutions for a greener future.
The collaboration, effected through their subsidiaries Scientex Park (M) Sdn Bhd and Sime Darby Beyond Auto Sdn Bhd, was inked yesterday at Scientex' Mori Residences Sales Gallery here.
Aiming to accelerate Malaysia's sustainability agenda, both companies are committed to creating a positive impact on the nation's journey towards an environmentally-responsible future.
The signing of the MOU designates Scientex and Sime Darby Beyond Auto as the preferred marketing campaign partners for the launch of Scientex's highly-anticipated Mori Residences 2 condominium project in Rawang, Selangor. The project highlights Scientex's commitment to sustainability as it incorporates GreenRE principles, featuring environmentally-responsible design and electric vehicle (EV) charging stations that will be located at the common area.
"We believe that electric car usage is an upcoming trend and we want to make our properties ready with the infrastructure for it.
"While Scientex is committed to developing sustainable affordable homes, we have Sime Darby Beyond Auto offering very affordable EVs. It's a good collaboration to promote the green living concept," Scientex chief executive officer Lim Peng Jin told EdgeProp.my, the official media partner, after the signing.
Meanwhile, Sime Darby Motors applauds Scientex for not only building affordable homes but also future-proofing their developments. .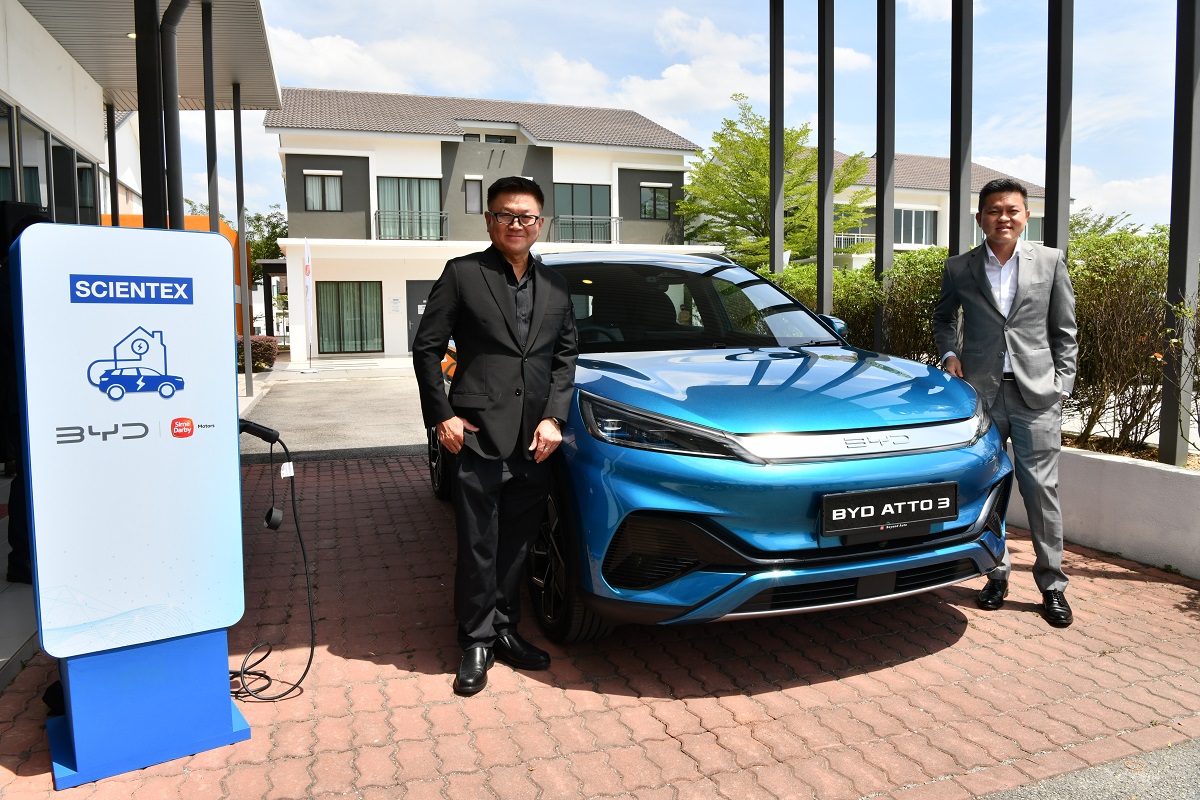 "While Scientex is dedicated to providing sustainable accommodations for society, we, on the other hand, focus on green mobility. We want to ensure that we are able to do our part to protect the environment," managing director of Sime Darby Motors Retail and Distribution Southeast Asia, Hong Kong and Macau, Jeffrey Gan told EdgeProp.my at the event.
"With the anticipation that EV will be the trend moving forward, they are already preparing their projects by installing charging facilities. So that takes away the anxiety of owning an EV," said Gan.
To address the issue of expensive EV options for many median-income families, Gan said: "We are also very much into similar thoughts of what Scientex is doing, which is getting into affordable mobility. Atto 3 was our first model and we launched it starting from RM149,800. We also recently launched another model priced just below RM100k, thus making the adoption of EV much more accessible to the public".
Providing more EV charging stations nationwide
Similarly, Lim personally believes that EV is one of the future directions and Scientex is working to provide more infrastructure for it.
"Perhaps that's the key. When you have the infrastructure ready, definitely many people will be more inclined to make the switch to EV," he said.
The developer plans to deploy EV charging stations at selected locations nationwide starting with its Rawang and Cheras sales galleries.
"We will also put up more EV charging stations for different townships from Johor until Kedah along the line.
"We are also exploring the possibility of working with landed homebuyers and installing solar panels on their rooftops. With this setup, they can link up to charge their EVs. It's the future direction that we are looking into," Lim added.
Scientex, a prominent property developer in Malaysia, is committed to building 50,000 affordable homes by 2028 across 30 townships nationwide while incorporating the United Nations' Sustainable Development Goals into its planning. Scientex is also a constituent of the FTSE4Good Bursa Malaysia Index.
Meanwhile, Sime Darby Beyond Auto is a key player in driving EV adoption in Malaysia, where it is the sole distributor of the BYD car models in the country. BYD has established itself as Malaysia's fastest-growing automotive brand and has successfully delivered over 2,000 EVs nationwide. On a global scale, BYD's remarkable achievement of 1.8 million vehicle sales in 2022 solidifies its position as the leading EV car manufacturer in the world.
Special incentives for Mori Residences 2 buyers
All Mori Residences 2 buyers will stand a chance to win a brand new BYD Atto 3 and other attractive prizes. On top of that, they can enjoy homebuyer rewards worth up to RM3,888 and be in the running to win a set of JBL Bar 1300 speakers worth RM7,999 when they sign up on EdgeProp START. The campaign will run for six months till the end of the year.
A special event is happening on Aug 19 and 20 for all the buyers to participate in the lucky draw at the Rawang sales gallery. There will also be a test drive session with BYD Dolphin. As for all BYD car owners, they are entitled to an additional 1% rebate on all Mori Residences products.
Looking to buy a home? Discover exclusive rewards and vouchers for your dream home when you sign in to EdgeProp START.