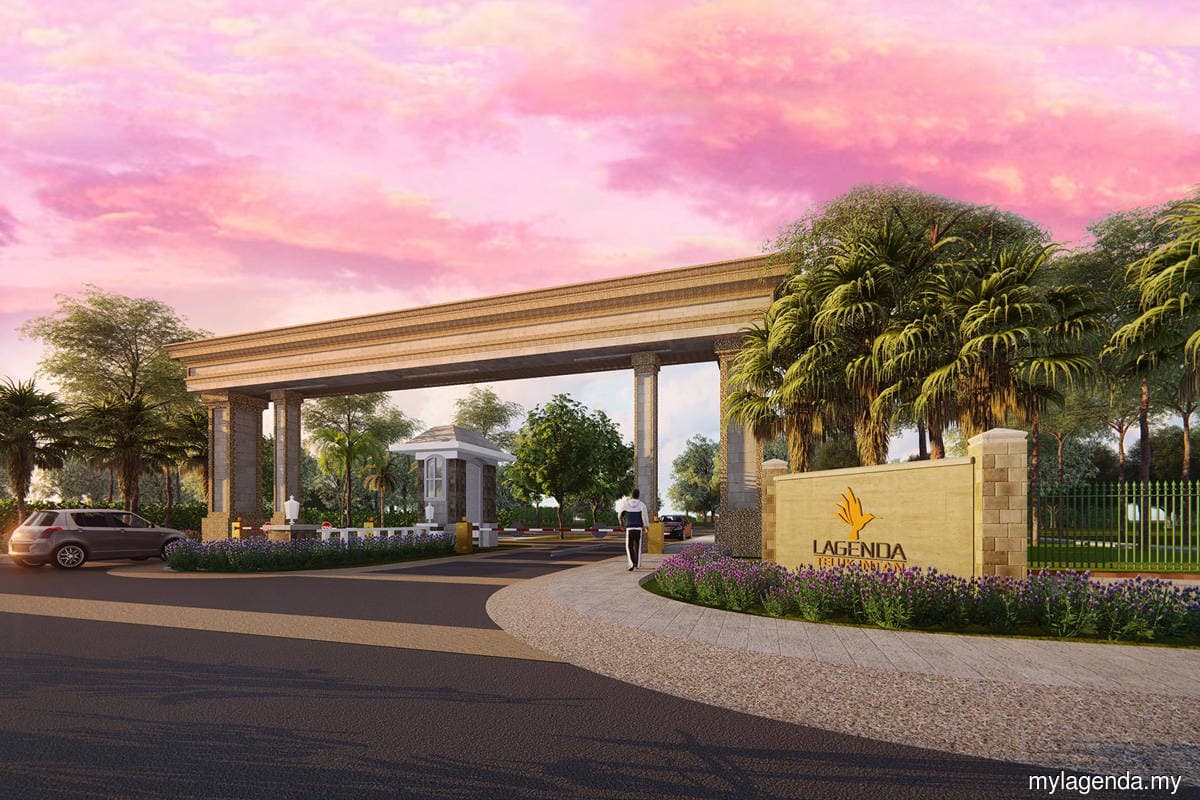 As at Sept 30, 2023, unbilled sales amounted to RM855.1 million while bookings stood at RM297 million.
KUALA LUMPUR (Nov 21): Lagenda Properties Bhd has recorded a net profit of RM38.77 million for the third quarter ended Sept 30, 2023 (3QFY2023), up 8.5% from RM35.73 million a year ago, mainly due to contribution from the property development segment as sales conversion improved.
Quarterly revenue rose 20.6% to RM217.89 million from RM180.72 million in 3QFY22, attributed to heightened construction activities and sales conversion from various projects, most notably Lagenda Teluk Intan 3A & 3B in Perak, and Darulaman Lagenda in Kedah, according to the group's filing with Bursa Malaysia on Monday.
However, for the first nine months of FY2023, Lagenda Properties' net profit fell 16.4% to RM111.29 million from RM133.12 million during the same period in the previous year, while revenue went down by 5.8% to RM595.23 million from RM632.02 million.
Lagenda Properties noted that confirmed sales in the nine-month period reached RM796 million, marking a 44% increase from the same period of 2022 and surpassing the total confirmed sales for the entire 2022.
As at Sept 30, 2023, unbilled sales amounted to RM855.1 million while bookings stood at RM297 million.
Having transitioned to industrialised building systems (IBS) for its newer projects in Teluk Intan and Kedah, Lagenda Properties managing director Datuk Jimmy Doh said the company is now positioned for accelerated progress in the upcoming quarters as construction activities continue to ramp up.
"Confirmed sales are the leading indicator for demand and future revenue, and we achieved a new record for confirmed sales in 3Q 2023. This robust momentum is expected to persist into 2024 and beyond, propelled by high bookings for projects such as Darulaman Lagenda, Lagenda Teluk Intan, and Lagenda Suria [Mersing]," he said.
Doh further noted that Lagenda Properties has a sizable vacant land bank of almost 4,700 acres with an estimated remaining gross development value of above RM12 billion, providing sustainability of long-term growth.
"With a scalable business model, commitment to affordability and focus on ESG, Lagenda is poised to expand into more new states next year, making landed homes accessible to a broader spectrum of Malaysians," he added.
Looking to buy a home? Sign up for EdgeProp START and get exclusive rewards and vouchers for ANY home purchase in Malaysia (primary or subsale)!